A ceremony honoring the three Hawaiian princes who first introduced surfing to Santa Cruz--and to the mainland of the Americas--will take place at Lighthouse Point, in Santa Cruz, Friday, April 9 at 11:30 a.m.
A three-dimensional brass plaque, gifted to the City of Santa Cruz by the Royal Hawaiian Family, pays tribute to the three teenage brothers--princes Jonah Kuhio Kalaniana'ole, David Kawananakoa and Edward Keliiahonui--who first rode redwood surf boards at the mouth of the San Lorenzo River during the summer of 1885.

A contemporary newspaper account from the Santa Cruz Surf noted that:
The breakers at the mouth of the river were very fine and here occurred the very primest of fun, at least, so said those who were 'in the swim.' Some 30 or 40 swimmers were dashing and tossing, and plunging through the breakers, going out only to be tossed back apparently at the will of the waves and making some nervous on-lookers feel sure that they were about to be dashed against the rocks. The young Hawaiian princes were in the water, enjoying it hugely and giving interesting exhibitions of surf-board swimming as practiced in their native islands.
This "exhibition" marks the first recorded board surfing anywhere in North and South America--more than two decades before George Freeth introduced surfing in Southern California.
A detailed account of this surfing story appears in the current issue of Good Times. It documents the origins of surfing in the Western World outside of Polynesia.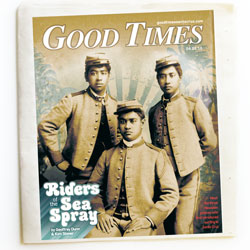 The plaque, conceived in Honolulu by writer Kristin Zambucka, will be unveiled during the ceremony. Members of the plaque committee include Harry Mayo, Kim Stoner and Dan Young. The base for the plaque was designed by local artists Sean Monaghan and Tom Ralston and constructed by Tom Ralston Concrete. Dannettee Shoemaker, Steve Hammack and Lisa McGinnis of the City of Santa Cruz Parks and Recreation Department have coordinated the placement of the plaque and the unveiling for the city.
Take that Huntington Beach!
For more information call the City of Santa Cruz Parks and Recreation Department at 831-420-5270.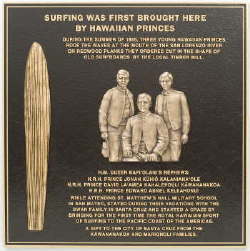 This Blogger's Books and Other Items from...
SUBSCRIBE AND FOLLOW
Get top stories and blog posts emailed to me each day. Newsletters may offer personalized content or advertisements.
Learn more