THE BLOG
Sports Illustrated's Big Palin Suck-up
No, Sarah Palin was not on the cover of the swimsuit issue of Sports Illustrated. Not this year, anyway. But as part of SI's web "bonus," the venerable sports mag featured a profile of Todd Palin and his participation in Alaska's annual Iron Dog--a snowmachine endurance race through the frozen western half of the state billed as the "toughest in the world."
Talk about sports hagiography. It would appear that SI stringer Bill Donahue has it nearly as bad for Todd as Fox News' Greta Van Susteren. In his article, "The 'First Dude' in His Element," Donahue proclaims:
There is something masterful about Todd Palin. He is almost invariably calm, and he is handsome and rock-steady in an affable, unobtrusive way. He is the perfect political husband.
Donahue was clearly taken by Palin and his partner, Scott Davis, referring to their "lean, gym-sculpted physiques."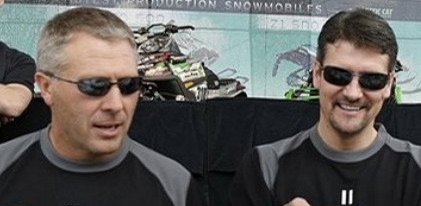 Palin's portrayed as a man of the outdoors, all wrench and testoserone. One would never know that Palin played a central -- and troubling -- role in his wife's Troopergate scandal and that he had his fingerprints all over a host of other government controversies.
Indeed one of the findings last fall by the state's Legislative Council was that Sarah Palin had "wrongfully permitted Todd Palin to use the governor's office...to continue to contact subordinate state employees in an effort to find some way to get Trooper [Mike] Wooten fired."
Nor is there any mention of the fact that Palin was hit with a contempt citation by the Alaska Legislature only a few weeks before the start of the race and that as many as a 1,000 state emails copied to him are the focal point in a legal suit brought by government watchdog and former Palin ally, Andree McLeod, demanding their release to the public. That court decision is still pending.

Nor was there any mention of the fact that Sarah Palin was recently forced to pay back to the state of Alaska the costs of trips made by her children to the Iron Dog in 2007 and 2008--races in which their father, Todd, participated.
In spite of those remarkable holes in his coverage, Donahue does allow that there's "a political resonance to the whole [Iron Dog] scene."
On two race sleds are bumper stickers reading AMERICA. LOVE IT, DEFEND IT, OR GET THE HELL OUT. On another there's a mock ALASKA TERRORIST HUNTING PERMIT, good through 2050, with the license number 9-11-01. Tina Fey is not here amid the wafting aroma of two-stroke motor oil. Neither is Michelle Obama.
What's that supposed to mean? Like they aren't tough enough? That outside women aren't welcome at the Iron Dog? Or that there isn't a single African American participating in the race? It's an odd juxtaposition.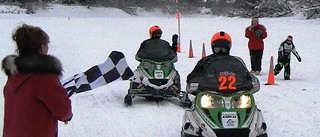 When Sarah Palin was named John McCain's running mate, husband Todd was heralded as a "world champion" athlete. Donahue's description of the Iron Dog reveals it for what it is, something closer akin to a long-distance motorcycle poker run, with a handful of requisite rest stops along the way, during which the contestants eat hardy meals, refuel, sleep in warm beds and, that's right, even shower along the way.
It's quite a cast, but World Class athletes? Have a look. I'll leave that for you to decide. But it looks more like a slow-pitch softball team to me--or something that would be more appropriate on the wall of the local post office.
This Blogger's Books and Other Items from...