THE BLOG
Tina Fey Disses Palin
Saturday Night Live actress Tina Fey received an Emmy Award on Saturday for her spot-on impersonation of Republican vice presidential contender Sarah Palin on Saturday Night Live.
Accepting her trophy for best guest actress in a comedy, Fey went through the ritual of thanking SNL producer Lorne Michaels and her parents, "who are lifelong Republicans, for their patience."
Employing her award-winning Palin-speak, Fey then issued some serious dish at the departed governor of Alaska: "Mrs. Palin is an inspiration to working mothers everywhere because she bailed on her job right before Fourth of July weekend. You are living my dream. Thank you, Mrs. Palin."
Fey had previously dissed Palin during an appearance on David Letterman. "She has a really crazy voice," said Fey. "Not since Sling Blade has there been a voice like hers."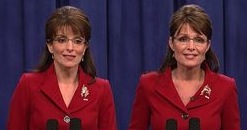 Award-winning writer and filmmaker Geoffrey Dunn is at work on a book about Sarah Palin and American politics, to be published by Macmillan/St. Martin's next year.
This Blogger's Books and Other Items from...