Many people -- even those who profess to have a great love for the arts -- often have trouble distinguishing between the artistic process and an artistic product. Most are consumers who eagerly buy tickets to arts events, purchase books, visit museums, and have a passion for sculpture, painting, and other forms of art.
Many will purchase e-books, DVDs, posters, lithographs, and greeting cards without ever having to think of the artistic process that went into the creation of these products. What they pay to see, however, is very much the outcome of someone's artistic process. Whether it is a museum display about the Impressionists, an operatic performance, or a fashion show, they are paying for the end result.
For some people, placing a value on art is of paramount importance. Whether they look at a painting by a famous artist as a worthwhile investment or think that a superstar's fee makes him the best at what he does (rather than a marketable commodity), the dollar sign is always lurking in the back of their minds.
However, making art is a messy process filled with false starts, scrapped ideas, dead ends, and various forms of failure. Much of the artistic process is built around research, improvisation, and repetition.
While some people envision artists sitting at home waiting for a brilliant idea to hit them like a bolt of lightning, the truth is that most creative types are driven to keep working because it's so hard for them to turn off their imaginations. Compelled to create (or continue rehearsing), they are constantly experimenting with new permutations on old ideas, evaluating nuances of color, tone, fingering, and phrasing, juggling vague possibilities that have yet to become fully articulated in their minds.
A young artist who recently had his first experience with a mentor confessed that the most valuable lesson he learned that day was to never throw anything away. In her superb article entitled Which Is More Useless: Limbaugh or a Classics Major? writer Miranda Frum outlines the life-long blessings of studying the classics (blessings upon which an exact price cannot be placed).
Working artists tend to be fairly organized, often to a point of obsession. They have to be in order to keep track of their ideas while juggling multiple projects at any given moment. Thoughts that come to them in dreams, while shopping (or even in the bathroom) may end up getting incorporated into their art.
Somehow. Some day. Somewhere.
Just as an arts education lays the foundation that can help to shape one's goals and define one's artistic path, external forces can kick an artist into another direction. Two hugely inspirational documentaries recently screened at the San Francisco International South Asian Film Festival (Third i) examine artists who have found themselves (quite unexpectedly) on a mission that may well keep them occupied for the rest of their lives.
Directed by Joshua Dylan Mellars, much of Play Like A Lion is devoted to celebrating the life and music of Ali Akbar Khan, the beloved Hindustani classical musician who died in 2009 at the age of 87. Recognized internationally as an expert in performing on the sarod, he founded the Ali Akbar College of Music (first in Calcutta in 1956, then in Berkeley in 1967, and again in 1985 in Basel, Switzerland).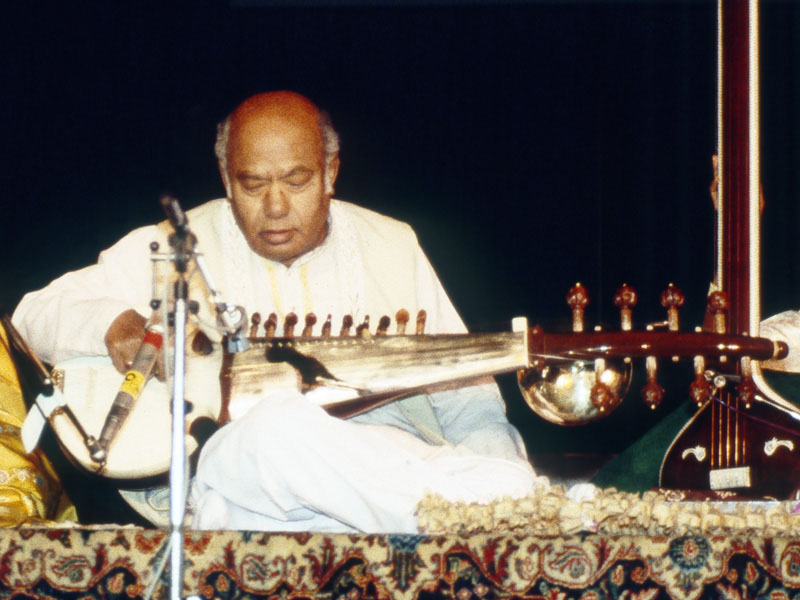 Ali Akbar Khan performing on the sarod
Photo courtesy of Wikipedia
At the age of 16 Ali Akbar Khan accompanied Ravi Shankar in concert. Four years later, he became a court musician for the Maharajah of Jodhpur, Hanwant Singh. He came to America in 1955 at the invitation of Yehudi Menuhin and, during a long career of touring and teaching, received a MacArthur fellowship and, in 1997, the prestigious National Heritage Fellowship from the National Endowment for the Arts.
While Play Like A Lion does a superb job of documenting Ali Akbar Khan's life, it is more intensely focused on preserving and publicizing a family's devotion to the classical music of Northern India. A prolific musician, Ali Akbar Khan also had seven sons and four daughters (his eldest son, Aashish Khan, is now in his 70s). One of his youngest sons, Alam, has taken on the responsibility of preserving and disseminating his father's contributions to the Maihar gharana school of Hindustani classical music, which includes some ragas that have been passed down since the 16th century.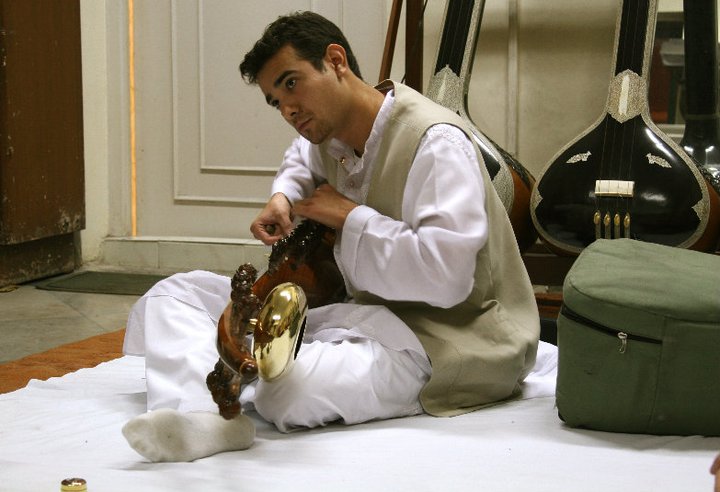 Alam Khan in Play Like A Lion
Thanks to the fine camera work by Joshua Dylan Mellars, Play Like A Lion captures the rich colors of India as well as Ali Akbar's rich musical coloring. Shots taken at Indian music festivals, in private gardens, and at royal receptions burst with the kind of vivid splendor one anticipates from a professional travelogue.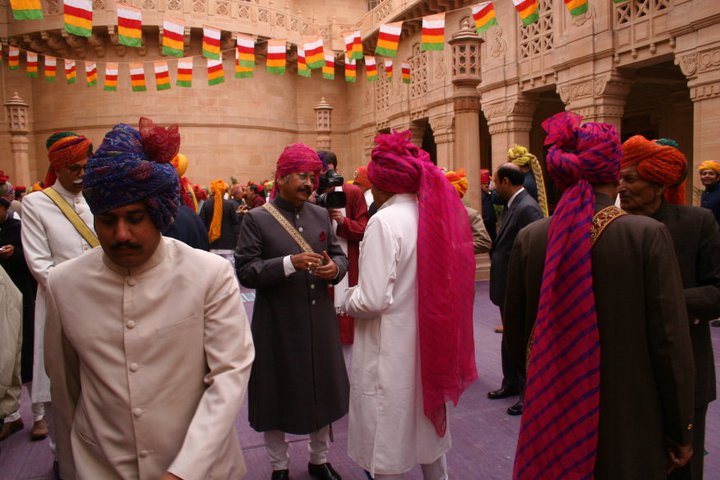 A scene from Play Like A Lion
The sounds heard in Play Like A Lion come from a very different tradition than Western European music. Ali Akbar Khan (who frequently told students that he could make them cry with one note) was revered by musicians far and wide. The documentary includes deeply personal testimonials from Carlos Santana and Mickey Hart, a member of Grateful Dead.
Alam (who began his musical training at the age of seven) accompanied his father onstage during international tours between 1996 and 2006. The documentary follows Alam from Berkeley to India as he visits some of his ailing father's favorite places and performs for Indian audiences. Following his father's wishes, Alam now teaches advanced instrumental and vocal classes at the Ali Akbar College of Music in San Rafael and has dedicated his life to preserving, performing. and teaching this music to the world.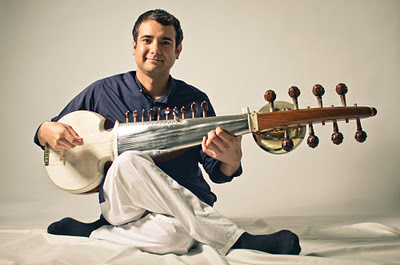 Alam Khan with his sarod (Photo courtesy of Alam Khan)
Play Like A Lion is an intriguing documentary about a musical tradition unknown to many Americans and how a revered maestro's son chooses to devote his life to continuing his family's musical tradition. Here's the trailer:
In a culture that idolizes fame and fortune, many artists struggle to make ends meet. Others may ride the crest of superstardom.
Few, however, decide that it is less important to develop their own artistic talents than to use their creative and critical thinking skills to help others. An inspiring documentary by David Driver focuses on Michael Daube, a man whose greatest talent may be his ability to function as a catalyst rather than as a stand-alone artist.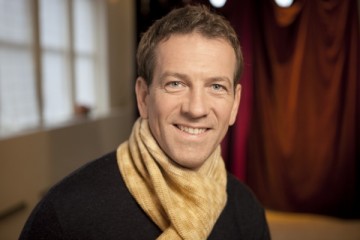 Artist/philanthropist/entrepreneur Michael Daube
Photo courtesy of Tonic
This article was cross-posted on My Cultural Landscape. To continue reading, click here.
FOLLOW HUFFPOST