One of the joys of summer is the opportunity to experience theatre in the great outdoors. If one is lucky, the stars may be shining above, the moon may add some eerie extra lighting to the night sky, or one might notice the lights of a jet plane passing by. I once witnessed in a performance of The Magic Flute at the Santa Fe Opera wherein a bolt of lightning suddenly lit up the sky with remarkably precise timing (the Act II entrance of the Queen of the Night).
On less fortunate nights fog can chill an audience to the bone, rain can drench them in their seats, and the sounds of nature (hooting owls, a lonely cow) can prove to be an ongoing distraction from what's happening onstage. One night in July 1989, as the Santa Fe Opera was presenting the American premiere of Judith Weir's new piece, A Night at the Chinese Opera, I watched in amazement as a torrential downpour drowned out the music. Thankfully, I was sitting under the balcony's overhang.

For many years high schools, universities, and theatre companies have sought new ways to introduce students to the plays of William Shakespeare. The inherent folly of some educational outreach programs was beautifully captured in the Canadian television series entitled Slings and Arrows (which is available on DVD). The following animation clip demonstrates the levels of cultural illiteracy encountered by educators and arts administrators.
Written in approximately 1590, Two Gentlemen of Verona is considered to be Shakespeare's first play. A romantic dramedy involving mistaken identities, it was turned into a Broadway musical in 1971 by John Guare, Mel Shapiro, and Galt McDermot. It even won that season's Tony Award for Best Musical over Grease and Follies! My first encounter with Shakespeare's tale of young lovers was actually in A Spray of Plum Blossoms (a 1931 Chinese silent film inspired by Two Gentlemen From Verona ).
Bette Midler frequently asks her audience if they know what you get when you cross an onion with a donkey. The answer is simple: Sometimes you get a smelly vegetable with a pair of large ears. But if you're lucky, you get a really sweet piece of ass that just makes you want to cry!
Saturday, July 9 was one of those lucky nights. A sophisticated, intelligent new variation on Shakespeare's play received a rousing world premiere at the California Shakespeare Theater in a brilliant production conceived, written, directed, and composed by Amanda Dehnert.
In Dehnert's adaptation, a group of actors form a rock band called The Verona Project. Working with a talented young cast (including several recent graduates from the American Conservatory Theatre's excellent Master of Fine Arts Program in Acting), Dehnert was able to capitalize on their youth, musical skills and, in some cases, prior experience performing in rock bands.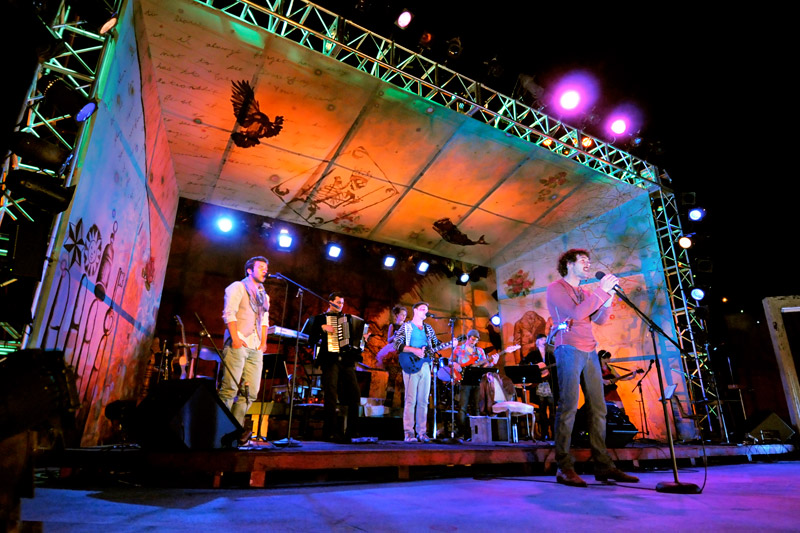 Performing The Verona Project under the stars at the
California Shakespeare Theater (Photo by: Kevin Berne)
With costumes by Melissa Torchia and a unit set designed by Daniel Ostling, the result was a delicious hybrid of performance styles in which anything and everything that had been thrown into the creative pot came out seeming new and surprisingly fresh. The most dramatic change was reconfiguring the character of Sylvia (the Duke's daughter) into Sylvio (the Duke's son) and Thurio (Sylvia's ridiculous suitor) into Thuria (a ditsy young woman who had been promised in marriage to Sylvio when they were children). In the following clip, Dehnert describes how she arrived at the crucial decision to change the genders of these characters.
The happy result is a show that plays like a concept album, seems like Shakespeare, has contemporary-sounding music, and is a solid piece of entertainment. Not only does The Verona Project keep audiences on the edge of their seats as they follow the adventures of Valentine (Nate Trinrud), Proteus (Dan Clegg), and Julia (Arwen Anderson) as they leave home and head for the big city, it continues to surprise people who don't expect to see Shakespearean actors performing on ukulele, French horn, saxophone, theremin, accordion, and a variety of instruments usually associated with rock bands.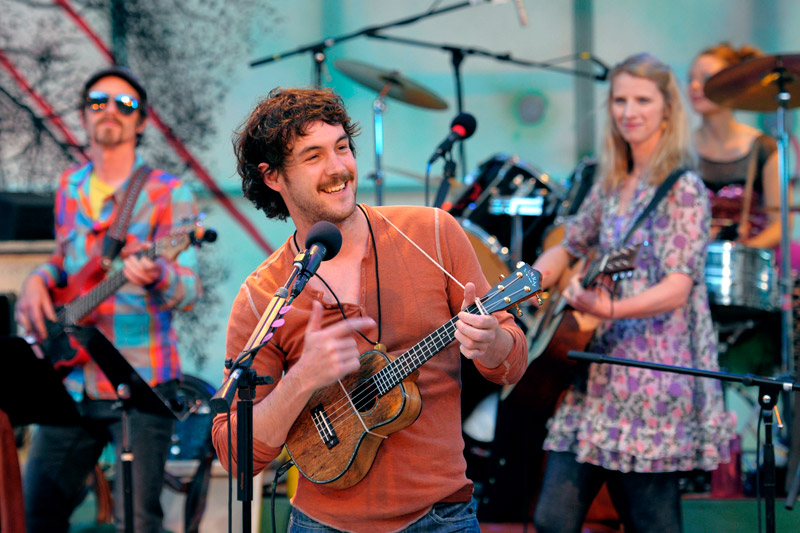 Dan Clegg plays the ukulele as Proteus (Photo by: Kevin Berne)
The actors all take turns performing in the band, as romantic leads, or in supporting roles.
As Proteus, the affable Dan Clegg perfectly captures the essence of a self-centered young man who wants it all but remains oblivious to the emotional pain he causes his friends.
Nate Trinrud's Valentine makes a smooth transition from the poetic ardor of best [platonic] friend to the genuine emotions felt by a young man who has suddenly fallen head over heels in love with a man who loves him back.
As Sylvio, Philip Mills handles a complex character (the Duke's son) who knows he is not in love with his fiancée, Thuriam and is quite in touch with his homosexuality.
Singer/songwriter Arwen Anderson (who has appeared on numerous Bay area stages, performed in rock bands, and teaches aerial silk and trapeze at the Circus Center of San Francisco) makes a superb company debut as Julia, the young woman who is horrified to hear her boyfriend [Proteus] casually tell others that she is dead.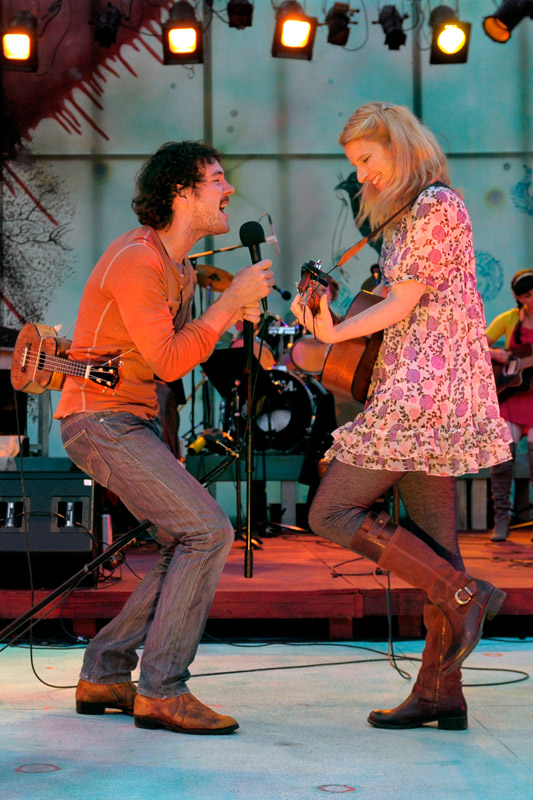 Proteus (Dan Clegg) and Julia (Arwen Anderson) in
The Verona Project (Photo by: Kevin Berne)
Harold Pierce has some wonderful moments as Speed and Val's father.
Whether appearing as Val's mother or the ditsy Thuria, Elena Wright consistently steals the show (in addition to performing on drums and percussion).
Marisa Duchowny appears as Proteus's mother and the ghost of Sylvio's dead mother.
As the Duke, Adam Yazbeck presents a complex and powerful male figure (the widower who never wants his son to feel the pain of lost love).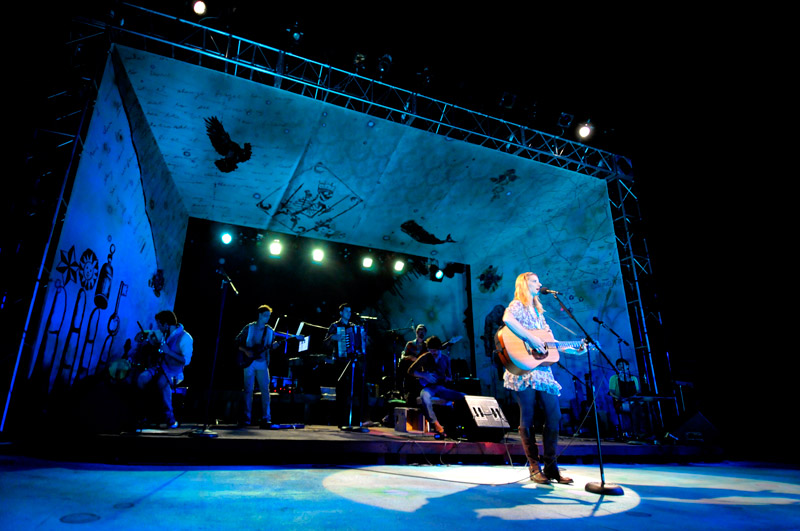 Arwen Anderson as Julia (Photo by: Kevin Berne)
The evening benefits immensely from the sound design by Joshua Horvath and David Lee Cuthbert's lighting. Most exciting, however, is the knowledge that there is a new (and easily accessible) work that can soon start attracting young audiences to Shakespeare. I don't doubt that The Verona Project will be produced by Shakespeare festivals around the world. It is also a perfect piece for university theatre departments.
Looking further into the future, I hope some day someone can produce a festival of American musicals which feature positive depictions of gay characters (I'm thinking of The Verona Project, Todd Almond's Girlfriend, and Ron Lytle's hilarious Oh My Godmother! for starters).
Performances of The Verona Project continue through July 31 at the Bruns Amphitheatre in Orinda. In the meantime, here's the trailer for Amanda Dehnert's thrilling adaptation of Shakespeare's Two Gentlemen of Verona.
SUBSCRIBE TO & FOLLOW CULTURE SHIFT
Every Friday, HuffPost's Culture Shift newsletter helps you figure out which books you should read, art you should check out, movies you should watch and music should listen to. Learn more