In 1963, when Jessica Mitford published The American Way of Death, her book shocked many readers by revealing some of the ways in which people in the funeral industry manipulate grieving families in their most vulnerable moments in order to fatten profit margins. Last year, when the health reform debate led to hysterical accusations about "Obama's death panels," Americans once again displayed their ignorance and inability to cope with death and dying.
Students of comparative religion and cultural anthropology have long looked to The Tibetan Book of the Dead and The Egyptian Book of the Dead for insights into how non-Judeo-Christian cultures approach and appreciate death. Japan's culture, in particular, offers a rich contrast to the standard American's fear and denial of death as the logical conclusion to birth.
Recently, after watching a poignant Japanese film written and directed by Miwa Nishikawa, I felt purged, cleansed, refreshed, and revitalized. Dear Doctor stars comedian Tsurube Shôfukutei as the mysterious Dr. Osamu Ino. And, boy, does he ever have a secret!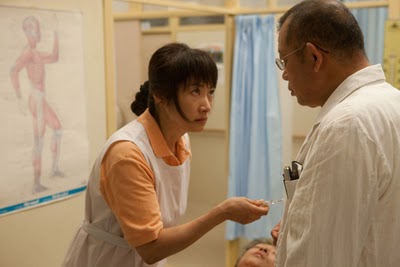 Nurse Otake (Kimiko Yo) and Dr. Ino (Tsurube Shofukutei)
For many years, Dr. Ino has been the nerve center of a tiny village in rural Japan with a population of approximately 1,500. Nearly half of the villagers are elderly. Their symptoms, however, are largely psychosomatic and often related to their loneliness and sense of isolation. When medical student Keisuke Soma is assigned to work as an intern to Dr. Ino, he arrives in a little red sports car feeling as if this remote outpost could be an insult to his intelligence. Soma's father is an established physician who is much more interested in medicine as a business. By contrast, the humble Dr. Ino shows great compassion for his patients. He represents the kind of healthcare that Soma would like to practice but that has been driven out of Tokyo's hospitals. Among the locals Soma encounters are:
Akemi Ohtake, a former Emergency Room nurse who assists Dr. Ino in his clinic.
Masayoshi Saimon, a pharmaceutical salesman who delivers medications to the villagers.
Kaduko Torikai, an elderly potato farmer who has started to suffer from anemia as a result of internal bleeding. Her symptoms could be due to an ulcer, hemorrhoids, or stomach cancer.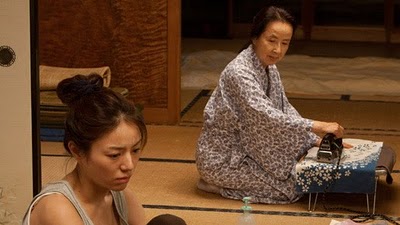 Ritsuko Torikai (Haruka Igawa) and her mother, Kaduko (Kaoru Yashigusa)
What the villagers don't know is that Dr. Ino is not a licensed physician. A former medical equipment salesman, he showed up in town posing as a doctor. With Japan's health system failing in rural areas, the town's mayor never checked Ino's credentials. His ability to use medical textbooks to diagnose the minor ailments of the villagers has, for the most part, kept him out of trouble.
But Kaduko Torikai's situation is different. She may need more advanced care. Embarrassed by her ill health, Kaduko doesn't want to become a burden to her daughter and thus conspires with Dr. Ino to keep her illness a secret from Ritsuko, a busy Tokyo physician who barely has time to visit her mother.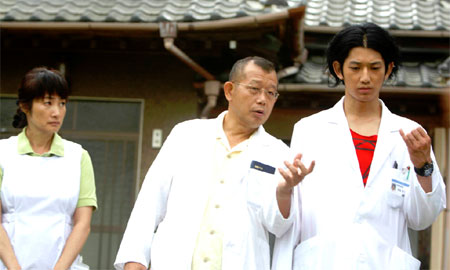 Akemi (Kimiko Yo), Dr. Ino (Tsurube Shofukutei), and Keisuki Soma (Eita)
At the beginning of Dear Doctor, Dr. Ino suddenly disappears from the village. The story is told in flashbacks as two clumsy police detectives try to piece together the mystery of Ino's disappearance and figure out how he was able to practice medicine for so long without a license. Much to their chagrin, the detectives realize that Dr. Ino was so beloved by the residents of the village that their investigative efforts may not be appreciated at all.
Dear Doctor examines many ethical issues about medicine, patient's rights, licensure, confidentiality, and a healthcare provider's ability to fall in love with the worship he receives from his patients. The surprise ending is a gem. Here's the trailer:
* * * * * * * * *
Written by Aya Watanabe and directed by Isshin Inudou,
The House of Himiko
focuses on a dying gay man who has been estranged from his daughter for many years. Like
Dear Doctor
, it deals with the issue of Japan's growing senior population. Its principal characters are:
Himiko, a dying openly gay man who prefers to dress in silk nightgowns. Himiko once ran one of Japan's most popular gay nightclubs. After selling his business, he put his money into a seaside residence for gay seniors where there is no need to worry about maintaining tatemae.
Haruhiko, Himiko's handsome young lover.
Saori, a young woman who has never forgiven her father for leaving her mother. A person with extremely low self esteem, Saori's life is going nowhere fast.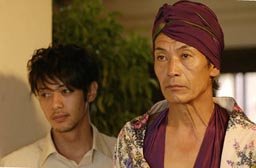 Haruhiko (Jo Odagiri) and his dying lover, Himiko (Min Tanaka )
When Haruhiko shows up at Saori's workplace offering her a well-paid part-time job as a maid at the House of Himiko, she is initially turned off by the thought of working in a house filled with old homosexuals. She eventually agrees to take the job, however, and slowly begins to gain a better understanding of her parents' marriage and her dying father.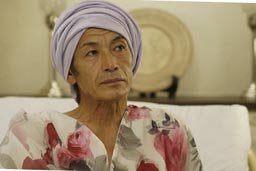 Min Tanaka as the dying Himiko
While The House of Himiko is mostly set in Himiko's seashore residence, the film boasts a huge dance number when Haruhiko and Saori take a night off to visit a local nightclub.
The House of Himiko -- which helps audiences examine the relationships between different generations of gay men, between a gay father and his angry, alienated daughter, and between the residents of a home for gay seniors and the young, homophobic bullies in their neighborhood -- is a surprisingly tender and appealing film. Here's the trailer:

* * * * * * * * *
Written and directed by Doris Dorrie with a rare beauty, Cherry Blossoms will haunt you. It is a remarkably sensitive and poetic film about loneliness, alienation, death, and depression that will grab you in ways you don't expect.
The film starts out innocently enough. Rudi and Trudi are an elderly couple living in rural Bavaria whose grown children have moved to the city and developed busy lives. When doctors tell Trudi that her husband has a terminal illness (and suggest that she think about doing something together that the couple might have put off for too long) her thoughts instantly turn toward visiting their son Karl, who now lives in Tokyo.
Trudi has always had a fascination with Japanese culture. When she was young, she was intrigued by Butoh theater and shadow dance (she still treasures a collection of photos taken of her wildly gesticulating in Butoh makeup). Her home is decorated with several paintings of Mt. Fuji. One of her favorite books is Hokusai's One Hundred Views of Mt. Fuji.
However, Rudi is an aging numbers cruncher for the local Department of Waste Management who follows an unwavering routine and is decidedly averse to change. A sudden trip to Berlin to visit their two other children makes them acutely aware that their presence is, at best, an intrusion. Their grandchildren are obsessed with handheld electronic games. Their son and daughter can't wait for them to leave so they can get on with their lives. Only their daughter's lesbian lover (Franzi) can seem to find the time and generosity of spirit to go sightseeing with them (she has no hesitation about taking Trudi to a Butoh dance recital).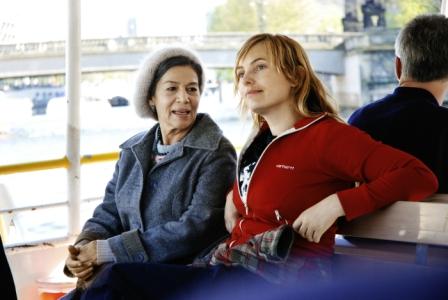 Trudi (Hannelore Elsner) and Franzi (Nadja Uhl)
Realizing that time spent with their children is not helping matters, Trudi (who has been nervously keeping an eye on Rudi for signs of his illness) suggests that they take a side trip to the Baltic Sea. Rudi acquiesces but, several mornings later, awakens to discover that his wife has unexpectedly died in her sleep.
With Trudi having spent her life taking care of him, Rudi has no idea what will happen next. He is startled to learn about Trudi's artistic yearnings from Franzi, a near stranger who, in a very short time, gained more insight into Trudi than any of their self-absorbed children ever had.
Shocked by the realization that his selfishness had stifled his wife's true nature, Rudi flies to Tokyo to visit his son Karl, packing some of Trudi's favorite clothes to accompany him on the trip. Because Rudi has never shown much interest in his children, he's surprised to discover that Karl has essentially followed in his father's footsteps and become a numbers-crunching workaholic with no real emotional attachments. Communication between the two men is strained, at best.
Left alone, Rudi occasionally dons Trudi's clothes and cleans his son's apartment. Finally, he gets up the courage to explore Tokyo. Trips to massage parlors only exacerbate his loneliness, guilt, and the pain of missing his wife. One day, while walking through a public park, he spots a young performance artist wearing the same kind of white makeup that he had seen in Trudi's Butoh pictures. Upon introducing himself to Yu, he learns that since her mother's death a year ago, Yu has been using dance as a way of staying in touch with her mother's spirit.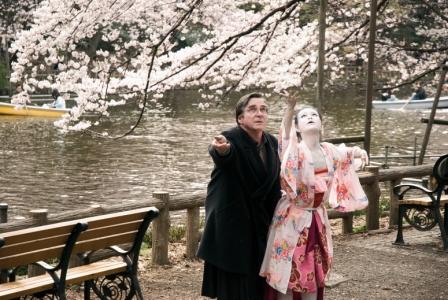 Rudi (Elmar Wepper) and Yu (Aya Irizuki)
Yu is a creature unlike anyone Rudi has ever met. She is essentially homeless, living in a pup tent in a public park, and dragging her possessions around in a suitcase. Yet she is able to touch Rudi's heart as she explains how cherry blossoms hold a beauty that can never last, that must be savored in the moment.
The two form an odd friendship and, when Karl can't find the time, Yu agrees to accompany Rudi to Mt. Fuji. While Rudi's death scene (in Butoh makeup by a lakeside with Mt. Fuji in the background) is beautifully staged, its dramatic impact is overshadowed by a subsequent scene in which Yu and Karl stand together in a Tokyo crematorium, gently using chopsticks to transfer Rudi's charred bones to the urn which will contain the old man's ashes. It is a scene of unspoken tenderness, intimacy, and compassion shared between strangers -- quite the opposite of either Trudi or Rudi's funeral services in Germany.
Cherry Blossoms is a rare achievement that employs the traditions of two radically different cultures to bring peace and understanding to a grieving widower's final days. Dorrie's film benefits greatly from Claus Bantzer's touching, simply orchestrated, and evocative original score which, together with Hanno Lentz's stunning cinematography, provides a foundation of delicacy, sensitivity, and resolve to Dorrie's overriding artistic vision. Here's the trailer:
* * * * * * * * *
There aren't too many occasions when, as you watch a film's credits roll by on the screen, you find yourself wiping away a stream of tears as you silently admire a movie's quiet humility, the story's simplicity, and perhaps most of all, its overall artistic integrity. There are no CGI effects or car chases in Departures (which won the 2009 Oscar for Best Foreign Film). Nor is there any political intrigue, domestic violence, or a diva-like meltdown.
This is a film about learning how to respect the dead and the frequently scorned craftsmen who help souls make the transition to whatever the next phase of their existence might be. It has some surprisingly ribald moments of humor, human weakness, and emotional truth. Above all it has some astonishingly moving performances and great storytelling. If you tried to rework Six Feet Under for a Japanese audience you would be hard put to meet the challenge of addressing the Japanese culture's rituals surrounding a loved one's death with so much dignity, kindness, and respect for the deceased.
Writer Kundo Koyama and director Yojiro Takita have done such a stunning job of telling this story that its 130 minutes pass by in a flash. They are immensely helped by Takeshi Hamada's cinematography and Joe Hisaishi's haunting original score. This is a film of such remarkable insight and deft artistry that you cannot watch it without being profoundly moved. Keep lots of tissues at hand -- you'll definitely need them.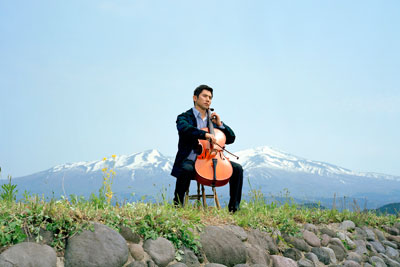 Masahiro Motoki as Daigo Kobayashi
Masahiro Motoki portrays a young cellist named Daigo Kobayashi, who has been living in Tokyo. When his career is cut short because the orchestra with which he performs has gone bankrupt, he must find a new career path. With no means of future support, he decides to return to his birthplace -- a small town where he can at least live rent-free in his late mother's home. Daigo's wife, Mika, is surprisingly agreeable to his new idea and does not resist her husband's decision to leave their sophisticated urban lifestyle. After selling his expensive cello, the couple head for Japan's countryside where life is slower, simpler, and poses some new and unexpected challenges.
As Daigo scans the classified ads looking for a job, he notices a listing for "Departures." Unaware that the ad contains a typographical error (it should have read "The Departeds"), he interviews for a position at a small business whose source of income is nothing like the travel agency he had imagined.
For many years the owner, Ikuei Sasaki, has worked with local undertakers to prepare dead bodies for their entry into the next life. Sasaki is a Nokanshi, the gentle gatekeeper (somewhat like a Western mortician) who makes sure a corpse is ready to be placed in a coffin according to Japanese ritual.
Although Daigo is initially horrified and repulsed by what he sees, Sasaki courts him with generous cash bonuses and a hint that this job may have something to do with his ultimate fate. As a professional performer, Kobayashi takes to the ritual element of his new job like a duck to water. When Mika finds out what his work entails, she is mortified by the shame of making money off the dead and returns to Tokyo.
Only when Mika returns to inform her husband that she is pregnant does she begin to understand what Daigo's work entails -- as well as the honor and dignity involved in performing a task that no one in his right mind would choose as a profession. When Kobayashi must prepare the body of a close family friend, his wife gains a new and deeper understanding of the man she married. Late in the film, when news reaches Kobayashi that his long-estranged father has been found dead in a coastal fishing village, he must overcome his bitterness toward the man and make sure the situation is handled with care.
Departures has a small cast of extremely memorable characters brought to life by a wonderfully disciplined ensemble. Among them are the old woman who knew Daigo as a child (who has kept running the community bathhouse long after her husband died) and her aging boyfriend who, unbeknownst to Kobayashi, is a long-time employee at the local crematorium.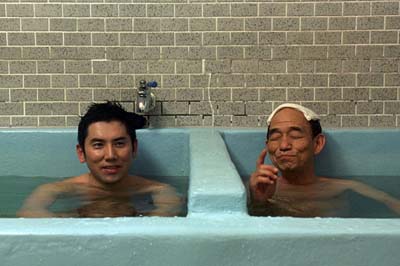 Daigo (Masahiro Motoki) visits a local bathhouse with a friend

Departures has some beautiful writing -- especially the scene in which Sasaki explains to Daigo how the living must eat the dead in order to survive. There are moments of exquisite tenderness and sensitivity; in particular, when Kobayashi and Sasaki must ask a grieving family if they want the body of their dead transsexual son to be made up as a man or woman. Viewers become so absorbed in Masahiro Motoki's breathtaking performance as Kobayashi and the stoic portrayal of his new employer and mentor by Tsutomo Yamazaki that it almost feels as if this deadly serious movie is floating on a cloud of holistic grace and dramatic elegance. Here's the trailer:
To read more of George Heymont go to My Cultural Landscape