In 1964, when Jan & Dean scored a huge hit with their song, "The Little Old Lady From Pasadena," listeners quickly fell in love with the refrain "Go granny, go granny, go granny, go!" More than four decades later, many a film student has discovered that there is cinematic gold to be mined from the stories his grandmother -- or great grandmother -- has to tell. As technology grows (and older generations die off), the importance of collecting oral histories of what happened in the past cannot be underestimtated. During the recent San Francisco Jewish Film Festival, documentaries about three remarkable women reminded viewers that courage and bravery were never the exclusive territory of men.
Born in Brooklyn on September 11, 1911, Ruth Gruber had the kind of career most journalists dream about. An impressive new documentary entitled Ahead of Time offers a remarkable look at a fearless woman who refused to take "no" for an answer.
At the age of 20, Gruber became the youngest Ph.D. in the world.
In 1935, Gruber became the first journalist to enter the Soviet Arctic.
In 1941, as part of her work for the Roosevelt administration, she became the first civilian on the Alaska Highway.
In 1944, she was chosen by the Roosevelt administration to escort 1,000 Holocaust refugees from Naples to New York as part of a secret wartime mission (in order to protect her in case of capture, she was given the rank of a General).
In 1946, she sat in the first row during the Nuremberg trials.
Her photos of the refugee ship "Exodus 1947" were published around the world.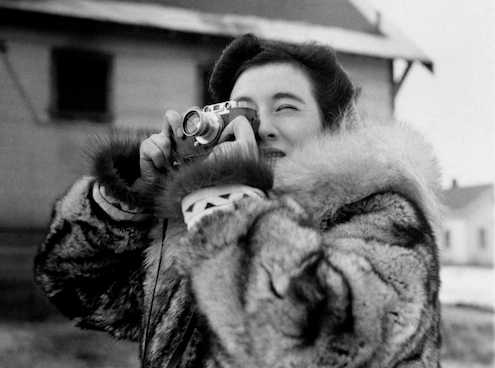 Journalist Ruth Gruber
Robert Richman's documentary about Gruber is blessed with a wealth of documentation (including Gruber's stories and photographs sent from the field) as well as filmed visits of the 98-year-old Gruber with Harold M. Ickes (whose father, Harold L. Ickes, was FDR's Secretary of the Interior) and Yitzhak "Ike" Aronowicz, the captain of the "Exodus 1947."
Ahead of Time shows Gruber (in her late 90s) to be an elegant, articulate woman who, as the author of 18 books, has chronicled many historic events of the 20th century. Whether visiting with an old friend from Cologne (whose family hosted her during her studies abroad) or visiting parts of Queens where she grew up, Gruber remains a riveting figure -- a living time capsule of 20th century history. You can enjoy a two-part interview with Gruber here and here (about 16 minutes total viewing time) and watch a trailer for Ahead of Time here.
A deeply moving documentary, Ingelore tells the story of a German Jew, born in 1924, who triumphed over misfortune, adversity, and a physical handicap. Born to Jewish parents in Kuppenheim, Germany, Ingelore Herz was deaf and mute. Not knowing what to do with such a child, her parents basically ignored her and made no effort to communicate with her.
As a result, Ingelore did not speak her first word until she was six years old (she was finally able to complete a full sentence at the age of 12). Her education came to a sudden halt when the other students at her school started taunting her for being a Jew (a word she could not even understand).
After being trained to work as a maid, she was raped by two Nazi cadets. Thrown out of school shortly after Kristallnacht, she returned home to Kuppenheim. Much to her surprise, her father (who had owned a hardware store) was allowed to return home from Dachau because the Nazis needed his contacts with suppliers.
The Herz family managed to escape to Rotterdam, where Ingelore's uncle arranged their passage to New York aboard the S.S. Volendam (which was torpedoed later that year but did not sink). Ingelore's arrival in the United States on February 22, 1940 (George Washington's Birthday) was accompanied by an unwanted pregnancy that was soon followed by an abortion performed by a sympathetic doctor.
This 40-minute documentary combines archival footage and dramatic reenactments along with a first person interview in which Ingelore uses her voice and communicates in sign language. As filmmaker Frank Stiefel explains:
"Ingelore is my mother's story. It is also the first project that I have directed. While I had heard many pieces of the story over the years, the first time I heard it as a single narrative was when my mother lectured to a room of deaf students at the National Technical Institute for the Deaf in Rochester, New York. At a moment in the lecture, I knew this should be a film. A moment later, I appointed myself to direct. My original purpose was to leave the film to my children, so that a record survived of their grandmother. As the film proceeded, it became more of an art project that took on a larger piece of my life."
There is a great poignancy to this film, much of it conveyed through Ingelore's emotional narration as she speaks and signs to the camera. Listening to her describe how thrilling it was to see the Statue of Liberty as the Volendam entered New York Harbor -- or to watch her, at age 85, enjoying a Passover seder with her family -- is a heartwarming experience. Here's the trailer:

There are many instances in which truth seems stranger than fiction. But in the case of John Keith Wasson's astonishing documentary, Surviving Hitler: A Love Story, the truth really does boggle the mind.

Wasson's documentary relates the story of how a young German teenager joined the German resistance soon after discovering that she would not be allowed to attend university because her mother was Jewish. It didn't take long for the pretty Jutta to fall in love with a handsome injured soldier named Helmuth Cords. Their relationship during wartime would be a powerful enough story on its own. But Helmuth soon became one of the conspirators behind 1944's Operation Valkyrie (the infamous plot to assassinate Adolf Hitler).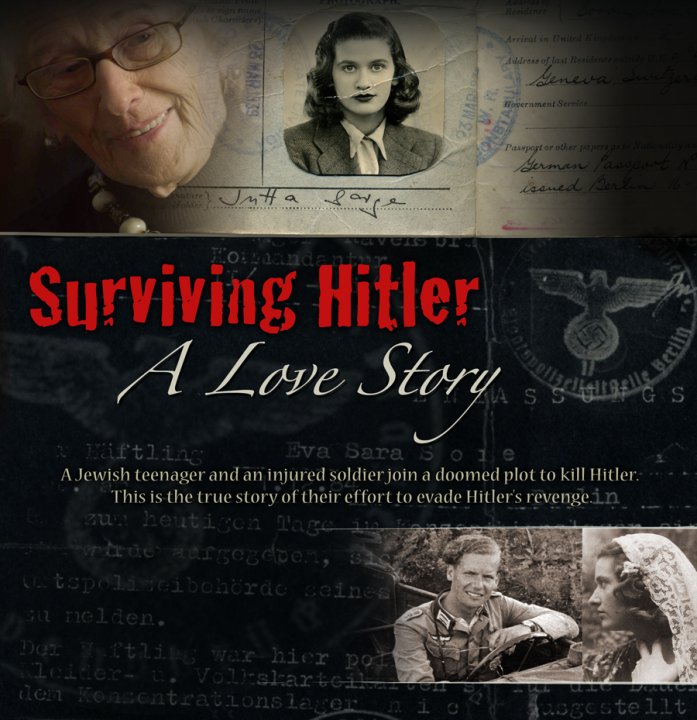 Poster art for Surviving Hitler: A Love Story
What makes Wasson's documentary so touching is that Helmuth was an amateur filmmaker whose 8-mm home movies (including footage from the German home front) survived Germany's destruction under Hitler's rule. Whether shooting footage of Jutta in a bathing suit, sipping coffee, or reading a book, his 8-mm films glow with the strength and optimism of young people in love.
Wasson's film relates the harrowing tale of what happened to the Jewish political refugee given shelter in Jutta's home, her incredible courage in confronting Nazi officers after her parents had been arrested, and her harrowing separation from Helmuth following the failed attempt on Hitler's life. Even though Jutta and Helmuth's history unravels like the pages of a thriller, this is one of the rare films about Jews in wartime Germany that has a happy ending. One month after Germany's surrender to Allied forces, Helmuth and Jutta were the first couple to be married in Berlin.
Surviving Hitler: A Love Story is a fascinating film that will educate and entertain, often leaving its viewers shocked and awed by Jutta and Helmuth's courage, pluck, and phenomenal luck. This documentary packs more into 66 minutes than some filmmakers put into movies that are twice as long. Here's the trailer:
SUBSCRIBE TO & FOLLOW CULTURE SHIFT
Every Friday, HuffPost's Culture Shift newsletter helps you figure out which books you should read, art you should check out, movies you should watch and music should listen to. Learn more