One of the great blessings of cinema is that it transports us to worlds we might never be able to reach on our own. Whether through documentary footage of nature and history or by creating a fantasy world constructed with the building blocks of a writer's imagination, film allows its audience to indulge in the kind of armchair adventures that are exceeded only by our dreams. At most film festivals, one entry stands out so far above the others that it generates a noticeable buzz. Here are three of my favorites:
The White Meadows was shot on and around the salt formations of Lake Urmia (the largest salt water lake on earth). Located in northwestern Iran, the geography of the region seems like a cross between the baked heat of the Mediterranean and the stark landscape of an alien planet. One often feels caught in a tug of war between the barely literate residents of Lake Urmia's tiny, sun-baked islands and the creatures from Planet of the Apes.
In Mohammad Rasoulof's breathtaking film, Rahmat is a mysterious figure who travels between a small group of islands in Lake Urmia collecting the tears generated by the grief of their inhabitants. These tears are treated as sacred. No one but Rahmat knows the purpose for which he collects them. But the ritual is one of long standing and his visits are treated as solemn events.
In many respects, Rahmat functions as a shaman for groups of people isolated from the rest of the world by their culture and location. His compassion and understanding overlay what is essentially a business and family tradition.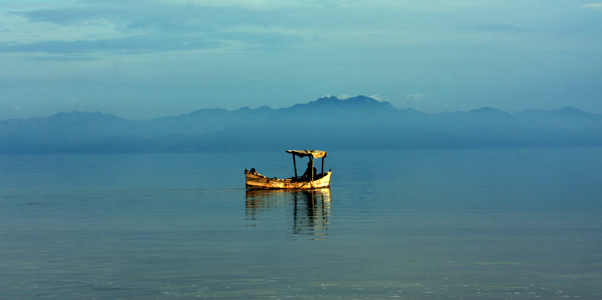 After collecting the tears from a grieving family, Rahmat discovers a stowaway in his boat. What was supposed to be the body of a dead woman turns out to be the very live body of Nissim, a young man hoping to find his long-lost father.
In the course of their travels, Rahmat and Nissim witness a young woman being sacrificed to the sea (in order to prevent her from inspiring lust among the island's male inhabitants), meet a young man covered in bottles containing whispers who must descend to the bottom of a well, and encounter two brothers who cannot find peace because one insists on speaking the truth about what he sees.
Thanks to the extraordinary work of cinematographer Ebrahim Ghafouri, editor Jafar Panahi, and composer Mohammad Reza Darvishi, Rasoulof's 92-minute film grips the audience in his artistic vision from its opening moments. Even in the film's slowest passages, the audience never loses interest.
This is a film of such lush visual beauty, such intense theatricality, and such powerful imagery that one exits the theater deeply moved and yet unable to articulate why. Rasoulof's ability to combine the rituals and hardships of an alien landscape with the drama of souls tortured by the inanity of their culture is an astounding achievement in cinematic art.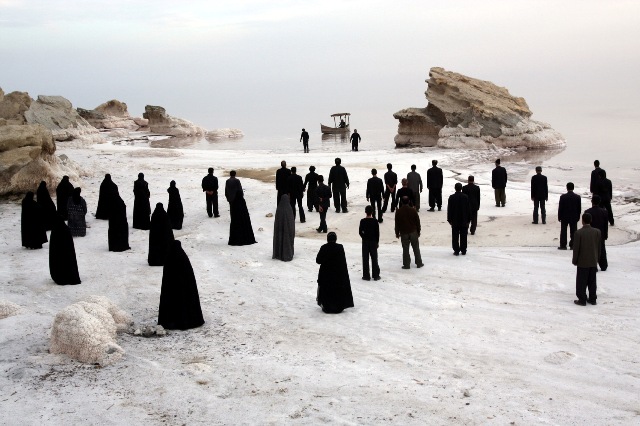 While it would be easy to try to look for political messages in The White Meadows, one would be better served by just sitting back and enjoying a cinematic gem so dramatically captivating and visually entrancing that the experience leaves one struggling to think of another film quite like it. The White Meadows will soon be available on DVD. Be sure to add it to your Netflix queue.
* * * * * * * *
For many gay men, the ultimate fantasy involves sex between identical twins. While a loving sexual relationship between stepbrothers might not generate quite the same kind of publicity as if they were identical twins, a new Brazilian movie written and directed by Aluisio Abranches is so beautifully plotted and lovingly filmed that it easily qualifies as the best gay incest movie of the year (even if its two stars are only half brothers). From Beginning To End also depicts the most wholesome love story you are ever likely to see on the silver screen.
As the film opens, we see two male adolescents doing what most kids their age do -- teasing each other. At the ripe old age of 11, Francisco obviously has the upper hand as he threatens to kill his six-year-old brother's teddy bear. Thomas is screaming to get his stuffed doll back and resenting his brother's unfair advantage. Cut to the two boys taking their evening bath together and being admonished by the family maid for making such a mess in the bathroom.
While the two boys have the same mother, they have different fathers. Francisco's father (Pedro) still lives in Argentina while Thomas's father (Alexandre) is an academic who now lives with the boys and their mother in Brazil.
Although the boys may fight during the day, their closeness does not cause any concern for their mother, who is a physician. Julietta tells Francisco that if he ever has questions about things in life that he doesn't understand, he should feel free to ask her about anything. The tenderness and spontaneity between the two brothers seems perfectly natural to her (even when they fall asleep in the same bed with Francisco's arm protectively wrapped around his kid brother).
Small gestures, however, show that the two boys are growing closer than usual. One night, when Alexandre attempts to punish his son for bad behavior, Francisco steps between them and announces that he will assume any responsibility for disciplining his stepbrother. During a Christmas visit to Pedro's family in Argentina, the effusive Thomas innocently kisses Francisco on both cheeks in front of all the relatives.
Time passes. After Pedro and Julietta die, the boys reappear as adults mourning the death of their mother. By this point, the 25-year-old Francisco has become a doctor. At 20, Thomas is training to become a competitive swimmer. Alexandre has moved out, leaving the two young men to live alone in the house where they grew up. Returning home from their mother's funeral, the two stepbrothers finally consummate a love that has been building for years.
While intensely sensual and erotic, their lovemaking is neither seductive nor exploitative. The passion that erupts between the two brothers is a natural and genuine extension of all their years of physical contact. Once their relationship turns sexual, the love between the two brothers continues to deepen. No one seems to have a problem with their public displays of intimacy.
In one beautiful shot, Francisco and Thomas are seen rising from the blue waters of a popular beach with the ghost of their mother happily between them. But then the swim coach who has been working with Thomas delivers a piece of news that could shatter their domestic bliss.
Thomas has been invited to train in Moscow with Brazil's Olympic swim team. Although the offer presents the opportunity of a lifetime, it also means that the two men will be separated for the first time in their lives. Francisco insists that his younger brother accept the invitation and swears they will find ways to keep their love alive over a distance of nearly 7,000 miles.
Although Francisco tries to socialize and meet people, when he brings a young woman home from a nightclub, she points to his wedding ring and asks if spending the night together is really what he wishes to do. From Beginning To End takes audiences on a magnificent emotional journey. Filled with love, thrilling to watch, and emotionally fulfilling in ways not often found in modern cinema, it is an indie gem of the first order. Here's the extended trailer:
Wang-ui Namja's historical costume drama, The King and the Clown, took the Korean market by storm when it was released in 2005. Although it was screened at several film festivals in the United States, it never received the kind of distribution it deserves. Set in early 16th century Korea, The King and the Clown is almost Shakespearean in the depth and breadth of its intense theatricality.
The scenes in the court of Prince Yeonsan have a breathtaking beauty. As with Shakespeare's Hamlet, the "play within a play" leads to a critical showdown. The King and the Clown also offers viewers an exceptionally rich visual feast (especially for those with a passion for period costume design). Thankfully, some enterprising soul has put the entire film up on You Tube. You can watch it in the following two clips. Enjoy!
SUBSCRIBE AND FOLLOW
Get top stories and blog posts emailed to me each day. Newsletters may offer personalized content or advertisements.
Learn more