Great storytellers don't just pop out of nowhere. Their skills are built over years of practice sculpting words and phrases before live audiences as they seek the hidden musicality of their words and the underlying rhythms in their speech. As each story is repeated, a polishing process quietly takes place as the storyteller learns what works and what doesn't work, which moments are extraneous and can be cut from the narrative.
By the time a storyteller has mastered the text, rhythm, and pacing of a story, she understands how to unravel its surprises with the same precision that a top chef plans a parade of spices over a diner's palate. Not only does she get to relive an emotional journey time and time again, she gets to share it with new listeners -- people whose wonder and awe are derived from the storyteller's charisma, conviction, and ability to captivate an audience.
As one experiences a series of solo performers delivering monologues, it becomes fairly easy to see which actors are secure in their material, which honestly love to work with an audience, and which are still developing their "sea legs." One also learns how different styles of performance work to support different narratives. For some actors, a linear narrative works best. For others, the challenge of telling their story lies in their ability to bring a variety of memorable characters to life.
Written and performed by Sharon Mathis, He/She and Me: A Love Story scored a poignant success on the opening night of the 2010 San Francisco Fringe Festival. This one-woman show details the struggles of Pat to come to terms with her husband Sam's choice to undergo gender reassignment surgery (the character of Pat is based on interviews conducted by Dr. Virginia Erhardt with wives who have stayed in relationships with men who were crossdressers and/or transsexuals).
It hasn't always been easy for Pat, who first received word that her husband decided he was really a woman when he was 55. Granted, Sam was often away on business for long stretches, but when you've been in a long-term relationship you would think you knew your spouse pretty well.
He/She and Me is all about the pitfalls of assuming you can expect the unexpected. As Sam makes the surgical transition to becoming Sheila, Pat has very few guidelines for how to adjust. There are lots of things she can do for Sheila, but what about things that can be done for Pat?
Because they don't have any children, telling their family and friends becomes a little more straightforward (the nieces and nephews don't seem to care very much). But sometimes people's reactions are far from the usual. When Sheila goes out drinking with some friends from work and an obnoxious drunk calls her a "stupid cunt," Pat is shocked to discover that Sheila actually thought the insult was quite funny.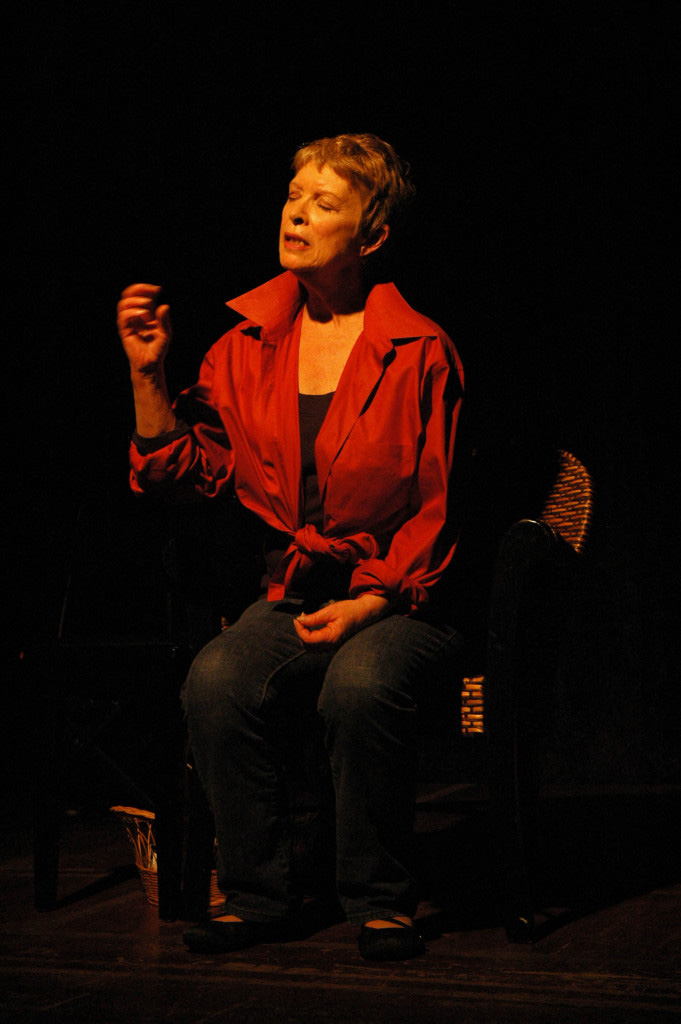 Sharon Mathis in He/She and Me (Photo by: Janet Wilson)
As Pat tries to find a new hobby (tap dancing, Buddhism, running, a makeover), she discovers that the love between herself and Sam/Sheila is here to stay and continues through thick and thin (including the death of Pat's mother from cancer). Sam isn't the only one who has rediscovered his true self. As the show's director, Robert Drake, notes:
"The transgendered experience is uncommon. Roughly one in 3,000 people are born with genders that don't match their sex. Sharon's play has let us use an unusual experience to address universal questions: What is a soul mate? Where is the soul? How does love actually work? Are our physical, visceral, and intellectual connections eternally braided? Or can we choose only certain strands?"
Directed by David Ford, Love and Sex in the Earth's Spin Cycle is Lambeth Sterling's one-woman show in which she attempts to save audience members thousands of dollars and years of grief by explaining what they won't learn in therapy about the pitfalls of dating and marriage. A true "daughter of the South" (and a certified relationship coach), Sterling carries a well-deserved chip on her shoulder as she examines the various forms of insanity underlying different methods of counseling. As Lambeth explains in her program, "Yes, these stories are true. Why else would I stand up here and tell stories like this if they weren't?"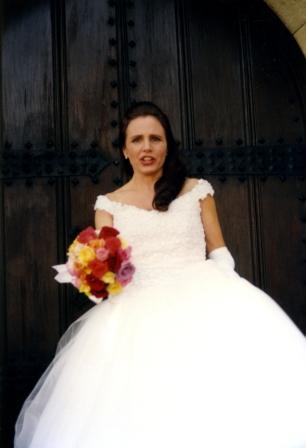 Lambeth Sterling in her wedding gown (Photo by: Bill Patterson)
While Sterling's material is quite hilarious, there is a bitter tinge of disillusionment and brutal sarcasm in her delivery which often makes her advice even funnier. The following clip gives a sample of her act.
The last time I saw Ann Randolph onstage, she was trying out some new material during The Marsh's second Festival of New Voices. Opening up for another artist, Randolph came charging into the performance space as the hyperactive Charlene (the "real" Miss America). With two of her front teeth blacked out -- and an insatiable hunger for candy corn -- Charlene is the kind of poor white trash who proudly insists that "I may be retarded, but I ain't stupid!"
During a meeting with a social worker, when Charlene is asked if she has any special skills that might help her secure a janitorial job at a local rehab center, she doesn't hesitate to brag about how her uncle trained her to give the best head in the county. After being assigned to the floor that houses all the sex addicts, Charlene demonstrates her entrepreneurial talent by selling suggestive pictures of her eight-year-old cousin, Sue Ann, to the patients.
Although I had previously seen video clips of Randolph's functionally illiterate but fiercely interactive Charlene, others in the audience were shocked and awed by the character's intensity. The following clip gives viewers a chance to experience Charlene (in all of her hillbilly glory) from a safe distance.
In her current monologue entitled Loveland, Randolph's amazingly fertile imagination lifts off on a wave of wondrous anger, soars across the country in a cloud of cumulus crazy, and survives some tear-jerking mid-air turbulence before landing. Like most of what Ann does, it is the kind of totally demented, unforgettable, over-the-top comedy that forces people to think way past their comfort zones.
As Franny Potts, Randolph races through her performance with the angry heat of a menopausal laser beam. Her Franny is a highly dysfunctional woman on an intensely focused mission. Imagine someone who:
Always has to be right.
Is an insane trivia freak.
Is as aggressive as Ann Coulter.
Is as hungry for approval as Orly Taitz.
Has more pep than the Energizer Bunny.
Is more exasperating than the Roadrunner cartoon character.
Has an annoying laugh that resembles Woody Woodpecker's.
Fancies herself to be an up-and-coming performance artist who specializes in facial gesticulations to accompany the sounds of flushing toilets and car alarms.
Thinks her flight attendant must be a whore because the term "dirty blonde" confirms the fact that she's already a slut.
Can easily get lost in sexual fantasies about the pilot training his equipment to engage with her personal (and dripping wet) landing strip.
Now imagine that woman sitting next to you on a cross-country flight. Better yet, imagine her in a very loud argument with her alcoholic, wheelchair-bound mother -- an argument so raucous it could make Lucille Ball and Vivian Vance seem like the wimps of comedy.
Loveland is filled with outrageous laughs, brazen sexual bravado, crackling thunderstorms, and genuine pathos. Once the captain turns off the seatbelt sign and Franny Potts is finally free to roam about the cabin, all hell breaks loose.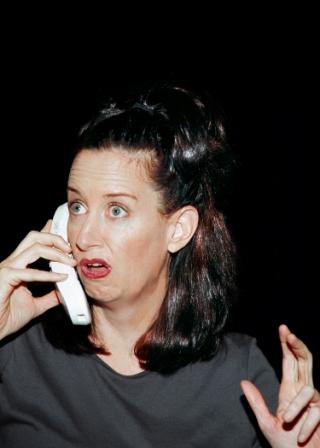 Since leaving Loveland, Ohio, Randolph has spent three years living at Athens State Mental Hospital while working her way through college, earned her living on the "slime line" in a salmon processing plant (pulling blood balls off the fish as they moved down a conveyor belt), and using cheerleader pompons to clean off rocks coated with crude oil following the 1989 toxic spill from the Exxon Valdez. On her blog, she writes that:
"I think I should call my next show Free Room and Board. I always knew that if I had to spend money on rent, I wouldn't have money to produce my own shows, so I always looked for opportunities for free rent. Like in New York: I knew after I saved the money in Alaska that I didn't want to blow it on rent. So I put an ad in The New York Times classifieds saying 'Alaskan Bush Woman seeks free room in exchange for tutoring in the arts and/or companionship.' Well, let me tell you, I got a lot of freaks calling me, but I did find a legitimate one. He was a 90-year-old Jewish Orthodox man who lived on Central Park West and had just lost his wife. His daughter responded to my ad. She had me move into his apartment and keep him company in the morning, just until the maid came.
It was an unbelievable apartment. My bedroom overlooked Central Park and all I had to do was just sit at the breakfast table with him while he ate his gefilte fish. He called me 'the kook,' I think because I used to play banjo in the subway with a red wig on (that's when I started getting desperate for money)."
When I first saw Ann Randolph performing Squeeze Box, at The Marsh, I couldn't get over the ferocity of her stage presence, the ease with which she switches from one character to another, the rapidity with which she dives over the edge, the expressiveness of her rubbery face, and her uncompromising grip on an audience's attention. Randolph doesn't have too many quiet moments onstage. She's more like a comedic terrorist who sticks your finger in an electric socket and says "Watch this!" as she fearlessly attempts to jump over the moon.
Randolph has been performing Loveland for most of 2010 in perrformance spaces run by The Marsh in San Francisco and Berkeley. Starting October 7, she will bring Loveland to the Santa Monica Playhouse every Thursday night through November 18. Be sure to fasten your seatbelt before the show starts!
SUBSCRIBE TO & FOLLOW CULTURE SHIFT
Every Friday, HuffPost's Culture Shift newsletter helps you figure out which books you should read, art you should check out, movies you should watch and music should listen to. Learn more