My first exposure to the work of Tennessee Williams came in 1966, when the New York City Center Drama Company mounted a revival of his 1951 hit play, The Rose Tattoo, starring Maureen Stapleton, Harry Guardino, Maria Tucci, and Christopher Walken. Since then, I've met more of the passionately conflicted women Williams created as well as the restless men who bedeviled them.
While many have wondered what kind of music ran through the playwright's mind as he was writing, two American composers have supplied their own interpretations. In 1971, Lee Hoiby's operatic adaptation of Summer and Smoke received its world premiere from the St. Paul Opera. In September 1998, André Previn's adaptation of A Streetcar Named Desire received its world premiere from the San Francisco Opera with soprano Renée Fleming as Blanche DuBois and Rodney Gilfry as Stanley Kowalski.

Until recently I had no idea that, when Tennessee Williams wrote his original screenplay for The Gentleman Caller, he imagined Ethel Barrymore as Amanda and Judy Garland as Laura. In 1944, when The Glass Menagerie premiered in Chicago, Laurette Taylor created the role of Amanda Wingfield.
Anyone who saw Rick McKay's 2004 documentary entitled Broadway: The Golden Age, By the Legends Who Were There won't forget the segment in which legendary actresses recalled how profoundly they were inspired by Laurette Taylor. Writing about the actress shortly after her death in 1949, Tennessee Williams stated that:
"It is our immeasurable loss that Laurette Taylor's performances were not preserved on the modern screen. The same is true of Duse and Bernhardt, with whom her name belongs. Their glory survives in the testimony and inspiration of those who saw them. Too many people have been too deeply moved by the gift of Laurette Taylor for that to disappear from us. There was a radiance about her art which I can compare only to the greatest lines of poetry, and which gave me the same shock of revelation as if the air about us had been momentarily broken through by light from some clear space beyond us. I feel now -- as I have always felt -- that a whole career of writing for the theatre is rewarded enough by having created one good part for a great actress. Having created a part for Laurette Taylor is a reward I find sufficient for all the effort that went before and any that may come after."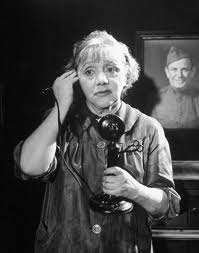 Laurette Taylor as Amanda Wingfield in the
original production of The Glass Menagerie
Photo courtesy of Wikipedia
One of the strange challenges left by Taylor's imprint on the role of Amanda is that many productions of The Glass Menagerie are judged by the star power of the actress who inhabits the role. In preparing for the Marin Theatre Company's production of The Glass Menagerie, director Jasson Minadakis was determined to take a much different approach to the text. As he explains:
"We have been so loyal to the realism of these 20th century plays that we're just getting to the point where people are starting to think about the work in the poetic sense, like the way we look at Shakespeare's work. We're moving away from realism and trying to find certain elements that, perhaps, are more poetically true within the story than realism would allow. There are elements of this production that are more stylized than what people may be used to seeing with Glass Menagerie, but I think it's going to bring a different emphasis to the play than what you've seen before. The sentimentality of it will be replaced by a more powerful sense of the grounding emotions.
Many productions have done a disservice to the play by making it a wistful memory play when, really, it's a very strong exploration of a family fighting to maintain itself. I was incredibly interested in exploring the poverty of the family, which translated into not using props, not having a lot of furniture, not having a lot of stuff. That also ties in with the idea of this being a memory play. The only props, the only things that the audience sees in the play are the pieces that stand out in Tom's memory. I asked each of the designers to make a list of the props they felt were absolutely essential and it came down to less than a dozen items that were necessary to tell the story."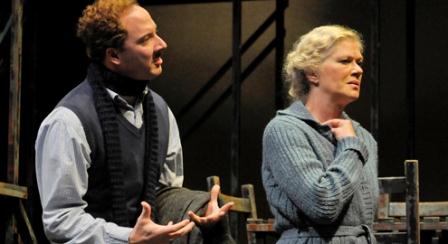 Tom (Nick Pelczar) and Amanda Wingfield (Sherman Fracher)
in The Glass Menagerie (Photo by: Alessandra Mello)
Using a skeletal set (designed by Kat Conley with lighting by Ben Wilhelm) whose stairs and landings hint at the fire escape referenced in the text, Minadakis has managed to lessen the spotlight on Amanda and refocus the audience's attention on each character's belief system:
Tom (Nicholas Pelczar) wishes he could believe that things would get better but knows there is no future for him if he remains in St. Louis.
Amanda (Sherman Fracher) is desperate to believe that her daughter can find a man who will provide Laura (and possibly her mother) with financial and emotional security.
Laura (Anna Bullard) can't let herself believe that she is pretty or has any right to any kind of a future.
Jim (Craig Marker) believes wholeheartedly in the power of improved communication skills to boost self esteem (for himself, for Laura, and for anyone who is open to changing their situation).
This production was the first time I had seen Amanda portrayed as clearly desperate (and almost manic) rather than a fading flower of the old South who kept fluttering about in a state of total denial. While most people see The Glass Menagerie as Tom's story, it was surprising to see how easily Jim O'Connor's optimism brought an intoxicating life force into an apartment whose inhabitants had been drained dry of any reason to keep going.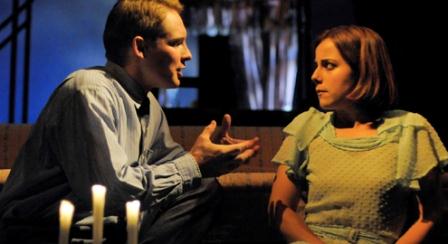 Jim O'Connor (Craig Marker) and Laura Wingfield (Anna Bullard)
in Act II of The Glass Menagerie (Photo by: Alessandra Mello)
Minadakis has chosen to add a peripatetic trumpet player (Andre Wilke), who moves around upstage as the restless spirit of Amanda's long-departed husband. As the director explains:
"Whenever we hear music, it's because it's Tom's memory (Tom is filtering all the sound through this one instrument). I wanted the trumpet player to be onstage the whole time, underscoring everything. The trumpet has a lonely, melancholy sound that I think is so perfect for this play. I wanted a harder edge in a world so aggressive and so nasty. The muted trumpet felt like the perfect balance of isolation and loneliness."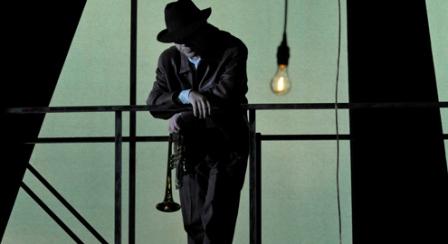 Andrew Wilke's trumpet player haunts the Marin Theatre Company's
production of The Glass Menagerie (Photo by: Alessandro Mello)
While Minadakis has developed a tightly-knit ensemble, I was most impressed with Craig Marker's radiant portrayal of the Gentleman Caller. Performances of The Glass Menagerie continue through December 18 at Marin Theatre Company. Here's the trailer:
SUBSCRIBE TO & FOLLOW CULTURE SHIFT
Every Friday, HuffPost's Culture Shift newsletter helps you figure out which books you should read, art you should check out, movies you should watch and music should listen to. Learn more