Should anyone be surprised that this Friday, on Christmas Eve, Laemmle's Royal Theatre in West Los Angeles will host a sing-along screening of Fiddler on the Roof? For many years Jews have sought out alternatives to traditional forms of celebrating Christmas. The matter even became an issue on Tuesday, June 29th during Supreme Court Justice Elena Kagan's controversial confirmation hearing before the United States Senate Judiciary Committee:
In her delightful cookbook entitled From My Mother's Kitchen, famed food critic Mimi Sheraton describes her early exposure to Chinese food:
[Back then] "...a complete lunch for an adult was 40 cents, and a child's meal was 25 cents. Both included egg drop soup or tomato juice, a choice of one of six or eight Cantonese dishes, crisp fried noodles, rice, tea, and ice cream, jello, or almond cakes, plus fortune cookies on the house. I still remember the mild, soothing taste of that food, primarily the flavors of celery, bean sprouts, and onions. It is far removed from the sophisticated (and truly better) Chinese food now fashionable but there are moments when I would trade six of the best Szechuan meals in town for one plateful of that old chow mein (pronounced 'sharmane') nostalgia.
In addition to neighborhood Chinese restaurants, my parents also went to Chinatown with friends, although not with me, for my father had succeeded in terrifying me about that part of the city, pointing out the pigtails still worn then under satin skullcaps by many Chinese workers as symbols of tong war gangs. But they always returned with reports of marvelous moo goo gai pain, and lobster in eggy Cantonese sauce, crisp spareribs, and fresh shrimp subgum. They brought me white porcelain soup spoons with which, my father said, one ate soup by filling the bowl of the spoon, then tipping the end of the handle toward your mouth and letting the soup run in. These instructions infuriated my mother because she knew I would try it, thereby ruining a freshly laundered dress."
While Jews can easily relate to the definition of the word diaspora as "any people or ethnic population forced or induced to leave their traditional ethnic homelands, being dispersed throughout other parts of the world, and the ensuing developments in their dispersal and culture," Jews don't own the word. One need only examine the history of the African diaspora, the Muslim diaspora, the Armenian diaspora, the Irish diaspora, and the Indian diaspora to realize that, ever since the Jews were exiled from Judea by the Babylonians, the same fate as befallen other ethnic populations.
And yet, one of the least examined diasporas involves the Chinese, whose migrations cross paths with the Jewish diaspora throughout the year in Chinese restaurants. Several years ago, the San Francisco International Asian American Film Festival began screening a series of documentaries by Canadian filmmaker, Cheuk Kwan who, in his director's statement, writes:
"I crave Chinese food when I am away from home and am a firm believer of the Chinese proverb: 'Within four seas, all men are brothers.' Whenever I travel, I eat at Chinese restaurants and talk to the restaurant owners.
In 1976, I ate at the only Chinese restaurant in Istanbul. Afterwards I heard that the owner had walked from China. So I was naturally curious. How did this man walk from China? I have had this idea -- to make a film about the Chinese diaspora through the eyes of Chinese restaurant owners -- for 25 years. The result is Chinese Restaurants.
When I first heard Kwan speak during a question and answer session following one of his screenings, he explained that the surest way to find fresh vegetables during his travels around the world was to search out a Chinese restaurant.
Filmmaker Cheuk Kwan
While fictional films such as Wayne Wang's Dim Sum: A Little Bit of Heart (1985), 2004's Dumplings (a Hong Kong horror film), and the recent Kung Fu Chefs use Chinese restaurants as the background for their dramatic narratives, Kwan's documentaries explore the back story about how someone ended up opening a Chinese restaurant in a distant land and how that restaurant became a small but powerful gastronomic and economic engine in the local culture. As the filmmaker explains:
"Chinese restaurants are home away from home. They are entry points into the host society for immigrants from a social and business point of view. All three families in each film were exiled -- physically or mentally -- from their home country or by their adopted country. By running Chinese restaurants, these families managed to cling on to a bit of the memories and histories they left behind.
We all have an impulse to connect both with the past and with those amongst whom we find ourselves. We cannot escape the fact that we are shaped by our own family histories, as well as the political realities and social environment of the countries we choose to live in. So what is our identity?
I argue that identity can be a fluid thing, so it is not that important which identity you take. Rather, what is more important is that you be true to yourself -- know your own history, have a sense of how you fit into a wider world, and be loyal to your own principles and values."
Some of the stories Kwan finds are astonishing (one man swam across a dangerous river at night to escape from Communist China and ended up in South America). Often, the founder of a Chinese restaurant has worked for many years to support a family, only to discover that his children have no interest in spending the rest of their lives in the family business. Sometimes it is the parents who are eager to see their children leave the nest and develop professional lives outside of the restaurant industry.
To date, Kwan has produced five documentaries (the complete set of five DVDs can be purchased by clicking here). They are:
Song of the Exile (Haifa, Israel; Cape Town, South Africa; and Istanbul, Turkey)
On the Islands (Mauritius; Trinidad and Tobago; and Havana, Cuba)
Three Continents (Tromso, Norway; the Canadian prairie town of Outlook, Saskatchewan; and Madagascar)
Latin Passions (Lima, Peru; Sao Paolo, Brazil; and Buenos Aires, Argentina)
Beyond Frontiers (Calcutta, India; Manaus, Brazil)
For those who celebrate Christmas in a Chinese restaurant, here's an updated version of the song Judy Garland made famous in the 1944 MGM musical, Meet Me In St. Louis:

Have yourself an Elena Kagan Christmas,
Pass the egg rolls, please.
Let's all have some kung pao shrimp with fresh snow peas.
Have yourself an Elena Kagan Christmas
Dim sum on the fly
Grab your chopsticks for a bite of pork siu mai.
There's no need to feel tempest toss'd
With some Hoisin sauce
On string beans.
Here's a helping of General Tso
Eat it nice and slow
With some greens.
Have yourself an Elena Kagan Christmas
Not just in New York
Celebrate with freshly folded mo shu pork
Have yourself an Elena Kagan Christmas
Here's a char siu bau
Put it down right by those two nice shrimp har gau
Celebrate with some egg foo yung
This year's almost done
And that's fine.
We can finish with custard tarts
And salute the arts
With some wine.

Have yourself an Elena Kagan Christmas
Forget about the Dow
I'm sure we will make it through next year somehow
So have yourself an Elena Kagan Christmas now.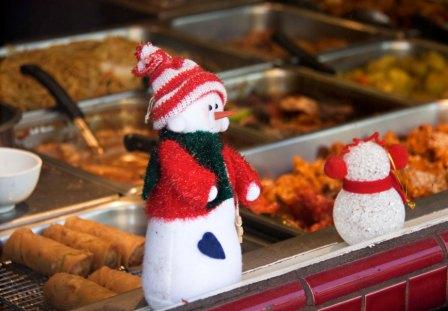 "An Elena Kagan Christmas" (Copyright Rick Lucas, 2010)
SUBSCRIBE TO & FOLLOW THE MORNING EMAIL
The Morning Email helps you start your workday with everything you need to know: breaking news, entertainment and a dash of fun. Learn more