With the days getting shorter and the weather getting colder, thoughts turn to warmer climates. With plenty of foreign films set along the Mediterranean coast, what better time to look to that part of the world for comedy and drama?
Small Crime is a lovely movie by Christos Georgiou that starts small and stays that way. Starring Aris Servetalis as Leonidas, a young policeman assigned to an island in the Aegean Sea where there is little chance of battling big-city crime, the film captures the quirks of life in a small, isolated community whose stubborn inhabitants offer plenty of comic fodder. The film opens with Leonidas trying to give a traffic ticket to young Orestis (the hilariously good-natured and appealing Panagiotis Mbenekos). When the body of Zaharias (the wonderfully comic Antonis Katsaris) is found at the bottom of a cliff, Leonidas refuses to believe the death could have been an accident and, with the zeal of a rookie, convinces himself that a crime has been committed.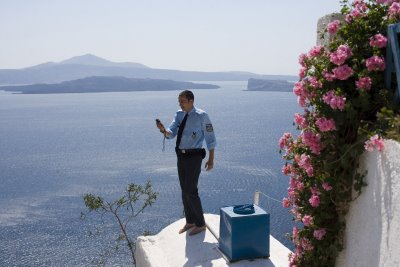 His growing romantic involvement with Angeliki (Vicky Papadopoulou) may, to some people, seem like the focus of this film. But the real challenge for Leonidas is coping with the eccentricities of the people under his jurisdiction.
"To check the material, the Director of Photography (Yiorgos Yiannellis) asked for a 35mm test, and since there was no cinema in Thirasia, we had to go to Santorini to check it. There the film was first put on the big screen and it was very gratifying to hear the projectionist laughing while watching Leonidas trying to arrest the young Orestis. After the test he came to us and said, 'That is so true, all new policemen assigned to the islands -- we make them suffer.'"
Small Crime is blessed with some beautiful cinematography by Yiannellis, who captures the natural light of the Mediterranean and frames his evening shots with great skill. Whether dropping Zaharias's corpse into a tavern's ice cream freezer for storage or unveiling an idiotic plan to build an amusement park on the island that could draw tourists, the ensemble glows with vitality. According to the program notes:
"Small Crime started out of a passion for the Greek islands which made Christos Georgiou determined to find a story to set in one of them so as to take advantage of this unique micro cosmos and incredible landscape that the islands have to offer. On their first visit to Thirasia (an island off the coast of Santorini), Christos and Michalis Samiotis (the film's production designer) knew they had found the perfect location. The island had all the wild beauty the film required, and the perfect cliff overlooking the stunning sea of Caldera (where the Santorini volcano had erupted at the start of the century). The script was adapted for the location and production manager Thalis Stathopoulos started working on the practical need of making the island work. In some respects the island was perfect: it combined the feeling of an island in the middle of nowhere while being 10 minutes away from the very busy Santorini airport. In other respects, the lack of petrol and of accommodation on the island meant the production had to bring in petrol once a week for the generator and convince various locals to open up their houses to members of the crew and cast. The shooting took almost two months, during which time the locals provided -- sometimes for free and sometimes through serious bargaining -- wine, cheese, fish, themselves, and their livestock as extras, thus giving the filmmakers a once-in-a-lifetime experience and the film a color and a reality that is completely unique."
Following its premiere at the 49th Thessaloniki International Film Festival the character of Leonidas was compared to Jacques Tati's wonderfully bumbling Mr. Hulot. However, I think Leonidas and Small Crime have sufficient charms of their own to carry this film's gentle appeal to audiences around the globe. Here's the trailer:
* * * * * * * *
A new full-length feature from Tunisia plants a gay love story in the middle of several interesting cultural conflicts. Le Fil (The String) deals with the varied expectations of people who are gay, straight, old, young, wealthy, poor, Catholic, Muslim, in denial, and insane. Written and directed with great insight by Medhi Ben Attia, its main characters include:
Malik, a 30-year-old Tunisian who has returned home from studying in France to work as an architect at a firm run by an old friend of the family. Although Malik is gay and has a preference for rough trade, he has always had difficulty standing up to his mother, a very manipulative grande dame.
Moncef, the head of the architectural firm where Malik will be working.
Siryne, Moncef's very butch daughter who, along with her lesbian lover, wants to have a child. Siryne is considering her childhood friend, Malik, as a potential sperm donor.
Malik's grandmother, who wants her grandson to get married and give her a great grandchild before she dies.
Sara, a wealthy widower living in a beautiful estate near the beach. Although her late husband, Abdelaziz, acknowledged that their son was gay, Sara has, for many years, refused to face the truth. When Sara walks into Malik's bedroom without knocking and finds him sleeping with Bilal, she must not only accept the fact that her son is gay, but also accept that she is losing a servant and will have to treat Bilal as an honored guest in her home.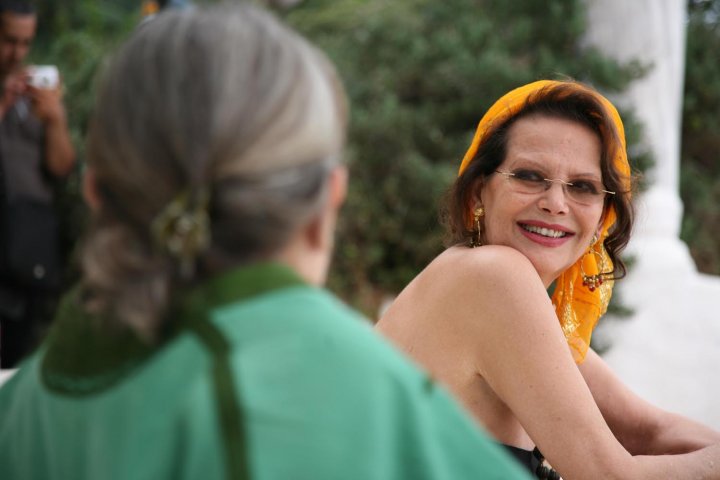 Claudia Cardinale as Sara
Bilal, a young Arab student who has been doing part-time work for Sara in exchange for room and board. His talents go far beyond gardening.
Wafa, Sara's domestic servant. A devout Muslim who is ready to quit her job because her faith tells her that homosexuals are evil, Wafa must also deal with the sudden change in Bilal's status in Sara's house.
Frida, a close friend of Sara's whose son might also be gay. Frida reminds Sara that she knew about Malik's sexuality years ago but didn't want to accept it.
The Madman, a stranger who harasses Malik and Bilal when they are at the beach and threatens to have them arrested for crimes against nature.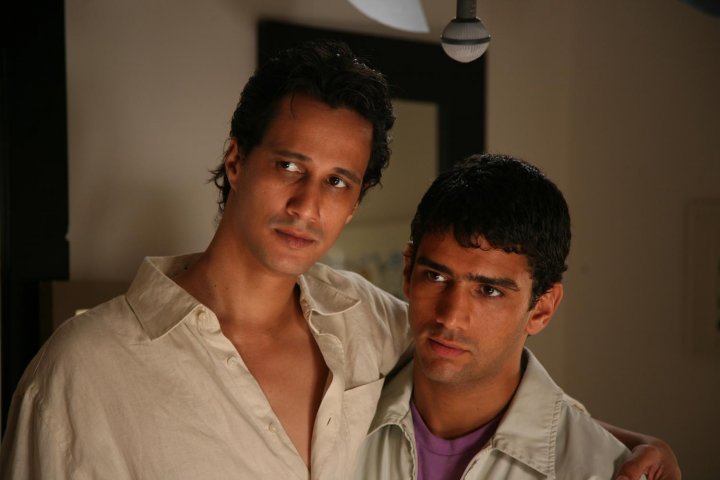 Malik (Antonin Stahly-Vishwanadan) and Bilal (Salim Kechiouche)
Although many suggest that the title, Le Fil, refers to Malik's need to cut himself free from his mother's apron strings, the film's title actually refers to something else. In his childhood, whenever he felt pressured, Malik would often imagine himself being wound up in a piece of string. The only way for him to escape was to keep spinning until the string unwound and he was once again free.
At a crucial point in the film, the audience sees a panicky Malik run into a field and start spinning wildly, as if the stress of Sara's unexpected hospitalization is too much for him to bear. Thankfully, Bilal is there to ground him and bring Malik back to reality.
One of my favorite moments in the film occurs when Bilal is introduced to Moncef's family. After hearing the young student explain that he had previously had a relationship with an older man, Moncef smiles and says "Then you can teach all of us how to deal with it." It is a lovely moment in which the traditional authority of the older generation is handed over to the youngest with an understanding of who has important knowledge to share.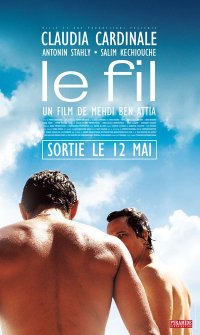 Poster art for Le Fil
Bilal is, in fact, the catalyst who brings about a surprising amount of social change within Sara's social circle. Not only does he become Malik's lover (as Malik becomes Siryne's husband), during the wedding Sara confesses a bit of her own history to Malik by relating how she shocked Abdelaziz's relatives at their wedding by refusing to sit dutifully with the women instead of with her new husband. That was, of course, back in the days when a French Catholic girl marrying a Tunisian Muslim was deemed scandalous.
Sara also plays an important role in explaining to Malik, Moncef, Siryne, and Bilal why it is important for them to participate in her son's sham wedding. They're all doing this so that the child can have a father and not suffer any stigma of illegitimacy. As the film ends, the audience sees both families relaxing on the beach as Malik and his son play in the water.
The performances in Le Fil are uniformly solid, with Claudia Cardinale showing that she still has plenty of fire in her eyes and heart. As the two young lovers, Antonin Stahly-Vishwanadan and Salim Kechiouche are intensely photogenic and refreshingly self-possessed. Topping it all off is a wonderful musical score by Karol Beffa which alternates between popular Arabic music and the astringent tones of a modern ensemble. Here's the trailer:
* * * * * * * *
With its coy, teasing accordian-based soundtrack, its tenderness and intimacy, it takes less than three minutes to fall head over heels in love with Gianni di Gregorio's 75-minute tribute to feisty old women entitled Mid-August Lunch. The inspiration for his film came from an experience he "almost" had several years ago.
"As the only son of a widowed mother, for many long years I had to tackle my mother -- a person with an overpowering personality -- on my own (my wife and daughters had fled out of an instinct for survival), and live surrounded by her world. Even though it was a trying experience, I got to know and love the richness, vitality and strengths of the elderly. But I also saw their loneliness and vulnerability in a world that moves on quickly, without knowing where, because it has forgotten its history, has lost its continuity over time, and is afraid of old age and death, unaware that nothing has any value except the quality of feeling.

In the summer of 2000, the condominium manager (knowing that I was behind with my payments) really did ask me to look after his mother for the August bank holiday. In a show of wounded self-dignity I refused, but since then I've often wondered what would have happened if I had accepted. This film is the result"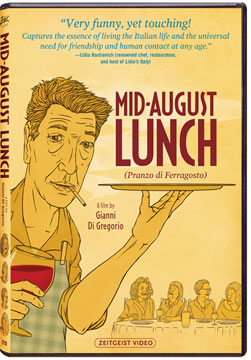 Poster art for Mid-August Lunch
Mid-August Lunch takes place on August 14th and 15th, during Italy's celebration of the Ferragosto bank holiday. It is a time when many people flee the heat of the city to enjoy a day off with friends and family. Di Gregorio's film focuses on a group of elderly widows who are left behind (and the poor soul who is stuck caring for them). The film captures in beautiful detail the rebellious nature of many senior citizens, the loneliness they battle, their yearnings for foods which have been denied them by their doctors and their children, and the feistiness of older women who are simply not ready to die.
Written, directed by, and starring Di Gregorio, Mid-August Lunch features Valeria De Franciscis as Gianni's mother (an aging, vain, and nearly cadaverous aristocrat covered with liver spots who nevertheless still manages to dominate her middle-aged son's life), Marina Cacciotti as the fiercely independent mother of Luigi (the condominium's administrator), Maria Cali as Luigi's stern and somewhat confused Aunt Maria, and Grazia Cesarini Sforza as Grazia (the mother of Gianni's physician). Most of the men in the cast are portrayed by long-time friends of the director, including Luigi Marchetti as Viking.
The film's honesty and tenderness is, in large part, due to the brilliant casting. As Di Gregorio explains:
"I played the leading role because when we were preparing the film, while I was explaining to the crew that we needed to find a middle-aged man, more or less an alcoholic, who had lived for years with his mother, I realized that all eyes were turned to me. After talking to some professional actresses, in the end I chose women who had never acted before on the basis of their strength of character, and since they lacked any formal preconceptions. During shooting they swept me away; the story changed on the basis of their mood, but their contribution in terms of spontaneity and truth was crucial. I even did some takes without them realizing."
The joys of Mid-August Lunch lie in its honesty, intimacy, and the laid-back lifestyle of a middle-aged bachelor who, after coping with a vain and egotistical mother, must feed and care for a quartet of old women who are as easy to manage as a group of feral cats. One sneaks out in the middle of the night to smoke and drink at a local bar, another leaps at a chance to eat the foods she is constantly denied. One tries to exert her superiority and territorialism by limiting access to her television; another unwittingly drops one stinging barb after another.
Whether you choose to think of it as "Old Crones Gone Wild" or a rare moment of togetherness for a group of lonely old women, you will quickly, willingly, and happily succumb to the magical charms of Mid-August Lunch. Resistance is futile. Here's the trailer:
To read more of George Heymont go to My Cultural Landscape
SUBSCRIBE TO & FOLLOW CULTURE SHIFT
Level up. Read THIS and be the most interesting person at your dinner party. Learn more