When Richard D'Oyly Carte asked William S. Gilbert and Arthur Sullivan to write a short comic opera in 1875, he had no idea they would be making history. Following the success of Trial By Jury, The Sorcerer, and H.M.S. Pinafore, the three men formed a producing partnership known as the D'Oyly Carte Opera Company.
Flush with success, D'Oyly Carte then built the Savoy Theatre which, when it opened on October 10, 1881, was the first public building in the world to be entirely lit by electricity. In 1889, he built the Savoy Hotel right next to his theatre.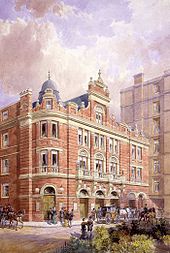 The Savoy Theatre, built in 1881 by Richard D'Oyly Carte
Richard's son, Rupert, not only managed the theatre company, he rebuilt and modernized the Savoy Theatre in 1929 (just prior to the Great Depression). Rupert's daughter, Bridget (who died in 1985), was the last member of the Carte family to remain active in the management of the legendary opera company. By 1961 all of the copyrights on Gilbert & Sullivan operettas had expired. In 1982, the company was forced to close due to its inability to meet rising costs.
As an adolescent, I spent many happy hours listening to the 33-1/3 rpm vinyl recordings of Gilbert & Sullivan operettas that London Records had reissued on its Richmond budget label. Most of those recordings were made in the early 1950s, when Martyn Green performed the G&S patter roles for the D'Oyly Carte Opera Company and Isidore Godfrey conducted most of its performances.
I was fortunate enough to see the D'Oyly Carte perform at New York's City Center during their 1961, 1962, 1963, 1964, 1966, and 1968 American tours, when the great comic baritone, John Reed, and bass-baritone Donald Adams were onstage. This was back in the days when Trial by Jury was performed on a double bill with H.M.S. Pinafore.
After moving to San Francisco in 1972, I was delighted to discover The Lamplighters, a nonprofit volunteer organization dedicated to keeping the Savoyard flame burning brightly. I have enjoyed many of their productions over the years.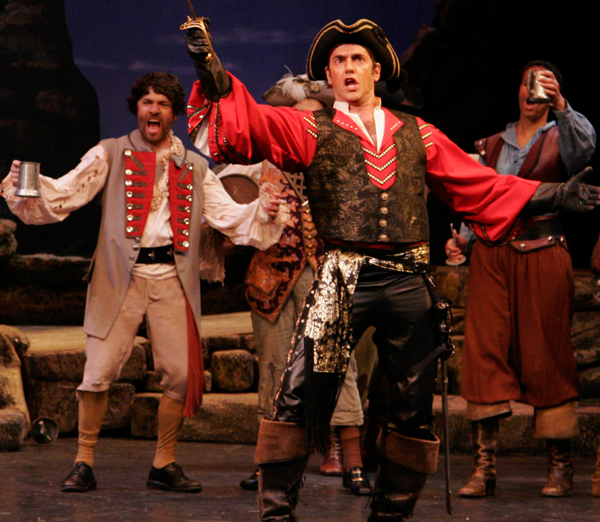 Charles Martin as the Pirate King in The Lamplighters'
recent production of The Pirates of Penzance
(Photo courtesy of The Lamplighters)
In 1978, when the D'Oyly Carte visited San Francisco's Curran Theatre on one of the company's last tours, I wrote:
"The remarkable thing about the D'Oyly Carte is their freshness. Many of the company make a lifetime career out of Gilbert and Sullivan, and boredom could easily set in. However, each evening's work was fresh, clean, and (with the exception of some slow cue pickups by the local orchestra) immaculately performed. One source of joy is their diction. In an age when most performers rely on a microphone and still manage to produce only mush, the D'Oyly Carte's singers enunciate with a crispness that is remarkable.

A certain awareness of the nonsense of it all has crept into the proceedings -- and not just in the cherished encores that follow favorite songs. These encores are legendary bits of shtick, many of them well memorized by the audience of adoring Savoyard fans. But a certain air now surrounds these sacred bits of business that is an admission by the company that 'We know that you know that we know that you know ...' In The Pirates of Penzance, the Sergeant of Police (after several encores of 'When the Foeman Bares His Steel') comes onstage and mouths the lyrics silently, leaving the audience devastated with laughter."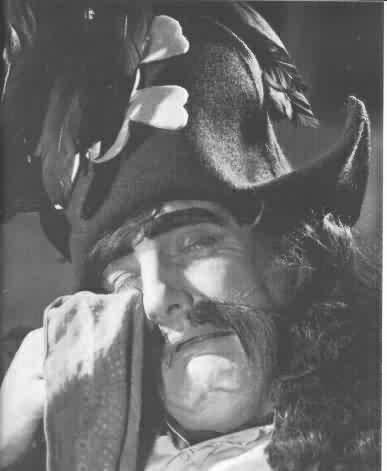 The D'Oyly Carte's Donald Adams as The Pirate King
Another treasured piece of stage business in the D'Oyly Carte's production of Pirates occurred early in Act I, during a discussion about Frederic's impending departure from pirate life. In the libretto, the Pirate King states "It's only half past eleven and you are one of us until the clock strikes twelve." But in the D'Oyly Carte production the words "It's only" were followed by a brief pause as the Pirate King performed an elaborate flourish, held his hand above his eyes, looked out into the auditorium as if squinting at the sun, and said "half past eleven."
In 1980, Joseph Papp staged a new adaptation of Pirates at the open-air Delacorte Theatre in Central Park that was directed by Wilford Leach and featured a new musical adaptation (and instrumentation) by William Elliott. The cast starred Kevin Kline, Linda Ronstadt, Rex Smith, George Rose, Patricia Routledge, and Tony Azito. In the following clip, George Rose performs the most famous song from Pirates: "I Am The Very Model of a Model Major General."
The Public Theatre's production was a huge hit, which transferred to Broadway in 1981, ran for 787 performances, and was subsequently filmed with Angela Lansbury as Ruth. The production also included the "matter patter" trio from Ruddigore ("My Eyes Are Fully Open"). In the following clip from the film version, Kevin Kline and Angela Lansbury explain the curious paradox of Frederic's apprenticeship to the pirates.
Over the years, Gilbert & Sullivan operettas have been subjected to all kinds of reinterpretation. Australia's Essgee Entertainment has had lots of fun updating G&S favorites. In the following clip from its 2001-2003 revival of The Pirates of Penzance, "Climbing Over Rocky Mountain" gets a refreshing new twist.
And there can be no doubt that Australia's beloved Gerry Connolly is a Major General Stanley like no other:
A Yiddish adaptation ("Di Yam Gazlonim") that received a 2006 production by The National Yiddish Theatre Folksbiene was nominated for a 2007 Drama Desk Award for Best Revival. Consider the following version created by Lego enthusiasts:
I recently watched a rollicking good production of Pirates from Opera Australia (available on Netflix) in which the Pirate King bears a striking resemblance to Johnny Depp's characterization of Captain Jack Sparrow.
Delightfully designed by Richard Roberts, the production includes a pirate ship on wheels as well as a paper moon that momentarily turns into a portrait of a sullen Queen Victoria looking down on the proceedings. After the pirates are pardoned, they reappear dressed as the richly-robed and crowned Dukes, Marquises, Earls, Barons, and Viscounts from Act 2 of Iolanthe.
But what truly caught my attention was this clip (from the 2008 Gilbert & Sullivan Festival in Buxton) which shows Martin Milnes displaying his fierce falsetto while singing Mabel's entrance aria, "Poor Wand'ring One."
As a reviewer from London's Time Out noted:
"Why have the Union Theatre's all-male Gilbert and Sullivan revivals been so successful? On the evidence of this year's Pirates of Penzance, it's because the daftness of the endeavour is precisely in tune with the daftness of G&S themselves. Casting men as women, you don't sacrifice credibility, because there's none to begin with. What you attain is another level of play, another opportunity for the type of nonsense with which this operetta -- with its cast of cissy pirates and red-faced buffoons of major-generals -- already teems."
SUBSCRIBE AND FOLLOW
Get top stories and blog posts emailed to me each day. Newsletters may offer personalized content or advertisements.
Learn more