Based in Berkeley, California, PlayGround is an intensely creative incubator program for aspiring playwrights in which a monthly topic is assigned to participants. Winners get to see their 10-minute plays performed by professional actors in one of Berkeley Rep's two theatres. PlayGround's Commissioning Initiative (through which the company now commissions six full-length works per year) has recently begun to support fully-staged productions through strategic partnerships and a co-production fund. As the company's website explains:
"The mission of PlayGround is to support the development of significant new local voices for the theatre. Since its founding in 1994, PlayGround has developed and staged more than 400 original ten-minute plays by 137 early-development writers. With a particular focus on the ten-minute form, PlayGround creates a microcosm of the greater theatre scene, allowing for experimentation and risk-taking as well as the honing of style and technique.


More than just a play development program, PlayGround focuses on the creation of a true theatre community by nurturing the collaborative process between first-time or early development playwrights, and established professional actors and directors. For most if not all of the participating writers, PlayGround is the first professional staging their work has received and serves as their introduction into the professional theatre community. PlayGround has helped to identify some of the leading emerging writers in our community and, at the same time, has engendered the creation of a true community of theatre artists, bringing together more than a hundred Bay Area actors, directors and playwrights."
Each May, the company presents The Best of PlayGround Festival at a theatre in San Francisco. This year's festival took place at Thick House on Potrero Hill, a wonderfully intimate venue for showcasing new works. In addition to the program of one-act plays, six full-length scripts commissioned by PlayGround were given staged readings.
Of the seven one-act plays presented during May, three stood out as fully formed works of great originality. Katie May put a wonderful feminist twist on an age-old fairy tale with Rapunzel's Etymology of Zero. Noting that in most fairy tales a princess has some kind of superpower, she built her delightful short play on the hypothesis that "the more useless the talent, the more beautiful the princess."
For Ms. May, Rapunzel's talent was the ability to control the rate at which her hair grew. This proved particularly helpful whenever some foolish prince tried to use her hair to climb up the tower in which the princess lived. After some careful mathematical calculations, Rapunzel could grow her hair as fast as the prince could climb, thus making sure that he never gained access to her bedroom. Until, of course, the day she got so involved in solving a mathematical mystery that she forgot to pay attention to her hair.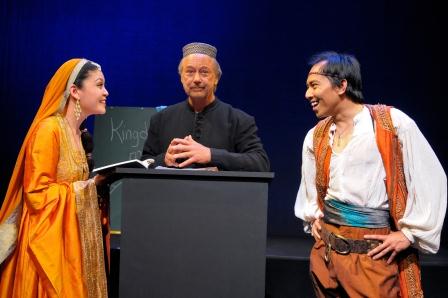 Rapunzel (Rinabeth Apostol), the narrator (David Cramer), and
The Prince (Jomar Tagatac ) in Rapunzel's Etymology of Zero
(Photo by: Mellopix performance)
In May's short play, Rapunzel is not only "supernumerically smart" and gifted with numbers, her love of numbers is inversely proportional to her love for the Prince. While the Prince's hunger for Rapunzel knows no bounds, her attraction to him is minimal.
As staged by Jim Kleinmann, Rapunzel's Etymology of Zero drew hearty laughter from the audience. In a post-performance talkback, the playwright shed some light on how PlayGround's initial casting choices added an inside joke to the story.
In many storybooks Rapunzel is seen to have long, golden tresses. But by casting the role with a dark-haired woman, Rapunzel came out looking more like someone from Persia (the birthplace of mathematics). When outfitted with costumes that bore a strong resemblance to the Middle Eastern folk tales known as One Thousand and One Nights (Tales of the Arabian Nights), Rinabeth Apostol (Rapunzel) and Jomar Tagatac (The Prince) brought new life and a grand sense of comic timing to an old fairy tale. David Cramer served as the Narrator.
I cannot ever recall reading a script and coming across a description of the protagonist like the one written by Arisa White:
"William, male, 15 years old, white, upper middle class, suburban; introverted, lanky, attractive, sophomore in high school. Flexible enough to fit into a refrigerator."
Directed by Jon Tracy, White's raucous Frigidare was one of the major joys of the Best of PlayGround Festival. Theatre buffs who thrive on maternal monsters like Rose Hovick (Gypsy: A Musical Fable), Madame Rosepettle (Oh Dad, Poor Dad, Mama's Hung You in the Closet and I'm Feelin' So Sad), and Mrs. Iselin (The Manchurian Candidate), can now add Mrs. Logan to their list of dangerously dysfunctional divas.
This is a woman who, having decided that her son would probably be better off if he turned out to be gay, has remained resolutely focused on her mission. Having had William kidnapped for three days at the age of 10 (so that he could "tell a story no one else could tell"), Mrs. Logan doesn't hesitate to remind him that "I do these things so you will have some kind of difficulty in your life -- to build your character, William. You will abandon the Lord your God and skip into Giovanni's Room!"
As Frigidare begins, the audience sees a flustered William returning home from church where, to his mother's keen satisfaction, he has just been sexually assaulted by a member of the clergy. Torn between the physical temptations and carnal delights he just experienced -- thanks in no small part to the talented, warm mouth of his priest -- William is desperately searching for a hiding place where he can calm down ("Fuckin' body has its own mind -- doesn't care who gives it pleasure!").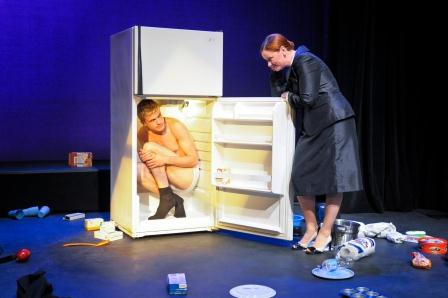 William (Michael Phillis) and Mrs. Logan (Holli Hornlien) in Frigidare
(Photo by: Mellopix performance)
After emptying the contents of the kitchen cabinets (when he was 12 and wearing his astronaut pajamas, William once hid in an overhead cabinet in the guest bedroom), he finally empties the refrigerator, climbs in, and desperately pulls the door shut behind him. Needless to say, his attempt to find a moment of solitude is thwarted by the arrival of his conniving mother, who has no sense of boundaries whatsoever.
White's black comedy is bizarre, brief, and breathtakingly brutal. Kudos go to Michael Phillis as the confused young William and Holli Hornlien as his misguided, but relentlessly driven mother.
Without doubt, the highlight of this year's Best of PlayGround Festival was Mandy Hodge Rizvi's Escapades. Directed by M. Graham Smith and billed as "a ballet with dialogue, or a dance through time and memory," Rizvi's one-act play was inspired by the following quote from Eugene O'Neill's Long Day's Journey Into Night:
"Like a saint's vision of beatitude. Like the veil of things as they seem drawn back by an unseen hand. For a second you see -- and seeing the secret, are the secret. For a second there is meaning! Then the hand lets the veil fall and you are alone, lost in the fog again, and you stumble on toward nowhere, for no good reason!"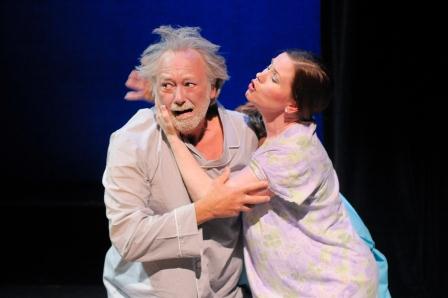 David Cramer and Holly Hornlien in Escapades
Photo by: Mellopix performance
Escapades starred David Cramer in a bravura performance as Ted, a frightened and confused Alzheimer's patient who is being released from a private nursing home and sent to a state-run mental health facility. As the play progresses, the audience becomes privy to Ted's descent into dementia and how his family missed critical signs of his mental illness.
At first there were terrifying dreams, including one nightmare in which his old Packard stalled on the railroad tracks as an approaching train bore down on him. In a string of later incidents, the local police found Ted battling invisible enemies after having climbed up onto the steep roof of his home. After numerous attacks on male nurses and attempts to flee the premises, what finally got Ted booted from the nursing home is explained to his son (Brian Herndon) by the physician on duty (Jomar Tagatac) with the following words:
"Your father is a man who has absolutely no idea what day, or month, or year it is. He can't tell you what the weather is outside or who the current president is. Doesn't remember. No idea. What he knows is that he's a retired army officer, working as a maintenance man for the local thread company. He doesn't remember how to brush his teeth, but he remembers the feel of a tool in his hand, and how to use it. And he can't remember for the life of him that he lives at Laurel Hills Nursing Home, no matter how many times we tell him, but he knows the exact number of steps to his front door -- that he has a family there -- and wife, and two kids. He doesn't remember that his wife and daughter are both dead. He knows he needs to pick up milk, to fix the porch light, to mow the lawn.


Your father is a person to me, Mr. Leeds. But to him, this is a prison, and I'm the warden, and he won't rest until he escapes. He broke into a maintenance closet. He used the tools he found there to remove the [monitoring] bracelet. Two male nurses out for a cigarette break saw him sprinting at full tilt across the grounds and gave chase. They had never seen a man of his years move so fast, like he was running for his life. It took them quite some time to subdue him. One of them required several stitches. You know your father no longer recognizes you. He knows you as the man that keeps him here. I'm sorry to be blunt, but to him, if I'm the warden, you're his arresting officer."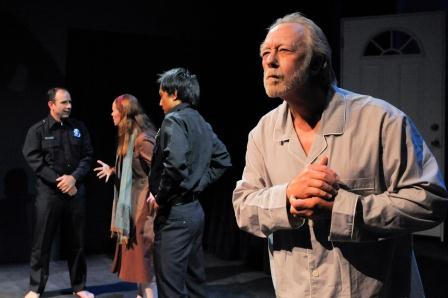 Brian Herndon, Holli Hornlien, Jomar Tagatac and David Cramer
in Escapades (Photo by: Mellopix performance)
With Holli Hornlien doing triple duty as a nurse, Ted's wife, and his daughter, Escapades was one of the most riveting depictions of Alzheimer's I've seen on any stage. Especially for those whose friends and relatives have succumbed to this horrible disease, it provided an oddly uplifting and dramatically cleansing experience that packed a powerful punch. I hope more regional theatre companies have the courage to produce this exceptionally moving short play.

To read more of George Heymont go to My Cultural Landscape