One of the distinct characteristics of fringe festivals is that their entries are chosen by a lottery rather than a jury. What this means is that, for better or worse, all new entrants have an equal chance in securing a spot in the festival line-up.
What this also means for the audience is that there is an increased element of surprise. A performer who seemingly came out of nowhere can deliver a monologue of stunning brilliance. At last year's festival, Rotimi Agbabiaka's one-man show, Homeless, marked the debut of a breathtakingly talented young man.
Other shows may be well crafted but fail to hit the mark. Some, in fact, may be downright awful ("You pays your money, you takes your chances"). Not many people expect to find a floating Lunatic Fringe Festival, but in August a group of patriots and "real Americans" sailing to Alaska aboard the Celebrity Cruise ship, Millenium, became part of "the most freedom-embracing and liberty-loving navy at sea: the WorldNetDaily Navy and the Tea Party at Sea!"
Perhaps, in the future, this performance by Saturday Night Live alumna, Victoria Jackson, and Alan Keyes can be restricted to international waters. You be the judge:
In recent seasons, Bay area audiences have been roundly entertained by the OPM Comedy, a high energy multicultural sketch comedy troupe from Los Angeles. However, with OPM Comedy not participating in this year's San Francisco Fringe Festival, audiences had a chance to concentrate on the offerings from other Asian-American artists.
* * * * * * * * * *
It took very little for the promotional material for Breaking the Cassia Bough to pique my interest. A project of The Visible Theater, this was designed to be a prequel to Green Bamboo Heritage. My knowledge of Chinese opera is extremely limited. I'll be the first to admit that I lack any exposure to the plays written by Tang Xianzu (1550-1616). But Chinese opera's instrumentation is so wildly different from that of Western opera that I was curious to see what this show was doing at the San Francisco Fringe Festival.
Occasionally, one attends a lecture about a new musical work in which the lecture proves to be vastly more interesting than the performance. Jon Wai-keung Lowe (who researched, wrote, and directed Breaking the Cassia Bough), spent approximately 15 minutes talking about Chinese opera, what makes the music from the Qing Dynasty (1644-1912) different from the sounds modern audiences associate with Chinese opera, and the artistic process which finally enabled him to overcome his resistance to Chinese opera.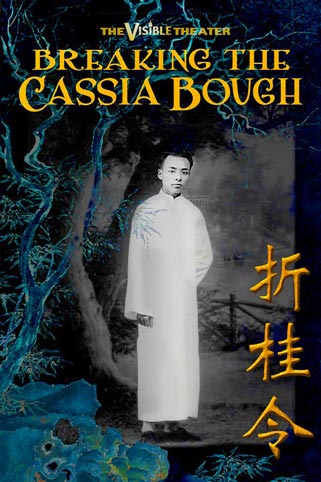 Poster art for Breaking The Cassia Bough
Part of the text chosen by Lowe for Breaking the Cassia Bough was the following (sung to the tune of "Ji Kian Bin"):
"A bride should weep
on leaving her childhood home.
My eyes are dry --
No filial tears (no tears) to stain my joy.
No matchmaker sent between.
No betrothal gifts cross my threshold.
No proper rites observed, honors paid,
No glad cup of wine is pour'd.
Still, my heart (my heart) secretly races, races on
Until (until) I cross the terrace of the night.
See him, oh see where he stands!
Beckoning me,
Calling me to Yellow Springs.
Sighs cannot bear weight unlike magpie wings
I sway, breathlessly.
Until the bond of destiny
Brings him back to me."
Following Lowe's lecture, a brief musical performance (using an orchestration by Nathan Lively) took place with Amelia Bethel as the servant girl, Orchid; Paul Rodrigues as Liang Mengzhu; and Erica Kimble as Liu Chenxing. To be honest, having expected to see Chinese singers performing Chinese music, I was totally blindsided when a cast featuring a Caucasian mezzo, an African-American soprano, and a Hispanic tenor appeared before the audience (a salute to the Bay area's impressive diversity).
* * * * * * * * * *
There's an old saying that you have to kiss a few frogs to find a prince. The same applies to the programming at most fringe festivals. Some shows are forgettable while others show great promise. Sarah Lau's monologue, The Secret Adventures of Fat Woman and Remedial Girl, is the one to watch as it develops.
Lau has been telling stories for years. A rail thin, extremely energetic performer with a great, rubbery face, her protagonist, Louise Pang, is an 11-year-old second grader sharing a bedroom with a demented, incontinent Chinese grandmother who is nearing death. Louise's best friend, Brenda Lolly, is the fattest girl in her school.
Lau's one-woman show evolved from a short story (code-named "Crazy Grandma") that simply would not rest. It now runs 85 minutes as Louise shares all kinds of horrible secrets with the audience about her highly dysfunctional Chinese-American family.
On the night I attended The Secret Adventures of Fat Woman and Remedial Girl, a local protest almost prevented Lau from getting to the theatre in time for her own world premiere (this was the first time Lau had ever performed her entire monologue before an audience).
There's no doubt that Lau's adrenaline was going strong during her opening night performance. However, there is one problem she needs to work on (which can be heard in some of her other videos). Some of Louise's friends and relatives speak in a dialect that is difficult for audiences to comprehend. Curiously, this is not so much due to the accents Lau uses but the fact that she sounds like a child with a mouth full of orthodontic braces.
While The Secret Adventures of Fat Woman and Remedial Girl needs some editing (cutting 10-15 minutes of material would give the show greater power and momentum), this was an auspicious debut by a talented writer and performer. If Lau can spend some time working on her diction, she'll soon have a dynamite show to take on the road.
To read more of George Heymont go to My Cultural Landscape