On Sunday July 3, the San Francisco Opera wrapped up its 2011 summer season, which was focused entirely on performances of Richard Wagner's four-opera cycle, Der Ring des Nibelungen. Many parts of this exciting new production (conceived and directed by Francesca Zambello) were both inspired and revelatory, as was much of the singing.
While many stage directors have come up with interesting gimmicks for the RING, few have demonstrated a coherent artistic vision that they could clearly communicate to the audience. Thanks to recent advances in computer technology, Zambello's phenomenal integration of film and animation allowed her to supplement Wagner's musical leitmotifs with her own set of visual light motifs.
Not only is this a classic case of the whole being greater than the sum of its parts, Zambello's "American RING" takes a great work of 19th century art and elevates it to a great work of 21st century art. San Francisco Opera's General Director, David Gockley, has often collaborated with Zambello in the past. While this new RING production is a major triumph for both of them, it's important to remember that the people who make opera happen have rarely had such powerful artistic tools at their disposal.
Wagner -- who composed the RING in the 26 years between 1848 and 1874 -- was intent on creating a new form of total music theatre (gesamtkuntswerk). His through-composed style is most definitely an acquired taste. But had Wagner been able to experience this exciting new "American RING," I'm pretty sure the composer would have been justifiably shocked and awed.
Before going into a detailed analysis of this thrilling new RING production, a little bit of personal history is in order. My earliest exposure to Das Rheingold and Die Walkure occurred during the Metropolitan Opera's first three seasons in its new home in Lincoln Center. Conducted by Herbert von Karajan, both productions had been designed by Gunther Schneider-Siemssen and directed by Otto Schenk.
For a novice operagoer, hearing Wagner's music for the first time from the uppermost reaches of a 3,800-seat auditorium proved to be an alienating experience at best. I was attending Brooklyn College at the time and remember taking some serious naps during Wotan's Act II monologue in Die Walkure.
Shortly after moving to San Francisco in 1972, I was able to experience all four RING operas. Under the watchful eye of Kurt Herbert Adler, they were conducted (out of sequence) by Otmar Suitner in a production designed by Wolfram Skalicki and directed by Paul Hager.
Most of the action took place on a raked circular platform with minimal scenery. Nevertheless, I have fond memories of watching Birgit Nilsson's Immolation Scene (which almost made me feel as if I could see sound waves emanating from her mouth and coursing through the War Memorial Opera House).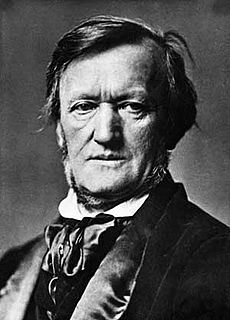 Composer Richard Wagner
In 1977 I traveled north, where the Seattle Opera was presenting two consecutive RING cycles in a festival format wherein all four operas were performed in their intended sequence. Designed by John Naccarato (who had been inspired by Arthur Rackham's famous drawings), this production of the RING was directed by George London and conducted by Henry Holt.
During the festival's first week, the RING was sung in German. During the second week, the company used Andrew Porter's English translation. That year, Anne Evans sang Brunnhilde and a young Linda Kelm (with a bright, lemony voice) made an impressive debut as one of the Norns. Seattle Opera's founder, Glynn Ross -- who was also one of the co-founders of Opera America -- wisely conducted a marketing survey which revealed that each dollar brought in by the Seattle Opera's RING festival rolled over seven times in the local economy.
When I returned to see the Seattle production again in 1980, Rita Hunter (a huge woman with a glorious voice) sang Brunnhilde. That was also the year that the tenor singing the role of Siegmund developed a case of laryngitis. After a long intermission, the performance continued with the evening's scheduled tenor acting onstage while the tenor who had appeared the previous week during the German cycle sang from the orchestra pit (thus creating a half-English, half-German experience for the audience).
In the fall of 1981, when I was able to catch Das Rheingold and Siegfried at the Met, there were moments when it felt like the performance would never end. But in 1985, when the San Francisco Opera staged the RING in a new production conducted by Edo DeWaart, designed by John Conklin, and directed by Nikolaus Lehnhoff, Wagner's tetralogy took a giant step forward in the evolution of operatic production. This was the first time Bay area audiences experienced the RING with Supertitles.
The change brought about by this new technology (which allowed audiences to follow the text in a language they understood) was nothing short of electrifying. Jon Else's superb documentary, Sing Faster: The Stagehands' Ring Cycle, contains lots of footage from the Conklin/Lehnhoff production and is available on Netflix and YouTube.
By the time I returned to Seattle in 1986 for its new production of the RING, Supertitles had been embraced by nearly every American opera company except for the Metropolitan, the Santa Fe Opera (which performs outdoors), and the Opera Theatre of St. Louis (which performs on a thrust stage). Designed by Robert Israel, directed by Francois Rochaix, and conducted by Manuel Rosenthal, Seattle's 1986 production became famous for its use of airborne carousel horses during The Ride of the Valkyries.
When I returned in 1987, Hermann Michael was on the podium, the great Leonie Rysanek was singing Sieglinde, and the Seattle Opera had come up with a thrilling new approach to using fire onstage for Brunnhilde's Immolation Scene at the end of Gotterdammerung. Then something very strange happened.
I flew directly from Seattle to Copenhagen to attend the Danish National Opera's production of the RING in a 1,500-seat theatre in the port city of Aarhus. I had been assured that the company would be using Supertitles.
What I had not anticipated was that the Supertitles would be in Danish! In my review of the production I wrote:
"Before any music was even heard from the pit, Das Rheingold began with an elderly Erda, dressed in Victorian garb, stomping through a brilliantly backlit cunt-shaped opening and making her way through a downstage trapdoor. The long, flowing train of her black silk dress (symbolizing, no doubt, the onset of the Earth Mother's menses) followed her into the depths of the Rhine where the cherished gold was first seen as a naked blond stud flashing lots of dick and asscheek at the audience as the Rhinemaidens kept pawing his nubile young body. Loge made his entrance on a skateboard and later (when he and Wotan descended into the depths of the Earth to confront Alberich) found Mime waving a red Socialist flag over the oppressed workers of Nibelheim!"
By that point, the use of Supertitles had raised audience expectations in opera houses around the world. In 1989, I attended a conference for music critics in Washington, D.C. which included performances of the RING by the Deutsche Oper Berlin at Kennedy Center's 2,200-seat Opera House. The production was directed by Gotz Friedrich, designed by Peter Sykora (who was influenced by the Washington Metro's train stations), and conducted by Jesus Lopez-Cobos.
Although this famous "time tunnel production" had Supertitles created by Frank Rizzo, some of the singing was less than adequate. As he attempted to play devil's advocate during intermission, one of the opera community's most astute arts administrators confessed to me that although the tenor's singing was, indeed, quite wretched, "Peter has such a fabulous ass -- just wait until you see how it looks when he runs upstage in Act II."
What can I say? Although by that point I'd attended several performances of Die Walkure in which Peter Hofmann was cast as Siegmund (and been thrilled by the eroticism of the moment when he pulled his big throbbing sword out of the ash tree), I never heard the glorious sounds of Act I's "Wintersturme" emanating from the celebrated heldentenor's ass!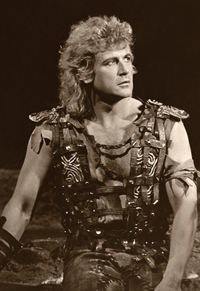 Peter Hofmann as Siegmund in Die Walkure
(Photo courtesy of The Metropolitan Opera)
In 1990, when the San Francisco Opera revived the Conklin/Lehnoff RING, I was utterly thrilled by the conducting of Donald Runnicles. I was also pretty sure it would be the last time I experienced a complete RING cycle performed in its proper sequence.
There's a very important reason to understand the history outlined above. In the 25 years since the artistic planning began for San Francisco's 1985 RING and its 2011 RING, astonishing changes have occurred in computer technology and pyrotechnics which impact every production of the RING.
Back in 1985, personal computers had limited RAM memory and graphics capabilities. Many programs were written for a DOS environment.
Back in 1985, no one was able to communicate via smart phones, email, or have access to the Internet. Those factors alone have had a tremendous impact on international artistic collaborations.
Back in 1985, the marketing and development departments of an opera company did not have electronic tools such as corporate websites with on-line ticketing services, relational databases, and social networking software at their disposal. Some people still depended on Rolodexes and index cards.
Since then, most of the back office functions required for arts administrators have undergone astounding transformations in performance and efficiency. Radical advances in chip technology have given creative artists more powerful tools with which to plan and design an operatic production.
No longer must an audience stare at a black scrim during one of Wagner's musical bridges.
No longer is a set designer limited to using a collection of styrofoam rocks and a simple lighting board.
No longer must an audience be subjected to Supertitles which offer a stodgy, outdated translation of Wagner's text.
No longer is a "magic fire" simulated with cloth ribbons, a fan, and some projections on a rear scrim when far more spectacular stage effects can be delivered using a rip-roaring combination of film, animation, and real fire.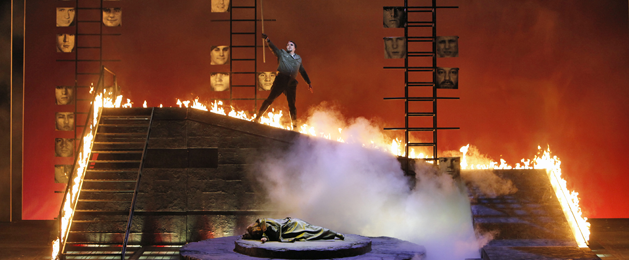 Wotan (Mark Delavan) builds a wall of fire to protect the sleeping Brunnhilde
(Nina Stemme) in Act III of Die Walkure (Photo by: Cory Weaver)
To begin an appreciation of what makes the new San Francisco RING so special, suppose we step back and recall what Wagnerian performance styles used to look like. In many productions, singers would plant their feet solidly on the floor, fix their gaze on the prompter (or conductor), and proceed to honk it out. Clad in costumes that ranged from "symbolic yet clumsy" to "wildly artistic but downright dangerous," it was often difficult for performers to navigate their way around steeply raked stages.
Many a Wagnerian singer learned how to pose and posture onstage without really relating to his colleagues. In a famous story about rehearsals for the Met's 1967 production of Die Walkure, after complaining about how darkly the stage was lit -- and how difficult it was for her to see the conductor through the scrim -- Birgit Nilsson appeared wearing a miner's helmet equipped with a headlamp.
While Robert LePage and the Metropolitan Opera prepare their mammoth new RING cycle (whose 45-ton metal scenic structure required the Met to install three 65-foot long steel girders under its stage), Zambello has taken a lighter and airier approach to the RING.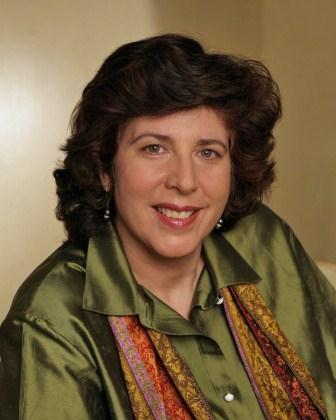 Director Francesca Zambello
Photo courtesy of San Francisco Opera
Throughout her career, Zambello has always demonstrated a gift for storytelling that clears a lot of unnecessary wreckage from the music's path and gives the audience simple, clear cues that will help them follow plot and character developments. Working with set designer Michael Yeargan, lighting designer Mark McCullough, and projection designers Jan Hartley and S. Katy Tucker, she has found a way to trick the audience's perceptions of time and space.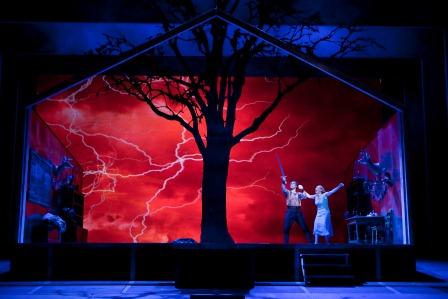 Siegmund (Brandon Jovanovich) and Sieglinde (Anja Kampe)
in Act I of Die Walkure (Photo by: Cory Weaver)
This is, without doubt, the most vertically-oriented RING cycle I've ever seen. Nearly every scene has a variety of playing levels at different heights which allow singers to interact with their colleagues in a dramatically clear give-and-take dynamic. Entrances don't merely come from the wings (or up several stairs to the center rear of a raked stage).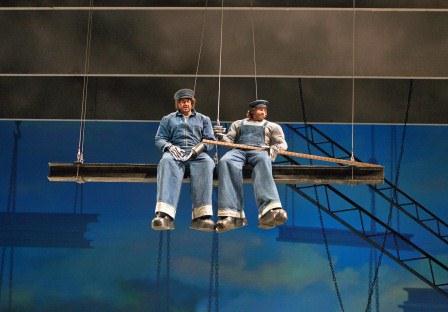 The Giants (Andrea Silvestrelli and Daniel Smuegi) descend
from the skies in Das Rheingold (Photo by: Cory Weaver)
Fasolt and Fafner are lowered from the flies to the stage floor on a suspended scaffold.
Wotan and Loge descend a spiral staircase to reach Nibelheim.
During the "Entry of the Gods Into Valhalla," the audience witnesses the Gods climbing a steep gangplank, dressed as if they were about to embark on the maiden voyage of the RMS Titanic.
The Valkyries soar across the stage on a diagonal line as they carry dead heroes to Valhalla.
When Siegfried slays Fafner, the dragon turns out to be a giant Transformers-style mechanical monster (which allows Siegfried to climb into the cab where Fafner had been at the controls).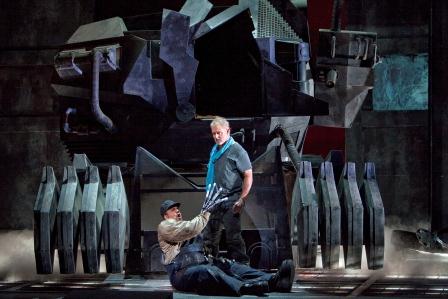 The dying Fafner (Daniel Sumegi) tells Siegfried (Jay Hunter Morris)
about the hero's family history (Photo by: Cory Weaver)
Brunnhilde's rock is surrounded by steps and ramps heading in two directions.
In the first scene of Gotterdammerung, the Norns exist inside a giant computer, with a projection of its circuit board filling the background. When the cables break, sparks fly from the circuit board (I was waiting to see if Microsoft's dreaded "Blue Screen of Death" would appear).
The Great Hall of the Gibichungs has multiple playing levels.
During the hunting scene where Hagen kills Siegfried, two lookouts are perched on chairs supported by extremely tall tripods.
Zambello's clever use of film makes the audience feel as if it is watching an IMAX movie. Camera angles are not strictly horizontal and, at critical moments, the speed of the film can be adjusted for dramatic effect.
During Das Rheingold's introductory underwater moments, the audience almost feels like it is seeing the river bed through the eyes of a fish.
The trip from Valhalla to Nibelheim and back is handled with numerous projections that bring the same thrilling dynamic to Wagner's opera as the hallucinatory animation at the end of Stanley Kubrick's 1968 science fiction fantasy, 2001: A Space Odyssey.
The opening moments of Die Walkure look as if they were shot with a camera attached to the head of a wounded animal staggering through a redwood forest (which, in some ways, is exactly how Siegmund feels).
For some of the airborne sequences during musical bridges, the audience sees an endless panorama of clouds (similar to what one sees when looking out the window of an airplane). The camera's tendency to roll toward a diagonal or swoop down at an angle makes it feel as if the action is being viewed through the eyes of a large bird.
Often, the projections and films of clouds seen on an upstage scrim add a tremendous sense of movement and impending danger as storm clouds gather and grow more ominous.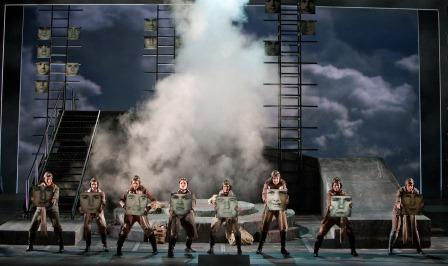 A scene from Act III of Die Walkure (Photo by: Cory Weaver)
To read George Heymont's complete review and watch production videos of the San Francisco's RING, visit My Cultural Landscape.
SUBSCRIBE TO & FOLLOW THE MORNING EMAIL
The Morning Email helps you start your workday with everything you need to know: breaking news, entertainment and a dash of fun. Learn more