It's all too easy to mistake current headlines for genuine farce. Conservatives hoping to nab the Republican party's presidential nomination can't stop making fools of themselves. But, in all honesty, they're giving clown cars a bad name.
Farce is hard work that requires good writing, a solid situational setup, outrageous characters, an acute perspective, superb timing and an actor's total commitment to crossing the line into dangerous territory. The creative team must unanimously want to "go there" for the material to work. Watch these clips from MADtv, Little Britain, and Come Fly With Me and you'll see brilliant comedians demonstrating solid comedic craft.
Filming farce has a peculiar advantage over live performances. When shooting for television or movies, it's easy to do multiple takes which can then be edited down to a final clip and later accompanied by music or a laugh track. When performing farce live onstage in plays like Noises Off, The 39 Steps, or Lend Me A Tenor, the risks become much greater.
Timing is everything.
Actors must be able to gauge the audience reactions in order to land each joke with perfect aim.
Essentially, there is no safety net.
Sometimes, breaking the theater's fourth wall can add to the farcical frenzy when an actor addresses the audience directly. One of the best uses of this trick comes at the end of the first act of A Funny Thing Happened on the Way to the Forum when the braggart soldier, Miles Gloriosus, threatens to kill the conniving slave, Pseudolus. Begging for a chance to say one word -- just one word -- Pseudolus promises the angry warrior that it will be a good word. And it's a doozy:
"INTERMISSION!"
But what happens when there is no fourth wall to break? No one to yell "Cut"? Nowhere to hide?

Scheduling conflicts prevented me from attending last year's world premiere of SexRev: The José Sarria Experience. Thankfully, Theatre Rhinoceros has revived this rowdy farce (written and directed by John Fisher) that was inspired by the life of San Francisco's legendary drag activist.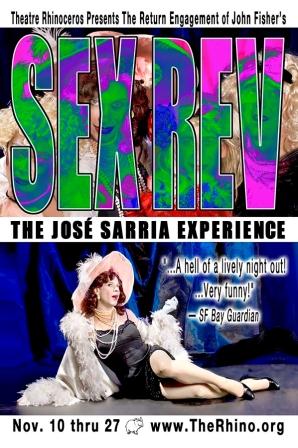 Poster art for SexRev: The José Sarria Experience
As with the best of Fisher's highly energetic farces, there is absolutely nothing subtle about SexRev. When Fisher is in top comedic form nothing -- and no one -- is spared. Members of the audience are liable to be pulled into the stage action (after doing a lousy job of trying to march in place with a raised sword while gargling mouthwash, I ended up reeking of spearmint for the rest of the performance).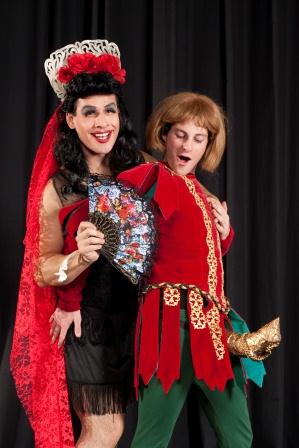 Carlos Barrera and Sean Keehan appear in SexRev:
The José Sarria Experience (Photo by: Kent Taylor)
For those who don't know, José Sarria used to act out his favorite operas at the Black Cat Bar during the 1950s and 1960s. Fisher has done an excellent job of researching Sarria's life and peppering the show with operatic trivia (including Kurt Herbert Adler's infamous homophobic claim that "There are no fairies working at the San Francisco Opera").
SexRev tracks Sarria's life from childhood through his military service (and early love affairs with self-loathing men) to his advocacy on behalf of gay men arrested for loitering. Always reminding arrestees that "If you swallow, they don't have any evidence," Sarria steadfastly advised gay men who were busted and charged with performing lewd acts (or worse) to insist on a jury trial.
His emergence as "The Widow Norton" and his ability to turn the Imperial Court System into a powerful fundraising machine during the AIDS crisis led Sarria down a path he could never have imagined in his youth. He has been honored by the California State Assembly, had a small portion of 16th Street named José Sarria Court and, at the age of 89, was able to attend one of last year's performances of SexRev.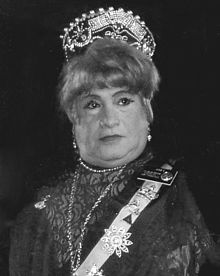 José Sarria as The Widow Norton
Photo courtesy of Wikipedia
While the audience waits for SexRev to begin, orchestral selections from Verdi's Aida flood the theater. Once the show starts, all hell breaks loose with a tightly-knit ensemble leaping in and out of disguises, doing cartwheels across the performance area, and (as is ever the case with Tom Orr) jiggling their genitals to amuse the audience.
Because the playing area at CounterPULSE is a rectangle doubling as a half drag/half operatic war zone, it's amazing how well Fisher has been able to fashion a farce about a real person. Donald Currie acts as a narrator who describes what it was like to grow up gay in San Francisco and, at age 10, enter a gay bar in order to hear "The Nightingale of Montgomery Street."
Tom Orr and Carlos Barrera take turns portraying Sarria at different stages of his life, with one usually covering for the other during a costume change (they do, however, interact frequently during the show). Using Lara Rempel's often hilarious costumes Jean Franco, Sean Keehan, and Robert Kittler lend sturdy support in a wide variety of roles.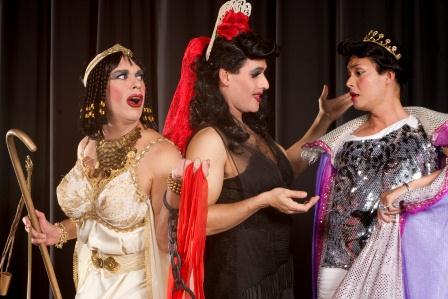 Tom Orr, Carlos Barrera, and Jean Franco share a moment in
SexRev: The José Sarria Experience (Photo by: Kent Taylor)
A perversely joyous romp and frolic that manages to deliver a handsome amount of history, SexRev: The José Sarria Experience is a perfect example of gay theater as edutainment. The production has been extended through December 4. Here's the trailer:
To read more of George Heymont go to My Cultural Landscape