The bottom line is surprisingly simple. Filmmakers rarely make movies about boring people. Whether they aim for a fictional narrative, a documentary, a comedy, or a biopic, what attracts them is a person with spunk, flair, some kind of conflict, and a history of having overcome a major obstacle (whether it be personal, professional, medical, or situational).
In fiction, such characters emerge from creative minds who can fashion heroes to fit a story line. In real life, such characters may be found in every walk in life, but the chances are pretty good that you'll find a live wire in politics. Harvey Milk, John F. Kennedy, Malcolm X, Mahatma Gandhi, Golda Meir, and the Reverend Martin Luther King, Jr. easily come to mind. Although you've probably never heard of the following two people, they fill the screen with their personality, determination, and incredible talent for speaking truth to power.
One of the most entertaining and decidely in-your-face documentary about AIDS prevention focuses on the safe sex education efforts of Pieter-Dirk Uys, a South African entertainer who has made it his business to teach children about the dangers of the HIV virus using language they can understand while shaping the experience in a way that educates them without boring them or talking down to them. Most amazing is the fact that the film was the inspiration of a 15-year-old Australian boy who heard Uys speak to a school group and decided to make this documentary. For a teenager, it's quite a remarkable piece of work.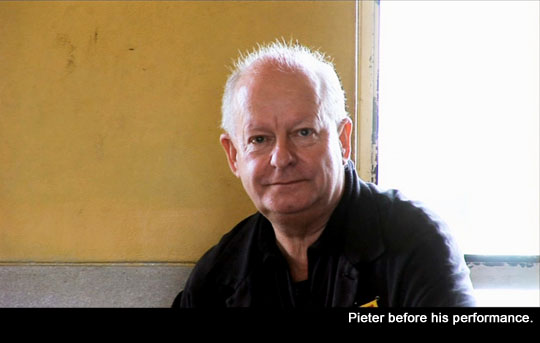 Piete- Dirk Uys
Uys's mother had fled to Capetown from Germany in the 1930s. Although she subsequently committed suicide, Pieter-Dirk and his sister were encouraged to develop their artistic talents from a very young age. Growing up as a half-Jewish, half-Afrikaaner anti-apartheid activist, Uys focused his wit and growing anger on becoming a political satirist.
Imagine someone with the bluntness of George Carlin, the wardrobe of the Kinsey Sicks, and the following of Dame Edna and you'll get an idea of what kind of social catalyst this man became for South Africans.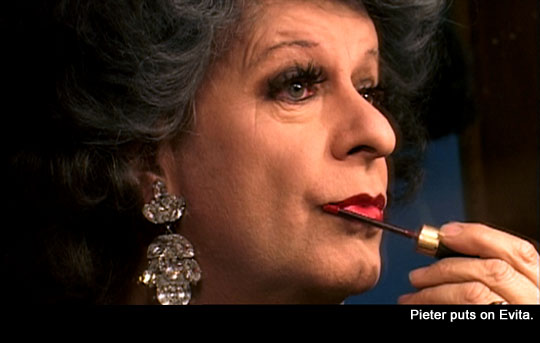 Pieter-Dirk Uys applying makeup
The film has surprising charms, including watching Archbishop Desmond Tutu doubled over in laughter as he watches Uys impersonate him. Pieter's devastating characterization of South Africa's former pro-Apartheid President, P.W. Botha, draws easy laughs from adults and children alike.
What lit the fire in Uys to make AIDS education his personal cause was South African President Thabo Mbeki's total cluelessness about the disease -- especially after Mbeki announced that he didn't know any people who had died of AIDS. On top of that, there was the medical ignorance of Mbeki's minister of health, Dr. Manto Tshabalala-Msimang (who was eventually forced to resign after claiming that AIDS could be treated with a combination of garlic, lemon, beetroot, and African potatoes).
Considering the political massacres in Darfur and Rwanda, many South Africans were shocked when Uys used the "G" word -- genocide -- to describe the South African government's reaction to the AIDS crisis. In short: "If we don't do anything, then the situation will take care of itself."
Some of the racist attitudes expressed by pro-Apartheid South Africans will remind Americans of the treatment of African Americans in the United States. Those whose lives have been touched by the AIDS crisis will well remember how the United States Government tried to avoid even mentioning the word "AIDS" during the Reagan administration (even as close personal friends of the President and his wife --like Roy Cohn -- succumbed to the disease).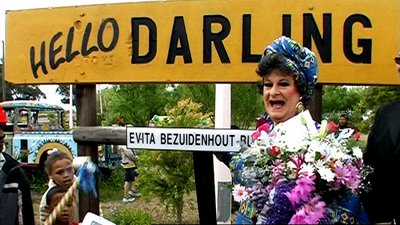 Pieter's courage has made him a role model to people like Nelson Mandela, who expresses his admiration for the performer in Darling! The Pieter-Dirk Uys Story. But what really strikes the viewer is Uys's skill with words ("Hypocrisy is the Vaseline of political intercourse") as well as his intense efforts to discover from local health workers what language will be most effective when addressing children in nearby schools.

As writer/director Julian Shaw explains:
"When I was 15 years old I saw a show that changed my life. The show was just one man on stage -- Pieter-Dirk Uys. Honestly, I had never heard of him before. I didn't know much more about South Africa than who Nelson Mandela was. And here, before my eyes, was this funny bald Afrikaaner man. I became mesmerised by his story.
In his show I learned how he had once fought the inhuman system of apartheid with satire. This was brave, because he did it in a political climate that saw critics of the government go 'mysteriously missing' everyday. He risked his life every time he stepped onstage. It seems like he only got away with it by dressing up as a woman: Mrs. Evita Bezuidenhout. In the 1980s he put the worst truths about the apartheid government into her lip-stick smeared mouth. This female alter ego of his has become the most famous white woman in South Africa. Whilst I found the theatricality of Evita quite incredible, I soon learned there was something far more pressing than the fading legacy of apartheid. It was HIV/AIDS, and it continues to tear South Africa apart.
Pieter does his part by going around to schools in South Africa to present a free 'AIDS Awareness Entertainment' to schoolchildren. He has performed for a million young people. When I first learnt of this, it blew me away. I knew that I had to get over to South Africa and try and make a film about what Pieter was doing. Hardly anybody knew this man outside of South Africa, and I wanted the world to know his story. I was able to get over to Africa by myself for the first time in 2003.
Over time Pieter and I became closer and I was allowed into his normally off-limits inner world. While a celebrity of the highest order in his homeland, Pieter also lives a deeply private and lonely life in many ways. Allowing me to film in his home was a first. What I didn't quite anticipate was what Stephen Gray, Pieter's first play editor, calls 'the electric root of Pieter's talent.' He is talking about a family with many profound paradoxes -- a father who was an apartheid-era censor, Pieter's heritage that is both Jewish and Afrikaans (hence the famous one-liner 'I belong to both chosen people'), and his early years on the fringe in a brutal Calvinist culture.
But Darling! focuses on the now. There is a virus that threatens to wipe out an entire generation of young people in South Africa. Speaking to the school students that Pieter performs to on the road left me speechless. These young people are the beating heart of Darling! and their words the most powerful evidence of Pieter's ability to inspire and change.".
If you're familiar with the career of the late Congresswoman Patsy Mink from Hawaii, you'd know that the first woman of color to become a member of Congress was one of the driving forces behind Title IX legislation. Indeed, the Women's Educational Equity Act led to tremendous growth in women's college athletics programs. The language of Title IX specifically states that:
"No person in the United States shall, on the basis of sex, be excluded from participation in, be denied the benefits of, or be subjected to discrimination under any education program or activity receiving federal financial assistance."
All this and more is covered in a thrilling documentary entitled Patsy Mink: Ahead Of The Majority. The film could not come at a more opportune moment, with America being led by its first multiracial President who is, coincidentally, a native of Hawaii. When morons like former beauty pageant runner-up Sarah Palin claim credit for breaking through the glass ceiling of sexism, they really need to take a giant step backward and examine the career of Patsy Mink before inserting both feet into their mouths.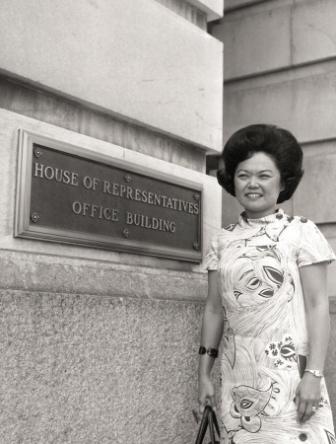 Congresswoman Patsy Mink outside the
United States House of Representatives
Born on a sugar plantation, Patsy Takemoto grew up on Maui and graduated from her high school as the class valedictorian. After graduating from college with degrees in zoology and chemistry, she decided to pursue a career in medicine. But, in 1948, none of the 20 medical schools to which she applied would accept applications from women.
When she transferred from the University of Hawaii to the University of Nebraska she was forced to live in a segregated dormitory with the "colored" students. After Mink led a crusade against the University's stance on segregated housing, the school reversed its policy.
While attending the University of Chicago Law School (from which she obtained her Juris Doctor degree in 1951) she was forced to live in the dorm for "international students" because -- even though Hawaii was only an American territory at the time and not yet our 50th state -- the admissions staff did not understand that Hawaiians were considered to be American citizens.
Upon returning home (where she became the first Asian American female to be admitted to Hawaii's legal Bar), Mink quickly discovered that Hawaii's law firms were run by a group of older white men who did not want her to be part of their "club." They simply would not hire her. When she opened her own private law practice, Patsy Mink became the first Japanese American woman attorney in Hawaii. She was always breaking new ground.
In 1956, when she was elected to the Hawaiian Territorial Legislature, she became the first Asian American woman elected to public office in Hawaii.
In 1957, Mink authored Hawaii's "equal pay for equal work" law, which became national law six years later.
In 1958, she was elected to the Hawaii Senate.
In 1965 (at age 37), Mink became the first Asian American woman to be elected to Congress.
In 1972, she became the first Asian American to seek the Democratic Presidential nomination.
From 1965-1977, Mink was a member of the U.S. House of Representatives from Hawaii's First Congressional District.
In 1971 she introduced the nation's first comprehensive Early Childhood Education Act which, although passed by Congress, was vetoed by President Richard Nixon.
President Jimmy Carter appointed her to be his Assistant Secretary of State for Oceans and International Environmental and Scientific Affairs.
From 1991-2002 she was a member of the U.S. House of Representatives from Hawaii's Second Congressional District.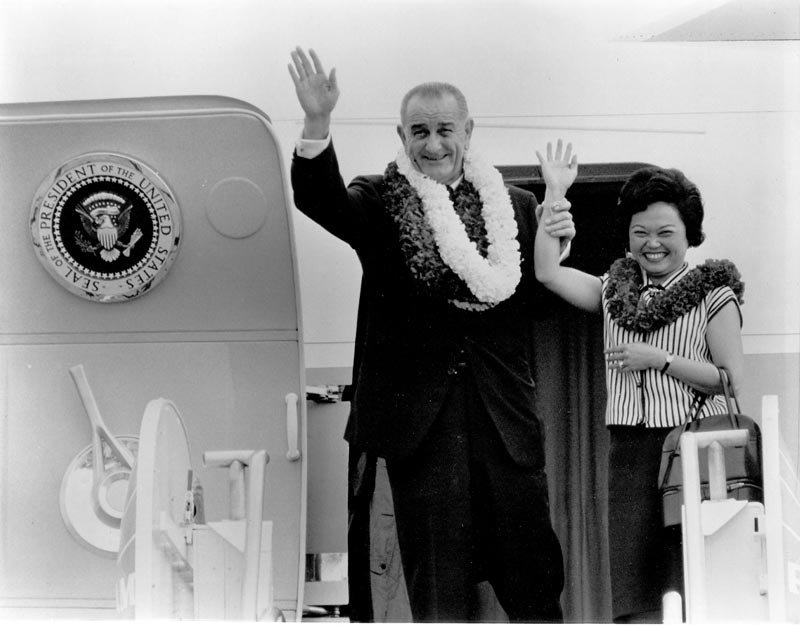 Congresswoman Patsy Mink with
President Lyndon B. Johnson on Air Force One
Mink was one of the earliest and most vociferous opponents of the Vietnam war in Congress. Her trip to Paris to talk to participants in the Vietnam War peace talks (along with fellow Congresswoman Bella Abzug of New York) rocked political and diplomatic circles. Mink and Abzug had a lot in common -- the two women became powerful figures who helped to bring feminist causes to mainstream America.
Having run in 22 elections (more than any other Hawaiian), Patsy Mink holds the record as the only Hawaiian politican to have served at the county, territorial, state, and Federal levels. When she died on September 28, 2002 at the age of 74, President Bush ordered all flags to be flown at half staff in honor of Congresswoman Mink's contributions toward the equal rights of Americans.
At the time of her death Franklin Odo, Director of the Smithsonian Asian Pacific American Program noted that "Patsy Mink offers a phenomenal political story, because she was so outside what you would expect of a woman, of a Japanese American and of a member of Congress. She was truly a force of nature."
Speaking at Congresswoman Mink's funeral, Nancy Pelosi stated that "Patsy left such a legacy. Title IX, which opened locker room doors for women, simply would not have happened without Patsy's leadership. With a twinkle in her eye and a smile, Patsy worked her magic and changed our country."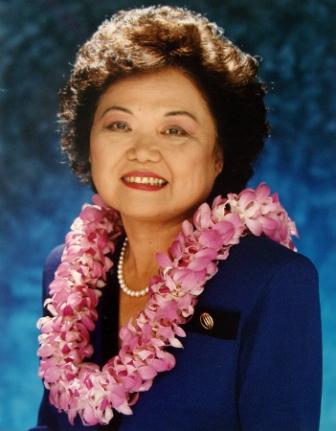 Congresswoman Patsy Mink
On October 29, 2002, President Bush renamed the Title IX Amendment of the Higher Education Act as The Patsy T. Mink Equal Opportunity in Education Act. A week later, on November 5, 2002, Representative Patsy Mink was posthumously reelected to Congress.
She was that kind of a woman.
Throughout Kimberlee Bassford's documentary one gets a strong sense of Patsy Mink's feistiness and unwillingness to take "no" for an answer. The film also includes some rare footage of one of the old Matson liners departing from Hawaii and a poignant clip of Richard Gephardt describing what it was like to get into an argument with Patsy Mink.
It's easy to understand why this tiny totem of liberalism was sometimes called "Patsy Pink" and, to this day, is still resented by male athletic coaches who feel they have been robbed of funds that must be shared with their school's female teams. Patsy Mink: Ahead Of The Majority should be required viewing for anyone interested in politics and civil rights.
SUBSCRIBE TO & FOLLOW CULTURE SHIFT
Every Friday, HuffPost's Culture Shift newsletter helps you figure out which books you should read, art you should check out, movies you should watch and music should listen to. Learn more