There's a simple reason why I have always loved surfing documentaries: I'm a cowardly klutz. For me, the appeal of a surfing documentary is not about the music or the surfers hanging out on the beach. For me, it's the thrill of being able to watch spectacular film footage captured by someone willing to take the kind of risks that make my blood run cold.
High Water contains some breathtaking footage that will cause viewers to gasp in awe of the sheer physical beauty of the water. But it also contains something you don't usually find in surfing films: a memorial service for a fallen surfer who was totally wiped out by a huge wave (Malik Joyeux of Tahiti drowned in 2005).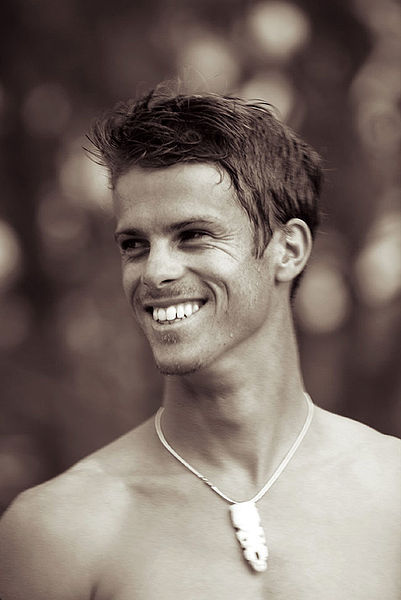 Malik Joyeux (1980-2005)
While High Water includes plenty of footage featuring surfing stars (Kelly Slater, Sunny Garcia, Rochelle Ballard, Chelsea Georgeson, Pancho Sullivan, and young John John Florence), it also features disabled surfers, surfers about to retire, and one of Hawaii's most eccentric and mysterious surfers. As filmmaker Dana Brown explains:
"After working with my father (Bruce Brown) on The Endless Summer 2, then making my own Step into Liquid, I didn't think I'd make another surf movie. I had been all over the world looking for waves and surfers and surf stories. What else was there to say?
After making Dust to Glory about the Baja 1000 off-road race, I was approached about making a reality series on surfing. I could pick the subject as long as it was surfing. So, I proposed covering the six weeks when the surfing world descends on the North Shore of Oahu, Hawaii, for the Hawaiian Triple Crown contests which decide both the men's and women's world championships. We would cover not just the competitors, but those trying to be discovered, the soul surfers, the locals, the legends, the media, and the huge surf... the whole circus that surrounds this pristine stretch of coastline from Thanksgiving to Christmas when the all eyes are focused there. It would be inexpensive to do and the story, though well known, hadn't really been told. So, with a budget about one-third of Step Into Liquid, I went with a small crew and lived on the North Shore for those six weeks to try to capture the beauty and madness."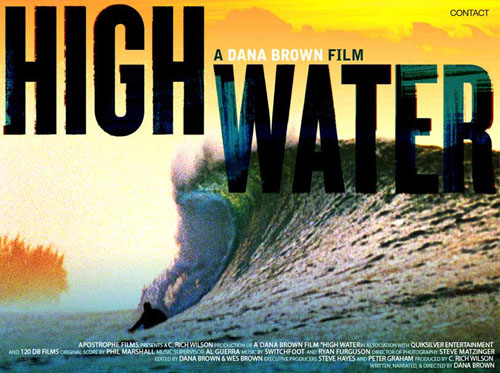 Poster art for High Water
"Then came the hard part: taking the 150 hours of footage we shot and turning it into something cohesive, true, and worthy of the subject matter. With a small budget, that meant thousands of hours in a dark room trying to piece together that puzzle. The task would have been impossible without my son, Wes, who was in the room with me as co-editor. Without his talent, humor, work ethic, and ability to read my handwriting, there is no way the film would have ever been completed. It took us well over a year-and-a-half to edit the film. No assistants. Just us and a limited budget. We wanted to make the film as grand as the subject matter, so we toiled away, turning paler, losing social skills. About the same time we finished, the economy nearly collapsed.
It's taken a while for the film to finally to make it to the screen and I am grateful it has. There was a symmetry in the process. I had started working for my dad, working my way up to associate producer and co-editor on Endless Summer 2, and now there was Wes working with me. There is something to that, and I think it transfers to the film. I am proud of this film and think it reflects the spirit of the North Shore, which is the high water mark in surfing."
As with most surfing films, the musical score is a lot of fun. But, for me, one of the greatest challenges is trying to figure out how Brown and his friends managed to shoot some of the most spectacular footage without drowning in the surf. If you love the ocean, you'll love High Water. Here's the trailer:
Bjoern Richie Lob's exciting new film, Keep Surfing, is quite the opposite. Unlike the more traditional big-wave surfing documentaries that followed in the wake of Bruce Brown's 1966 genre groundbreaker, The Endless Summer, Keep Surfing has very little to do with ocean surfing. Instead, it's about learning how to surf in the middle of Munich, where a river cutting through a city park near a major art museum has created a rare and tempting wave phenomenon.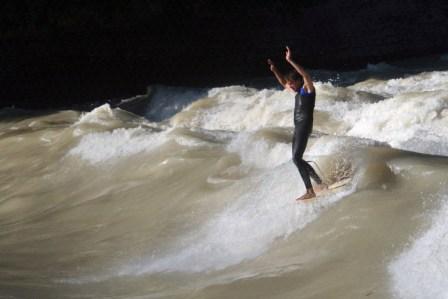 Known as the Eisbach, this small river flows through Munich's English Garden. After years of experimentation, local surfers managed to rig a system of ropes and planks that can increase the strength and height of the wave so that as long as a surfer can maintain his balance, he can keep surfing. While the runoffs from heavy rains can provoke roiling waters, they can also fill the river with tree branches, dirt, and dangerous debris.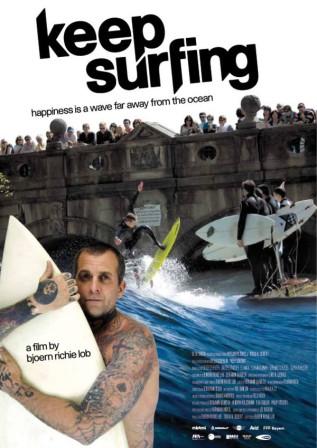 Poster art for Keep Surfing
The film's protagonists are largely counterculture, anti-authoritarian types who take great joy in surfing nude, hanging ten while holding an umbrella in one hand, and enjoying themselves come rain or come shine. Although some may be getting a bit long in the tooth, a younger generation of surfers has demonstrated remarkable dexterity and staying power.
Unlike ocean surfing (where the wave is coming at the surfer from behind), the people who go river surfing are facing into a standing wave. Close to the Eisbach, the nearby bridge and river banks are often lined with spectators. Surfers can arrive on a municipal bus, head over to the bridge and jump into the water with their surfboards -- even when police helicopters are hovering overhead telling them to get out of the water.
Packed with thrills, this a surfing film like nothing you have ever imagined. Words can't do it justice. Keep Surfing has to be seen to believed. Here's the trailer:
SUBSCRIBE TO & FOLLOW CULTURE SHIFT
Every Friday, HuffPost's Culture Shift newsletter helps you figure out which books you should read, art you should check out, movies you should watch and music should listen to. Learn more