Since its founding in 2003, San Francisco's Boxcar Theatre has aimed to "turn theatre on its head." Whether performing in its 50-seat black box theatre South of Market, in a wax museum, or on a windy slope in Dolores Park, the company has a solid history of creating new works, reinterpreting classics, and challenging audiences through innovative approaches to drama. This past season, as most nonprofits were trimming their sails due to the sagging economy, Boxcar fearlessly staged a whopping 15 productions!
In the past two years Boxcar has focused in on a clear path toward the future. By building a permanent company of artists who can work and train together as an ensemble, the hope is to become a true "director's theatre."
The immediate result? A festival of plays by Tennessee Williams produced in the most intimate setting imaginable. As Peter Matthews and Nick A. Olivero (Boxcar's artistic co-directors) explain:
When we made the leap last year to become the only 'directors' theatre' on the West Coast, we were looking for something to exemplify what our mission is. This project gives our audience the clearest understanding of what a 'director's theatre' is really all about. With one playwright, one cast, one design team, one theatre space, and three directors, our hope is to let audiences see the full impact that a director has on a production. We challenged our directors to find something new in three American classics and bring that vision to life with their three unique productions. As with any director worth their salt, the vision must be supported by the external provided by the Pulitzer Prize-winning Tennessee Williams. Anyone can set Macbeth on the moon, but is that what Shakespeare really wanted? Our guess is no. But hey, if you can justify it, pitch it to us and we'll consider it for a future season.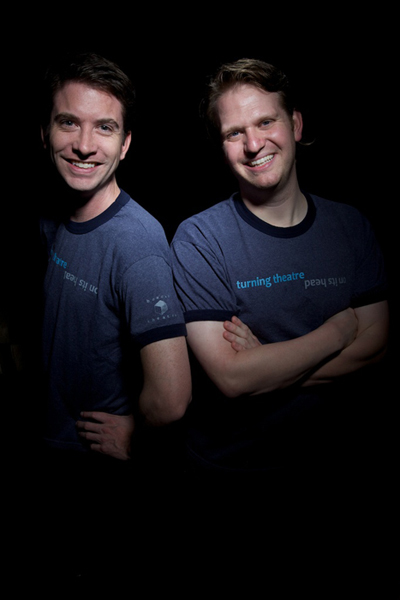 Artistic Co-Directors Peter Matthews and Nick A. Olivero (Photo by: Peter Liu)
Capping off the season with a massive project devoted to the work of Tennessee Williams, the company is concurrently staging The Glass Menagerie, Cat On A Hot Tin Roof, and A Streetcar Named Desire in its tiny black box theatre in addition to offering readings of ten one-act plays by Williams. Michael Moerman (Boxcar's literary manager and resident dramaturg) notes that: "While the theme of our full productions is reimagining the Tennessee Williams we all thought we knew, the theme of these readings might be discovering the Tennessee Williams we didn't know at all!"

Unlike what happens at larger repertory companies such as the American Conservatory Theatre or Oregon Shakespeare Festival, watching Boxcar's actors tackle multiple roles is an extremely intimate experience. At some moments, a performer may be standing five feet away from the audience. On other nights, an actor previously seen in a major role may be doing double duty selling refreshments and chatting with the audience.
Some powerful performances by local actors are on display during Boxcar's "Tenn Will" festival. Most notable are Suzann A. Kendall's characterizations of Amanda Wingfield and Big Momma. An actress of uncanny vulnerability and emotional depth, Kendall's work is a joy to behold.
Matching her in a remarkable contrast is Hanna Knapp, who does double duty as Amanda's shy daughter (Laura) in The Glass Menagerie and as Gooper's greedy wife, Mae (mother to "those awful no-neck monsters"), in Cat On A Hot Tin Roof. Lauren Doucette demonstrates the many faces of Southern charm as "Maggie the Cat" and the "shadow Laura."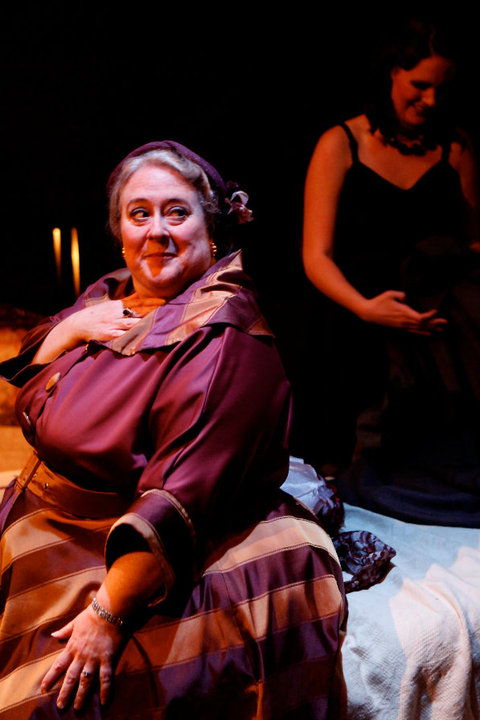 Suzann A. Kendall as Big Momma and Lauren Doucette as Maggie
in Cat On A Hot Tin Roof (Photo by: Peter Liu)
Peter Matthews offered a poignant portrayal of Brick in Cat On A Hot Tin Roof while Nick A. Olivero did double duty as Stanley Kowalski in A Streetcar Named Desire and the Gentleman Caller in The Glass Menagerie. I was especially impressed with Brian Jansen's characterizations of Mitch in Streetcar and Brick's hen-pecked brother, Gooper, in Cat On A Hot Tin Roof. Brian Trybom delivered a powerful portrayal of the guilt-ridden, drunken Tom in The Glass Menagerie.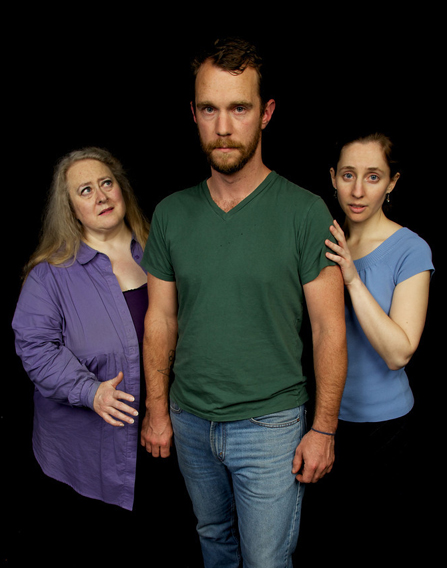 Suzan A. Kendall, Brian Trybom, and Hannah Knapp star in
The Glass Menagerie (Photo by: Peter Liu)
As a playwright, Williams was notorious for making revisions to his work. Boxcar used a one-act version of Cat On A Hot Tin Roof that condensed the action into a tense power struggle for Big Daddy's estate as the Pollit family learned that its patriarch had terminal cancer.
In this production, director Jeffrey Hoffman transformed the unseen ghost of the deceased Skipper into a live body that appeared behind scrims to keep haunting the drunken Brick. In a critical move, the desperate Maggie donned Skipper's old football jersey in an attempt to stimulate her depressed, disillusioned, and disgusted husband's long-lost sexual desire.
The only production that suffered from directorial overkill was The Glass Menagerie, for which Jessica Holt decided to add shadow versions of Amanda, Laura, and Tom as well as a trio of female singers. While the shadow Amanda (Maggie McCally) did a superb job of putting the audience in touch with the young, flirtatious Amanda who remains a vibrant spirit in the older Amanda's mind, the concept did not work quite as well for Laura and Tom's doubles.
A textbook case in which less would have been more, Holt's approach would probably have been more successful if she had stuck to one shadow figure: the ghost of Amanda's past. Throughout the performance, there was simply too much unnecessary stage business (at times the Wingfield apartment began to resemble a train station).
The constant movement of extraneous actors miming too many thoughts, the intrusive sounds of a violin, and a girl trio with nowhere to go continually interrupted and muffled rather than enhancing the theatricality of the playwright's script. Thankfully, Holt let the scene between Laura and the Gentleman Caller stand on its own merits. From that point through to the final blackout, the magic of Tennessee Williams was able to soar.
Boxcar Theatre's "Tenn Will Festival" has been extended through September 5.
To read more of George Heymont go to My Cultural Landscape
SUBSCRIBE TO & FOLLOW CULTURE SHIFT
Level up. Read THIS and be the most interesting person at your dinner party. Learn more