"A cappella" singing has been around for several hundred years. What started in the late 15th century as a form of religious expression (without the use of musical instruments) has evolved and morphed into new styles of music. Founded in 1909, the Yale Whiffenpoofs claim to be the oldest collegiate a cappella group in the United States.
While a cappella groups now range from barbershop quartets to dop-wop groups and The Swingle Singers, only one a cappella group has remained steadfastly lewd, crude, and rapturously reviewed. Listen to the Kinsey Sicks as they explain what makes them special in this footage taken from a concert at San Francisco's Herbst Theatre:

Legendary for their succulence, sarcasm, and simpleminded attempts at style, few barbershop quartets have been as prolific or media savvy as the Kinsey Sicks. Now celebrating their 16th year, the Kinsey Sicks have two feature films available on DVD (a live performance of "I Wanna Be A Republican" and a documentary about their Las Vegas engagement entitled " Almost Infamous") and have produced seven CDs:
Dragapella!
Boyz To Girls
Sicks in the City
Oy Vey in a Manger: Christmas Carols and Other Jewish Music
I Wanna Be A Republican
Sicks! Sicks! Sicks!
Each Hit and I (say it out loud very quickly several times to get the full impact)
While many artists shine in rehearsal and performance, the business side of a career can prove to be their downfall. Some have ended up suing their managers for embezzlement. Others have seen their careers fade as they became old news and their agents started pushing younger, hotter talents.
The Kinsey Sicks, however, have a built-in advantage due to the fact that two of the group's founders (Ben Schatz and Irwin Keller) were attorneys in their previous professional lives. These two men know how to read and negotiate a contract and protect the copyrights on their song parodies. While the Kinsey Sicks has never been shy about promoting themselves, they understand the importance of branding and rolling out new product on a regular basis. One of their first attempts at a music video was this delightful trailer for the 28th Frameline San Francisco International LGBT Film Festival:

The Kinsey Sicks has never been interested in political correctness. Nor have they been shy about expressing their politics in song, as evidenced by the following rendition of "We Arm The World":
After Jeff Manabat joined the group as Trixie in 2004, he took over the responsibilities for costume design and vocal arrangements. Meanwhile, Ben Schatz writes most of the parody songs and continues to come up with new material inspired by current events.
Blast emails from the Kinsey Sicks often contain delicious bits of snark. Consider the following:
"The Kinsey Sicks will be getting free experimental cosmetic surgery from some of North Korea's most promising first-year med students! During their recovery, they will be unfit to be seen in public, except on stage with lots and lots of make-up in front of audiences with low expectations. Not that this is any different from normal."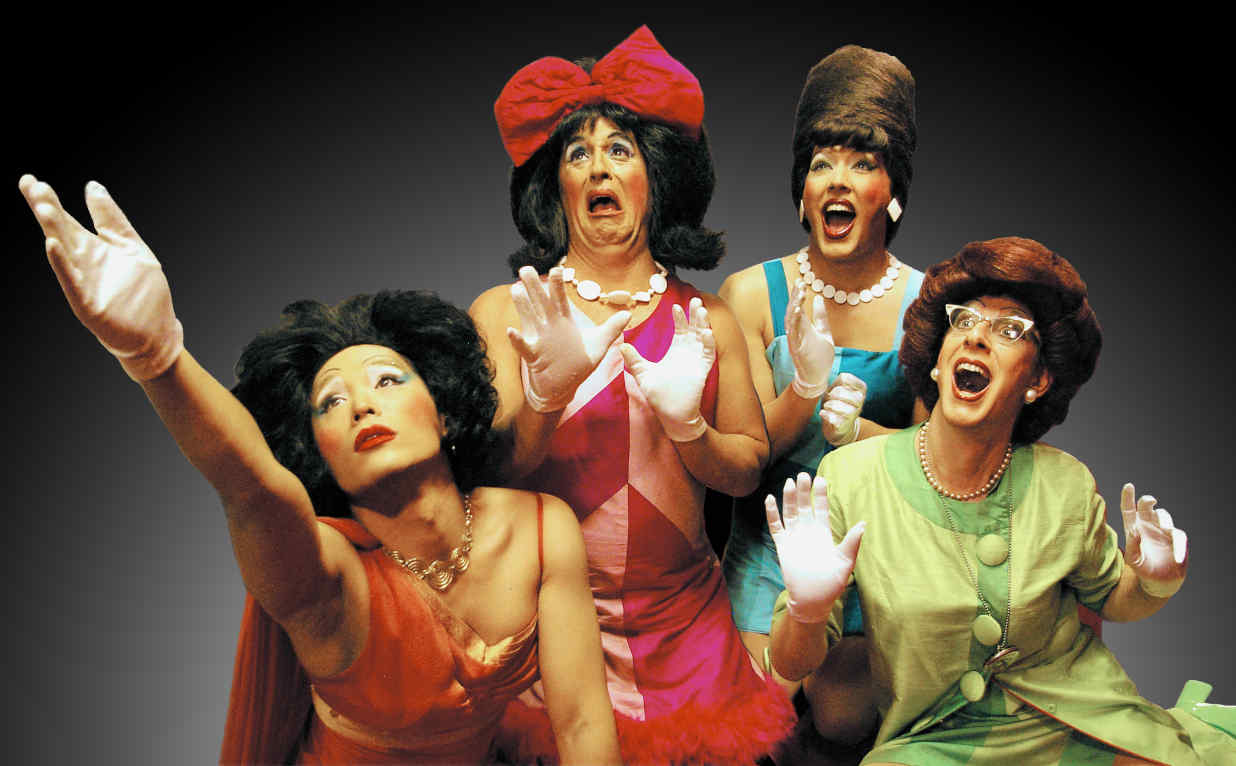 "Do you wish to be removed from the Kinsey Sicks' mailing list and lose your nationally-syndicated radio show all at the same time? If so, please send your most thoughtful and sensitive tips on interracial dating to "I studied the effects of insulin in rats so I'm really kinda sorta a Doctor" Laura Schlessinger, c/o The Kinsey Sicks. And, won't you be the first to congratulate her for her new TV role starring as a loveable but racially biased rat physiologist struggling to come out of the closet as a lesbian on her own series "The N Word on the L Word"? Don't miss the gripping first episode in which she breaks up with Mel Gibson when he finds out that she's Jewish! You could also simply click the unsubscribe link below, if you're hypersensitive to racism and only bringing it on yourself."
As you've probably guessed by now, nothing and no one is sacred. Whether giving new meaning to a traditional folk song like "Danny Boy" or tackling a hit song by Lady Gaga, the "interpretations" created by the Kinsey Sicks can easily shock and awe unsuspecting audiences:
While Oklahoma's notoriously homophobic conservative Senator James Inhofe sulks and pouts because the word "Christmas" was deleted from Tulsa's "Happy Holidays Parade" -- and the folks over at Fox News continue to hyperventilate about a mysterious, never-endng "War on Christmas" -- the Kinsey Sicks will be bringing their own special holiday show, Oy Vey in a Manger to Washington, D.C. for two weeks. Members of Congress who got all freaked out by the Smithsonian's recent display of David Wojnarowicz's controversial video of ants crawling all over a crucifix should remember that it was the Kinsey Sicks who -- while displaying a picture of President George W. Bush -- used to lead audience sing-a-longs to the tune of Edelweiss (from The Sound of Music) while crooning the following lyric:
"Anal warts,
Anal warts,
Every morning you greet me.
Soft and pink,
God, you stink!
You look happy to meet me.
Blossom of cauliflower
Bloom and grow,
Bloom and grow forever.
Anal warts,
Anal warts,
Bless my bottom forever."
Spreading a vastly different kind of holiday cheer, the program for "Oy Vey in a Manger" is bound to include such favorite Kinsey Sicks hits as:
I Had A Little Facial
'Tis The Season to Drink Stoli
Jews Better Watch Out (Santa Claus is Coming To Town)
Lusty The Snowman
I'm Dreaming of a Vanna White Christmas
Soylent Night
A Lay in a Manger
I'll Be Cloned For Christmas
O Cum All Ye Unfaithful (But Not On My Face)
God Bless Ye Femmy Lesbians
Papirossen
It's Crystal Time in the City
Satan Baby
The Twelve Steps of Christmas
Santa Claus is Coming Too Soon
Every Kinsey Sicks performance begins with an announcement by Winnie (Irwin Keller) that if anyone's cell phone starts to make noise during the show, a member of the Kinsey Sicks will come out into the audience and shove the cell phone up the offending person's ass. Not only are the Kinsey Sicks talented ad-libbers (they occasionally crack each other up), they won't hesitate to tell someone in the audience to "shut the fuck up." If you're lucky, the performance you attend might even include a rollicking rendition of "He's A Sheep Fucking Guy" (which never fails to bring down the house).
The Kinsey Sicks will perform from December 18 through January 2 at the J Theatre (you can order tickets here). In the meantime, here's a little preview:
To read more of George Heymont go to My Cultural Landscape

SUBSCRIBE TO & FOLLOW CULTURE SHIFT
Level up. Read THIS and be the most interesting person at your dinner party. Learn more