When Symmetry Theatre made its debut this summer at San Francisco's Thick House with a production of Anthony Clarvoe's Show and Tell (1992), the company's mission statement and promotional materials pointed to a rarely discussed phenomenon in regional theatre:
"Symmetry Theatre Company came into being with a specific purpose: to address the serious problem of gender inequality in the casting of professional stage actors. Women belonging to Actors Equity Association (AEA) have many fewer opportunities than men at landing roles in professional theatre.

To begin with, fewer roles are written for women, and many of those roles are much smaller than men's. Because of the relative size and unimportance of female roles, they are usually cast with non-Equity women (although occasionally, female lead roles are cast non-Equity while small roles are awarded to Equity males). This practice saves producers as much as 80 percent in salaries, but denies the benefits of union jobs (health insurance, pension, safety and job protections, an employee bill of rights) both to high-quality Equity members and to those women - often equally talented and experienced -- who rightly fear that joining Equity will deprive them of work.

The not-so-hidden message here is not only that women's stories are less important than men's, but that women's participation in theatre is only a hobby, not a legitimate career. Yet women have the same dedication to the craft as their male counterparts. Symmetry Theatre Company believes that health care coverage, a guaranteed weekly salary, pension, and union-regulated working conditions are all critically valuable to women and men equally.

We believe the desire to have a career in the arts should not be dictated by gender. But Symmetry's founders also believe there is a larger relevance to society as a whole: We believe our audiences should have more exposure to fully developed female characters and female stories, with the hope of creating a richer community for all.

The plays we choose may never have more male than female roles and in any given show there may never be more male than female Equity contracts. In addition, we will choose plays that acknowledge that women's stories are as important as men's and in so doing we will hope to educate the public and the theatre community at large to the need for more balance on the boards."
While I was intrigued by Symmetry Theatre's claim that fewer good roles are written for women, I found myself wondering if people might not be aware of the variety of plays that do indeed have meaty roles for female characters. Consider the following:
The Women. Clare Booth Luce's 1936 comedy about gossiping society women.
The New Century. Paul Rudnick's 2008 collection of three one-act plays in which two brilliant monologues have been written for mature women
By a strange coincidence, two plays produced by Bay area theatre companies this month featured all-female casts. In Oakland, TheatreFIRST's artistic director, Michael Storm, noted that:
"There are many reasons to produce Anton in Show Business, not the least of which is that it is a great play for women. But beyond that (and perhaps most important) is that it speaks to the business of theatre overall, including the lack of roles for women. Anton in Show Business is a great way to help inform our audience about the business of theatre and a great way to laugh at ourselves. I think this is important because I'm constantly amazed at how little people know about a life in the theatre."
The winner of the 2001 American Theatre Critics Association's Steinberg New Play Award, Anton in Show Business depicts what happens when a small regional theatre company attempts to cast and stage Anton Chekhov's Three Sisters. All roles (regardless of gender) are performed by women.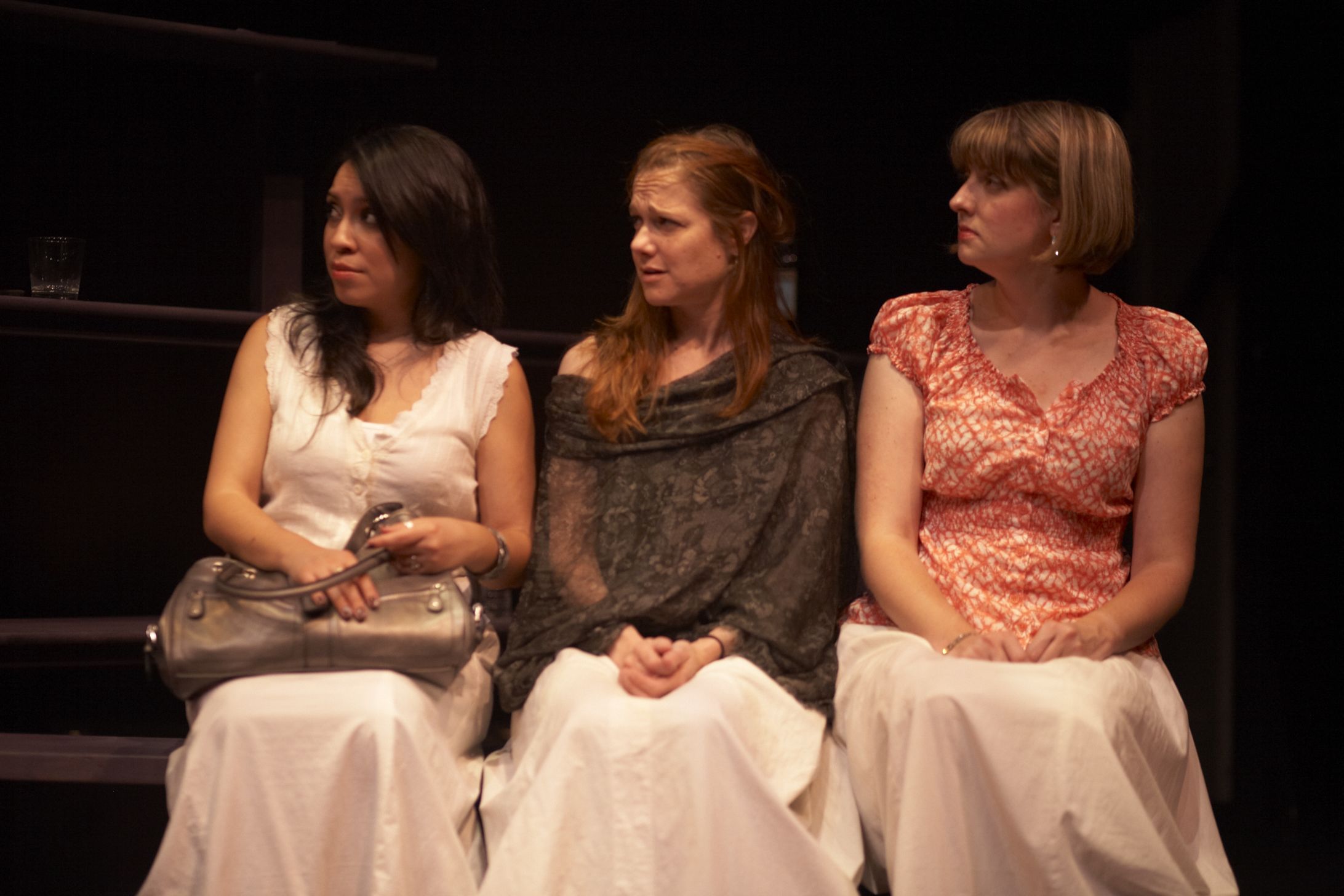 Holly (Josie Alvarez), Casey (Beth Deitchman) and
Lisabette (Megan Briggs) in Anton in Show Business
Anton in Show Business is so well written that you won't have to know a thing about Chekhov's Three Sisters in order to laugh your way through the evening. The writing is sharp, knowing, and cuts to the quick (Jane Martin is rumored to be the nom de plume of John Jory, the former Artistic Director of the Actors Theatre of Louisville). The key roles are:
T-Anne, the stage manager for a small theatre in New York where Kate and Ralph are holding a casting call for Three Sisters. T-Anne is not impressed by actors. T-Anne is not impressed by anybody.

Holly Seabé, a young woman of devastating beauty who has become a television star. Although her resume is extremely light (Holly got fired from a porn film because she actually cried when she had her first orgasm), she knows how to throw her weight around and make people pay for any perceived insults.

Lisabette Cartwright, a drama major from La Vernia, Texas who, after graduating from Southern Methodist University (SMU), promptly started teaching third grade at Maple Elementary School. Lisabette, who likes to give Jesus credit where credit is due, has decided to go for the big magical moment that she's heard can be found onstage.

Casey Mulgraw, an actress in her late 30s who is known as the Queen of Off-Off-Broadway. A cancer survivor, Casey has performed in over 200 productions where -- although she's always managed to have sex with someone in the cast -- she has never been paid to act.

Joby, a recent graduate with a Master of Fine Arts degree in Dramaturgy who has been given a chance to write a 100-word review of Three Sisters for a San Antonio shopping guide.

Kate, an overeducated graduate of Harvard, Stanford, and Yale who has become the artistic director of the San Antonio Actors Express. Kate is currently producing Three Sisters .
Ralph Brightly, a Quentin Crisp-like stage director. The epitome of a limp-wristed, fey Brit.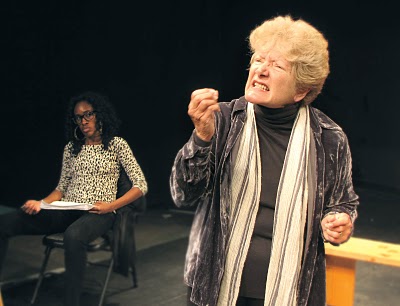 Amaka Izuchi and Phoebe Moyer in Anton in Show Business
Andwyneth Wyoré, an African American stage director Kate has hired to replace Ralph after he is summarily fired by Holly.
Jackey, the extremely effeminate wardrobe master for San Antonio Actors Express.
Ben Shipwright, the butch cowboy playing the role of Vershinin who falls for Holly, leaves his wife and kids, but gets humped and dumped as soon as Holly gets an offer to be in a Hollywood film.
Wikéwitch, the Russian stage director hired by Kate to replace Andwyneth after she leaves the production in a huff.
Don Blount, the Regional Director of Corporate Philanthropy for a large tobacco company.
Joe Bob, a Texas "good ol' boy" who tells Kate why he's so happy that her theatre company has lost its funding.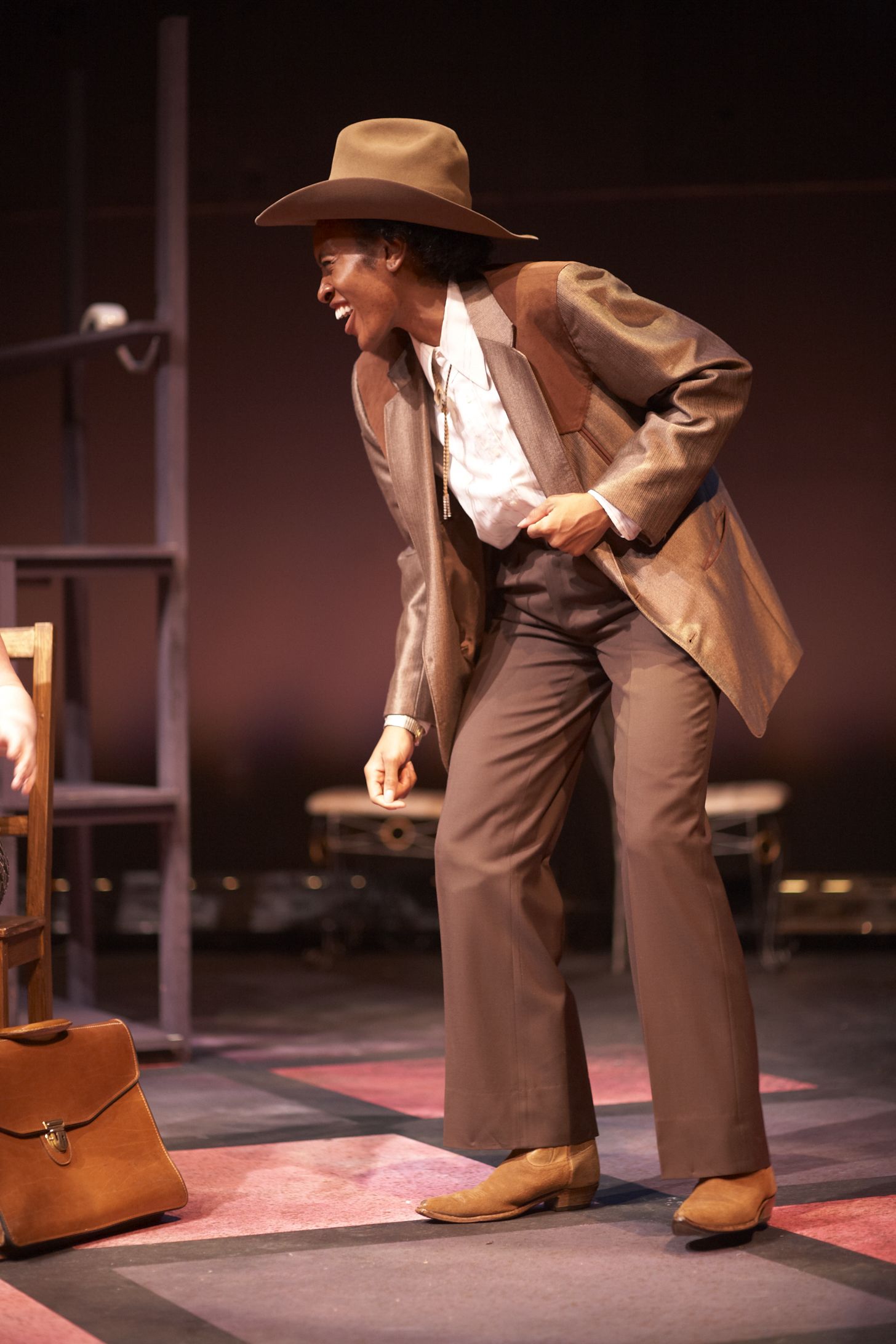 Amaka Iuzchi as Don Blount in Anton in Show Business
Storm's ensemble delivered some exceptionally fine work. I was particularly impressed by Josie Alvarez (Holly), Shannon Veon Kase (Kate, Jackey, and Ben), and Amaka Izuchi (T-Anne, Andwyneth, and Don Blount). Phoebe Strong's superb portrayals of Ralph Brightly, Wikéwitch, and Joe Bob were right on the mark.
Equally enjoyable was the Crowded Fire Theatre Company's production of The Secretaries (the hilarious and bloodthirsty farce written by The Five Lesbian Brothers). As directed by Marissa Wolf, this estrogen-infused stage farce focuses on five deeply conflicted women sharing an office in Big Bone, Oregon.
A tear-away day calendar dominates Nick A. Olivero's unit set for an office in which five women have managed to coordinate their menstrual flows to stunning effect. Fight Club may have given male office workers an outlet for their aggression, but every 28 days brings a new "kill night" for the women running Cooney's Lumber Mill. Lumberjacks with industry-appropriate names like Chip, Dusty, Woody, and Buzz all seem to disappear days before one of the secretaries shows up wearing their warm winter clothing.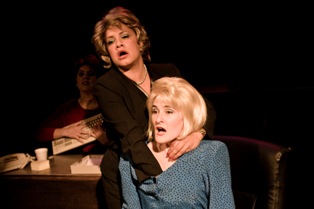 Susan (Leticia Duarte) and her new employee (Elissa Beth Stebbins)
in The Secretaries (Photo by: Timothy Faust)
Enter Patty (Elissa Beth Stebbins), the top graduate in her secretarial class and the kind of naive young woman who takes a while to catch on to office politics. Although she is in awe of her powerful boss, Susan (Leticia Duarte), and eager to befriend the office brown-noser, Ashley (Khamara Pettus), Patty doesn't quite know how to handle some of her other co-workers.
Peaches wants Patty to slap her each time she catches Peaches eating anything other than a Slim-Fast meal.

Dawn is an aggressive lipstick lesbian who is eager to make Patty her new best friend forever.
Buzz is the sweet lumberjack who has been boning Patty on their lunch breaks.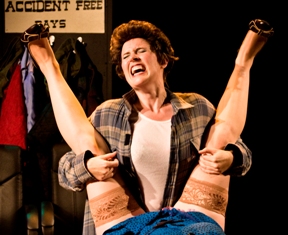 Buzz (Marilee Talkington) and Patty (Elissa Beth Stebbins) take
a break from work in The Secretaries (Photo by: Timothy Faust)
While there are lots of laughs to be found between the office pool's heavy flow days, what makes this production remarkable is the performance of Marilee Talkington, who does double duty as Dawn and Buzz. Talkington's phenomenal skill as a physical comedian is made all the more impressive by the fact that this actor is legally blind. She deserves some kind of award for her performance in this production. The Secretaries runs through October 9. Here's Crowded Fire's trailer:
SUBSCRIBE AND FOLLOW
Get top stories and blog posts emailed to me each day. Newsletters may offer personalized content or advertisements.
Learn more