Many actors pray for a long and successful career. But if you ask them who they regard as a role model for longevity, they inevitably point to people like 82-year-old Christopher Plummer, 86-year-old Angela Lansbury, and 90-year-old Betty White.
And then there is Carol Channing, who just turned 91. The first time I was exposed to the phenomenon that is, was, and always will be Carol Channing was in February of 1964. Four weeks after Hello, Dolly! opened on Broadway, my family was sitting in the balcony of the St. James Theatre.
I had never heard a voice like Channing's or seen someone rule an audience like a force of nature. By the time Channing headed out onto the runway that circled the orchestra pit for her curtain call and waved to the people in the balcony, I was ready to jump over the rail right into her arms.
I was hardly alone. Her total commitment to any dramatic moment can be seen in this duet with Perry Como:
Channing fell in love with theater during grade school, a love affair that would last for 80 years. Late in life, when she married her childhood sweetheart, they created the Dr. Carol Channing and Harry Kullijian Foundation for the Arts, a nonprofit dedicated to raising funds for school arts education programs.
As Dori Berinstein demonstrates in her new documentary about the 91-year-old actress, Carol Channing: Larger Than Life, it has been an amazing ride for the Christian Scientist who was born in Seattle and attended Lowell High School here in San Francisco (where the school auditorium has been renamed "The Carol Channing Theatre"). As much as people joke about Channing's affectations there has only been one of her.
In 1973, a San Francisco a theater party of 200 Carol Channing look-alikes showed up at a performance of Lorelei (a reworked version of Gentlemen Prefer Blondes) at the Curran Theatre. Before the curtain went up, Channing (who along with San Francisco Chronicle columnist Herb Caen was scheduled to judge the final runoffs after the show) couldn't resist sneaking a peek at the competition. When I interviewed her in 1983, she recalled that:
As you know, you can't see the audience from the stage. So I ran out in front of the house where nobody could see me and hid behind a curtain to try and see a few of them as they came into the theate. I wish I could have seen them all. Judging the contest was fun. One of them made a sailor outfit that was exactly like the one I owned with the clock I used to wear. Wasn't that funny? Oh gosh, I think that was marvelous.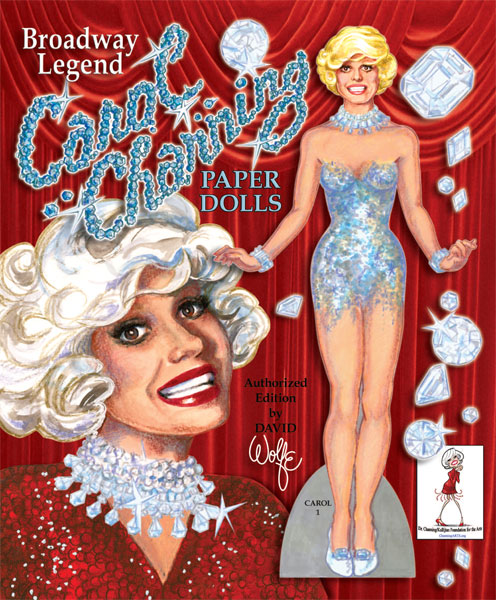 In her youth, Channing helped her mother distribute flyers for Christian Science at the stage doors of San Francisco's theaters and was a supernumerary in San Francisco Opera productions of Aida and Tristan und Isolde. An ardent fan of Trudi Schoop, she danced the Dipsy Doodle and bemoaned the fact that her adagio ballet career ground to a halt at an early age because she grew so tall that she looked "like the Bride of Frankenstein en pointe." Along the way, she developed a knack for impersonating stars like Sophie Tucker, Carmen Miranda, and Marlene Dietrich. In the following clip from Show Girl, she spoofs Judy Garland and Betty Hutton.
During her career, Channing worked on Broadway and toured extensively in addition to playing nightclubs with George Burns and appearing in Hollywood films such as Thoroughly Modern Millie (for which she was nominated for the Academy Award for Best Supporting Actress) and Skidoo. A frequent guest on television shows ranging from What's My Line? to Sesame Street, she welcomed any chance to sing and dance.
When, I interviewed Channing for Stallion Magazine, I was finally able to see that Carol Channing (the actress) had crafted a secondary career out of playing Carol Channing (the character). Having briefly starred in a 1963 Mineola Playhouse production of George Bernard Shaw's comedy, The Millionairess (directed by Gene Saks with a cast that included Estelle Parsons, Gene Wilder, and John McMartin) before her success in Hello, Dolly! she was quick to respond when I asked if there were any roles she wished she had had a chance to play. "Well, I wish I could have done more of the classics, like The Flying Duchess!" she cooed.
Dori Berinstein's film makes it clear that the Channing character has been a long-running act which has kept Carol's persona clearly defined for the public and relatively free from controversy (a devout Democrat, Channing was pleased to learn that her name was on Richard Nixon's list of political enemies).
As she aged and her voice dropped an octave, Channing's comedic instincts remained rock solid (as evidenced from this clip from a 1985 two-part television adaptation of Alice in Wonderland).
Throughout her career, Channing was a missionary for the arts who would perform before any audience that would have her. Here she is, at a celebration for her 90th birthday at the Anaheim White House, performing the "Saint James Infirmary Blues."
Channing's 1995-1996 farewell tour in Hello, Dolly! (which took place when she was 73 years old, but still full of energy) allowed her to surpass Yul Brynner's record of 4,633 performances in The King and I. Thankfully, videos posted to YouTube allow people to see two of the less publicized bits of comic genius that were conceived by Gower Champion and honed to perfection by Channing in Hello, Dolly!
Here are the opening number ("I Put My Hand In") and Dolly's famous Act II eating scene at the Harmonia Gardens restaurant. Pay close attention to Channing's magnificent diction and comic timing in a role she has been performing for 30 years!
Throughout the AIDS crisis, Channing made frequent appearances at fundraisers. One of the most touching moments in Bernstein's film occurs when some male dancers describe her concern for a cast member who was battling the disease.
Years ago, Channing declared that "My friend Davey Burns died with his laugh building in a show called 70, Girls, 70 when it was trying out in Philadelphia and that's how I want to go -- with my boots on!" Carol Channing: Larger Than Life is a fitting climax to one of the longest careers in show business. Here's the trailer:
SUBSCRIBE TO & FOLLOW CULTURE SHIFT
Every Friday, HuffPost's Culture Shift newsletter helps you figure out which books you should read, art you should check out, movies you should watch and music should listen to. Learn more