Golfers around the world are watching as the world's best try to tear each other apart, one hole at a time, at Royal Lytham. As the third major of the season plays out, the British will politely remind us that they don't have to qualify their tournament: it's simply The Open, because, obviously, no other opens matter.
But I beg to differ. And I'm not talking about the U.S. Open (Webb Simpson... really?). In the opens that matter, the players lose, on average, three balls per round. They shank regularly. Their ninth-hole pitstop lasts at least 45 minutes. And hardly anyone breaks 90. I would know. I played in one.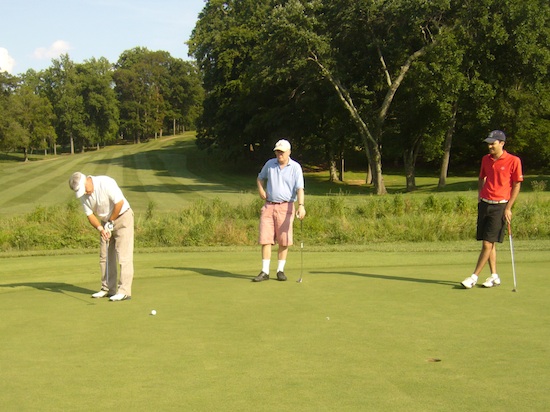 Graciously hosted by His Excellency Erlan Idrissov, Kazakh Ambassador to the United States (pictured above with His Excellency Sir Mark Lyall Grant, UK Ambassador to the UN), this year's "Inter-City Friendly Golf Match" brings diplomats from different cities together for a friendly (but competitive) round of golf, drinks, and dinner... not necessarily in that order.
Ambassadors and representatives from the U.K., the E.U., Pakistan, Korea, Taiwan, Finland, Papua New Guinea, Palau, and Kazakhstan were organized into two teams in this year's inaugural event: Team UN and Team DC. Team USA was headed up by former Congressman Marty Russo and included members of the media, prominent businessfolk, and me.
Allow me to paraphrase the Old Spice man for a moment:
Hello. Imagine a summit with all these countries in attendance. Now imagine three foursomes on a golf course. Now back to the summit. Now back to golf. Sadly, the summit isn't golf. But it could be, if it stopped using ladies-scented bodywash and--
Er-hem.
The point is, when people get together in a non-ridiculous environment and play sports (yes, golf is a sport), stuff happens. Sure, there's stuff like shanking and losing balls and yelling "FORE" just to mess with the slow foursome in front of you, but there's also important stuff, like, I don't know, Conversations of International Significance.
Or, just getting to know the guy who sits across from you at the UN. It doesn't matter. It's all about getting people together in a relaxed setting, and for that, Mr. Ambassador, we thank you!
Follow George Zaidan on Twitter: www.twitter.com/georgezaidan