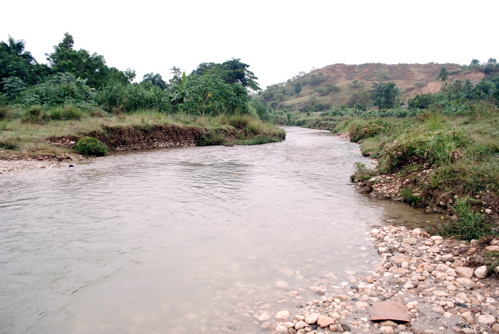 The epicenter of the outbreak outside the UN compound in Mireabalais by Georgianne Nienaber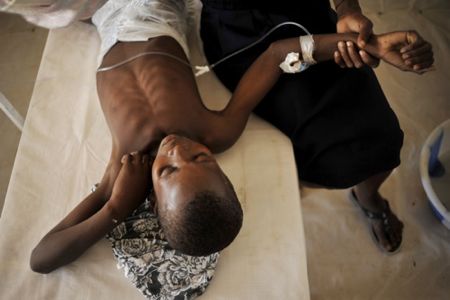 The Face of Cholera in Mireabalais in November by Leah Millis
And the withdrawal of some humanitarian agencies from cholera treatment centres and camps risks creating a shortage in the provision of services. The Cholera Appeal is 45 per cent funded, and the overall Haiti Appeal received only 10 per cent of the requested funds. Additional financial support is urgently needed. Strong coordination between UN agencies, the Interim Haiti Recovery Commission and the new Government will also be crucial.
Gap analysis from the Shelter, Water, Sanitation and Hygiene (WASH), CCCM Clusters and the Office for the Coordination of Humanitarian Affairs (OCHA) reveals the magnitude of the task ahead to meet basic water and sanitation needs of transitional shelter and spontaneous camp residents. The WASH funding requirement of US$175 million is 19 percent met ($32 million) and this lack of funds to support programs will have direct consequences on the health situation of vulnerable populations.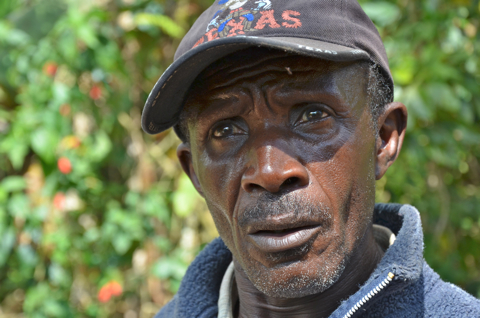 Obviously, the absence of latrines, desludging activities, and safe drinking water, provides an opportune environment for cholera and other water borne diseases. Incredibly, temporary shelters do not include sanitation. People are defecating into plastic bags, or going on the ground or in streams. Water purification tablets are in short supply, if they can be obtained at all in rural areas. The villagers of Chinchion we visited in February were traveling miles to market to buy bleach for water purification. It works, but where are the promised purification tablets? Some villages were paying for the tablets on the black market.
As of April 7.39 percent of the 56,107 T-shelters hosting 235,649 individuals do not receive any WASH services, reports the Shelter Cluster. Not all of the 65 implementing partners have the capacity and the expertise to implement WASH programming and it is predicted that 42 percent of the additional 116,000 T-shelters to be built this year will not receive any sanitation and water services either.
OCHA also reports that the communes of Léogâne, Port-au-Prince, and Croix des Bouquets are the most affected by the lack of access to water and sanitation services by T-shelters residents. Other communes with a high number of cholera cases, such as Carrefour, are also particularly vulnerable.
Near the capital, a giant, unlined, uncovered excreta pool contains thousands of gallons of feces, some of it likely infected with cholera. The pool a mile or so from the Bay of Port-au-Prince, and on top of the Plaine de Cul de Sac aquifer.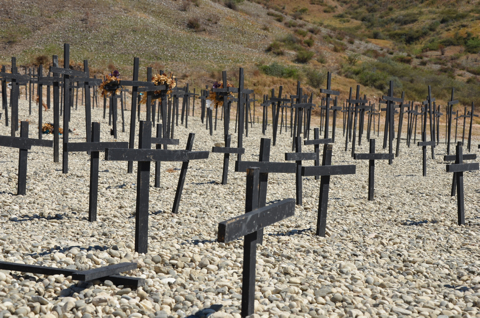 Photo by Georgianne Nienaber
SUBSCRIBE AND FOLLOW
Get top stories and blog posts emailed to me each day. Newsletters may offer personalized content or advertisements.
Learn more