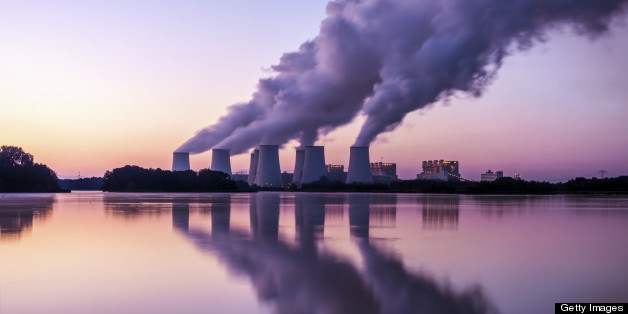 Last week, the Obama Administration released new energy efficiency standards for microwaves, along with an update to the government's official Social Cost of Carbon (SCC) figure. What do those two things have to do with each other? Well, the efficiency standards will help the planet by cutting the energy needs of microwaves, which will in turn save consumers money. And the new SCC numbers show just how expensive our addiction to fossil fuels has become.
The SCC is used to estimate the damages from carbon emissions (and the benefits from reducing those emissions) for the purposes of regulatory benefit-cost analyses. The central estimate for the SCC is now around $35 per ton of carbon dioxide pollution emitted today.
That's the administration's estimate of the damage -- to human health, ecosystems, and the economy -- caused by every ton of carbon dioxide emitted into the atmosphere. The average American emits about 20 tons each year.
The new cost of carbon figure is a welcome step forward, reflecting the latest versions of the underlying models. The bad news is that the increased number also shows that our lack of a comprehensive climate policy is becoming ever more costly.
Moreover, this updated SCC number underestimates the true costs of carbon emissions. For example, the current SCC quickly rises to $55 per ton under a lower discount rate (that is, an estimate that doesn't "discount" harms to the wealth and health of future generations by quite as much as the administration did in reaching its $35 per ton figure).
The good news: The administration's latest numbers show exactly how policy analysis should be done -- rigorously and consistent with the latest advances in science and economics. For example, instead of using older versions of three main SCC models to calculate its official number, the administration now uses the most recent peer-reviewed versions of each. That simple but important step helps to bring the new official SCC more in line with the latest academic literature.
In short, the administration's economics are slowly and carefully catching up with what we all can see outside our windows. While atmospheric carbon dioxide levels have just passed the 400 parts per million threshold for the first time in over 3 million years, the real costs of climate change keep piling on.
What the country really needs, of course, is for Congress to pass a comprehensive climate policy. Only then will Americans stop living in a world where their personal behavior leads to socialized costs of at least $35 for each of the 20 tons of carbon dioxide we emit every year. Until then, the Obama Administration is right to at least include these costs in its own regulatory impact assessments.
This Blogger's Books and Other Items from...
SUBSCRIBE AND FOLLOW
Get top stories and blog posts emailed to me each day. Newsletters may offer personalized content or advertisements.
Learn more