THE BLOG
5 Ways to Green Your Tailgate
1. RECYCLE YOUR BEER CANS AND BOTTLES. This is a no-brainer. Bring a separate trash bag to throw your beer and bottle cans in. Put it in the back of your truck - and take it to the recycling center on Sunday.
2. EAT LOCAL FOODS. Try to aim for local, sustainable foods. For example, you can buy organic veggies with dip, organic homemade brownies, and cage-free deviled eggs. Avoid those pre-packaged bags of food and you'll save energy, waste, and calories too!
3. USE REUSABLE PLATES. I know it is so much easier to eat on styrofoam and them throw them out in the trash. But, styrofoam is made with petroleum, a non-sustainable, polluting material. Toxic chemicals leach out of styrofoam when they start to deteriorate. The list of negatives goes on......you get my point.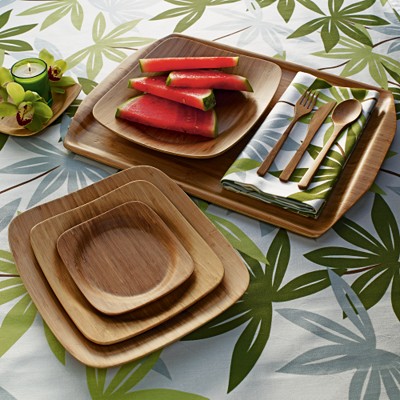 Photo Credit: Bambu's Veneerware.
4. USE A PROPANE GRILL. Yes - propane is made by burning petroleum, but it is a lot better than the alternatives, charcoal or wood fire. Use a propane grill and you are grilling green!
5. TAILGATE with a PRUIS. Roll up to Lot 19 in a hybrid. Consuming less gas on the way to the game reduces the amount of pollution in the air, plus it really makes a statement!