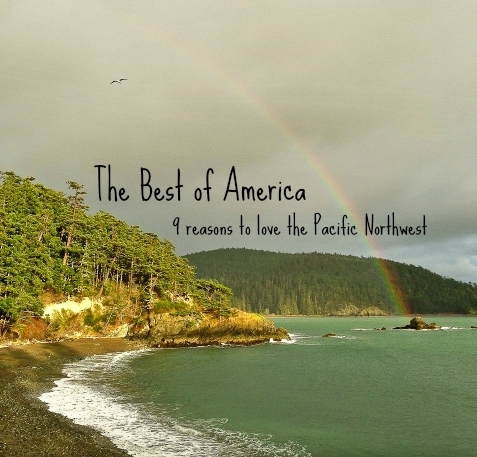 By Helen Anne Travis
The upper left hand corner of the United States is a magical place.
Here, backyards butt up against ancient forests, waterfalls, and glacier-capped volcanoes. Bald eagles circle over organic coffee shops, and coastal residents text each other when a whale pod swims through the local channel.
Sure, it would be nice if summer lasted more than two weeks. And yeah, maybe everyone up here is suffering from vitamin D deficiency. But there are few places in the USA where the locals know the difference between Chinook, Coho and Sockeye salmons, or how to really pronounce "Oregon".
That, and the nine reasons below, are why we at Global Yodel love the Pacific Northwest.
1) The rain
Yes, it rains here. All the time. But that's okay. We have fun with it.
Washington Yodeler Jessica Lynch broke out the SCUBA gear after a PNW rainstorm.
2) The fog
There's something magical about a forest walk on a foggy morning. Trust us, we do it every day.
Yodeler Amanda Leigh Smith's foggy hike to Cape Lookout near Tillamook, Oregon.
3) That rare moment when the sun breaks through the clouds
We act like we're cool with the rain and the fog. But the second the clouds clear, everyone drops what they're doing and runs outside to enjoy the sunshine while it lasts.
Image by Seattle Yodeler Cody Cobb.
4) The summers
OH MY GOD, IT'S SUNNY!
Image by Lassen Davis.
5) The winters
Yeah, it's freezing. But we have the place all to ourselves.
Image by Yodeler Amanda Leigh Smith.
6) The food
Fresh seafood, vegan hot dogs, Cantonese soul food, and tortilla soup to die for. You name it. We got it.
Feed me! Image by Portland Yodeler Greg Maguire.
7) The natural history
At Oregon's Painted Hills you can see the layers of volcanic eruptions and floods that carved the Pacific Northwest into the dramatically beautiful place it is today.
Christie MacLean at the Painted Hills.
8) The people
We wear flannel and climb mountains and brew beer. We're also very nice.
The PNW kids are alright. Photo by Yodeler Stasha Becker.
9) The solitude
Isolation is simply a way of life in some parts of the Pacific Northwest. Yodeler Mark McInnis put it best: "Up here in the wind and the rain, it's not about hordes of people or the latest and greatest fad. It's about connecting with nature at the ground level and living a simpler way of life with real, honest people."
Photo by Cascadia Yodeler Mark McInnis.
Think we missed something awesome about the Pacific Northwest?
Tell us about it »