According to the media after yesterday's Iowa primary, all the women and youth votes have gone to Obama, with the diversity vote soon to follow. Well, apparently no one told the throngs of people lining up at Grand Central with pillows and sleeping bags, waiting patiently in the cold to get on a bus to New Hampshire to go wherever they're needed and sleep wherever there's room.
The call went out two days ago in an email appeal seeking volunteers to bus to NH to stump for the cause. It was that easy -- sign up, show up --and spend six hours in close quarters as part of an impromptu army as diverse as you wouldn't expect: young, seasoned, professional, creative, black, white, asian, east asian -- plus the first Dominican elected official in the US, NYS Assemblyman Adriano Espaillat, from Washington Heights. He brought the sandwiches.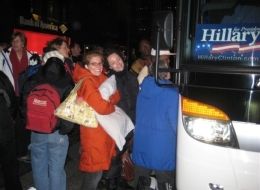 We're here on a bus to Manchester, packed to capacity, as 'embedded reporters' for HuffPost, seeing how Hillary hopefuls are feeling after yesterday's disappointing result in Iowa. As it turns out, surprisingly upbeat.
"Those 150,000 people don't get to decide for the 40 million people in New York, Michigan and Florida," says David Ira Wilson, a talkative, passionate real estate broker from Harlem. "We're part of the movement. Hillary's our girl."
Wilson, a black American, supports Hillary because he says she supported him, and his family, and his people. "The Clintons stood with us for 8 years," he said. "We're standing with them. We're standing with Clintonism. And she's the leader of that now."
Sitting in front of us is Larry Hirsch, the curly-haired, cherubic public-affairs consultant and founder of Westsiders for Hillary (Upper, natch). "She's someone who fits the bill in every way," he says. "Iowa happened, but the real voice, the majority of this country, thinks that Hillary should be president.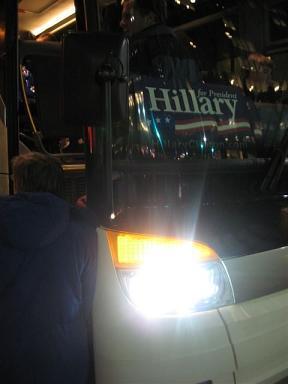 He offers us Doritos and points out who's who running things: the white-haired woman in the t-shirt silkscreened with Hillary's face and bags of buttons (Trudy Mason, State Committeewoman from the Upper East Side) and the woman busying herself with the New York Times crossword puzzle beside him, who snaps up into the conversation when it turns to politics (Cynthia Doty, Dem District leader, Upper West Side). She's now chatting diagonally across the aisle with Sophie Donelson, formerly of Blueprint, now of a sudden glut of free time and, ergo, the freedom -- and desire -- to grab a pillow and see how she can help. "I'm here as a girl on a field trip," she says cheerfully. "I am supporting Hillary, but I didn't really know the platform. My goal this year is to learn more about the political process. So I thought this would be a good experiment." (Sophie left her new husband, Greg, at home -- he likes Obama. "He's my first project.")
Behind us are a bunch of people from the Bronx, some of whom are state employees (but they're being cagey with their embedded pressfolk). Chatter turns to Congressman Anthony Weiner, mayoral hopeful in the model of Mike Bloomberg (read: Jewish and single), and Councilman Eric Goia (who ripped ConEd after the Queens blackout), both of whom are joining via car. Everyone's coming from somewhere -- New Yorkers of all stripes who believe in this candidate (and don't believe she's down for a second....but they're going to New Hampshire just to make sure. "The cavalry to the rescue," says Wilson with a grin. Hillary's his girl.
*******

Here's a quick video snip introducing the ride and showing how Glynnis and I encountered Sophie Donelson. You just never know who you're going to run into embedded on a Hillary Clinton bus to New Hampshire!
SUBSCRIBE AND FOLLOW
Get top stories and blog posts emailed to me each day. Newsletters may offer personalized content or advertisements.
Learn more