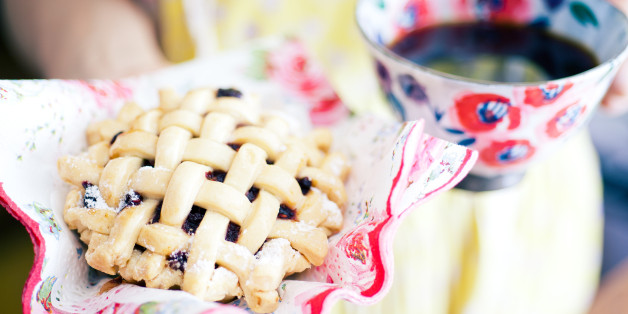 In the run-up to Pi Day on March 14th, mathematicians everywhere are getting excited, but thousands of citizens are preparing to celebrate in a really 'pun' way: by gorging on that All-American fruit and flaky crust dessert. In the gorgeously gluttonous spirit of Pi Day, here are nine places that Gogobotters love to go to eat pie.
Photo: The Pie Hole by: Vegas and Food - Courtesy: Gogobot
Fancy flavors like Earl Grey and Horchata make this spot special to Los Angelenos.
Photo: Leoda's Kitchen and Pie Shop by: Andi Fisher - Courtesy: Gogobot
Sweet, savory and coconut cream...this roadside stop on Maui is a favorite on Gogobot.
Photo: Pie Face by: Kevin Lu @sweatengine - Courtesy: Gogobot
An Australian import, great spot for savory pies, as well as sweet.
Photo: High 5 Pie by: Jon L. - Courtesy: Gogobot
Salted caramel and pear is just one of the funky flavors you'll find at High 5.
Photo: Julian Pie Company by: savemejebus flickr - Courtesy: Gogobot
Not only pie, but doughnuts.
Photo: Centerville Pie Co. by: Carol B - Courtesy: Gogobot
One of Oprah's favorites...serving both sweet and savory pies.
Photo: Mission Pie by: Corner Suite San Francisco - Courtesy: Gogobot
Pie in the Mission's banana cream pie is a favorite.
Photo: Hoosier Mama Pie Company by: RobynLee Flickr - Courtesy: Gogobot
Because what the world has been missing is an Elvis pie (chocolate cream, peanut butter and pretzel sprinkles).
Photo: Pie Sisters by: Ron Cogswell Flickr - Courtesy: Gogobot
Georgetown plays host to Pie Sisters, where you can also get a mini-pie, or 'Cuppie'.
Gogobot's mission is to help people discover great places to stay, eat and play that are perfect for them. Find more places to feed a sweet tooth in the Foodie Tribe. 
SUBSCRIBE AND FOLLOW
Get top stories and blog posts emailed to me each day. Newsletters may offer personalized content or advertisements.
Learn more