Zipcar is such a brilliant concept. You reserve a car only when you need it, find one near you, and driving away is as easy as a swipe to the windshield. I'd like to see Zipcar and other car sharing services provide more types of transportation, designed to fit different needs at different costs.
Say a multimodal approach to personal transport, so you can reserve everything from a folding bicycle to an electric bicycle to an electric golf cart to a small car to a medium car to a large car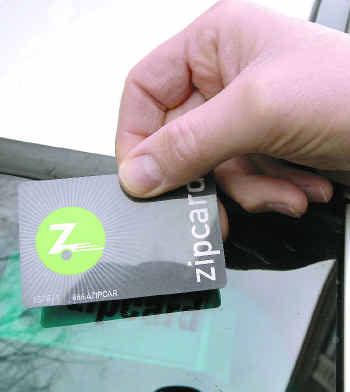 to a van to a moving truck. And hybrid or running on biodiesel, naturally.
Having easily-accessible transportation choices will allow us to mold our mode of transport to the task at hand. We pick the smallest vehicle that fits our needs -- and save money, hassle, and reduce emissions at the same time. Instead of one person jumping in a car to run an errand that is a few miles away, we could book an electric scooter, that is, if a bike doesn't do the job.
On a trip, this is especially helpful. We could easily pick up folding bikes or electric bikes bikes that are locked in a lot near our hotel. The system would be as easy as sending a text message or an email, and you won't have to worry about maintenance, or parking.
The goal for product service systems such as Zipcar is to create a service that is truly better than owning a product. At a certain point, it becomes a no-brainer...more options, less money and better for the environment. Let's hope that Zipcar and other car sharing companies are headed that way.
Do you find yourself using a big car or truck when something smaller would do the job? Would you book an electric bike or golf cart or folding bike to cut your carbon footprint? Comment below!
More From

on Zipcar
::Zapping Gas Prices With A Three-Wheeled Electric Vehicle, A Zipcar
::Zipcar Launches Fancy New Web Reservation System
::Service My Parking Space Zipcar
::Zipcar - A Product Becomes a Service
More from Graham Hill on Huffington Post
::Tap Has 1/100 Impact of Bottled Water
::Do Big Homes Mean Bigger Happiness?
::Why I Don't Flush
::Would You Kill What You Eat?
::Europeans Happier than Americans yet Half the Footprint
::Phones as Fashion: Can You Resist the New Apple iPhone?