There is a certain topic that deserves, but probably will fail to get much play in the presidential and vice-presidential debates. That is how to achieve growth that is good, and at the same time, green.
Economy - GDP and growth - tend to trump environmental and social concerns most every time, whether the economy is stagnant (at which point we'll try anything to get it going) or whether it's screaming along (in which case we seem to want to keep it screaming). Yet it seems like we may be nearing a time where the environment and social concerns - the other two legs of the three-legged sustainability stool - will have to be given their proper weight.
There are fresh ideas and solutions for how to approach this new sort of growth, if we - and our elected leaders - could get ourselves mentally prepared for them. And they don't include simply chucking capitalism, or wearing hair shirts, either.
What this green growth would involve is finding a level of real growth that also promotes the well-being of both people and our natural capital. Opportunity financing is a good example of one way this is already in practice. A guidebook specifically created for the next President by the Opportunity Financing Network called Good Opportunities for a Great America is full of the lessons that community development financing institutions (CDFIs) have learned putting $25 billion in the last three decades into 'underserved' markets. Delivering profits is still key, but the unending drive of maximizing profits at any cost is not.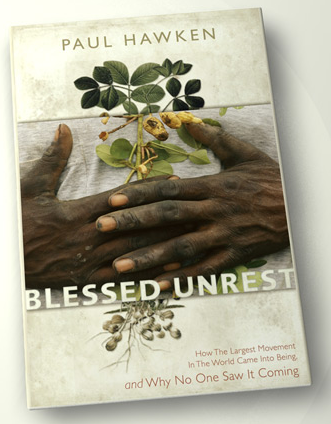 Another shift required for good, green growth would be to getting more people back into the democratic decision-making and community activist process. A positive example of how this is starting to occur is outlined in Paul Hawken's latest book Blessed Unrest: How the Largest Movement in the World Came into Being and Why No One Saw it Coming. Hawken started simply researching all the social and environmental and indigenous rights' groups that aren't on people's radar screens - beyond Greenpeace, Oxfam, NRDC and the like - and was amazed to find over a million global organization working on all aspects of these issues.
Hawken says this mass of groups represents civil society taking on the problems of our time. Linked together and collaborating, as Hawken hopes to help them do with his WiserEarth social network site, they have an opportunity to quickly help propagate the successful solutions and the most up-to-date visions of what a sustainable, good growth society might look like.
The problems - economic, environmental, social - that we face are dire, and there may be no easy sound-bites, no silver-bullet-style solutions. But as James Gustave Speth says in his new book,The Bridge at the Edge of the World: Capitalism, the Environment, and Crossing from Crisis to Sustainability:
"We must also remind ourselves and others that solutions already exist, abundantly. There are, moreover, solid grounds for hope."
It seems like, according to the UN's just-released Green Jobs report, shifting our investments from the old-style 20th century economy to a new clean tech, low-carbon economy can also be advantageous to job creation. In other words, it's all there, as long as we make sure we mentally shift to a green growth consciousness at the same time.
SUBSCRIBE AND FOLLOW
Get top stories and blog posts emailed to me each day. Newsletters may offer personalized content or advertisements.
Learn more