Hooray! None other than Time magazine is talking about the importance of green collar jobs to a rebuild of the economy, discussing some of the ideas author Van Jones outlines in his new book The Green-Collar Economy.
As Jones sees it, well-paid jobs such as retrofitting homes for energy efficiency, putting up solar panels and servicing wind turbines are all sure-fire ways to help an ailing economy, and as we've noted, compared to bailing out banks, wouldn't cost all that much.
"A blue-collar job is a job that's been upgraded to better respect the environment," Jones told TIME. "We have an opportunity to put some green rungs back on the ladder to prosperity by preparing what we call green-collar jobs...powering our way through this recession with green solutions not just good for the earth but good for the economy."
Jones believes one of the only parts of the economy that really is going to grow going forward is the green part. That may sound a bit starry-eyed, but it's great that this kind of green idealism marrying clean energy values with a healthy economy, is coming into its own.
What Jones doesn't mention, of course, is that theoretically someone - and mainly, banks - has to fund the wind and solar farms that have the turbines or cells to be repaired by the newly-minted green-collar workers. Someone - primarily the government - has to make it feasible for federal and municipal buildings to take on energy efficiency improvements.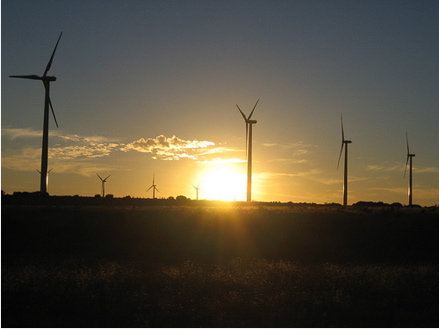 Luckily, in the case of wind power, the funding is already happening. It's a not-so-hidden green success story. In the last year, the U.S. (which was pretty slow to get into the wind power game when compared to Spain and Germany) broke through to the number one spot, not for capacity, but for wind-generated electricity.
That's a huge achievement in a short space of time, but according to Lester Brown, president of the Earth Policy Institute, it is really only the beginning. Texas has 6,000 MW of wind capacity online and mind-blowing plans for another 39,000 MW. And what is really exciting about it is that conventional oil and energy barons are turning to wind.
T. Boone Pickens plans to build a 4,000 MW farm at the Pampa Wind Project in the Texas Panhandle. Philip Anshutz, AEG Chairman, is planning to put up a 2,000 MW wind farm in Wyoming. Even better than that, Anshutz has the rights and plans to build a grid connection from Wyoming in order to sell his wind-generated power into California.
Brown notes that the transition to a green economy requires that we all understand the types of supports that are needed - long term tax credits for wind, solar, and efficiencies; building up our ailing national electricity grid, and making the shift to plug-in hybrid (electric fueled) vehicles. But it is exciting to peer behind the bad economic news to see which way the wind could truly be blowing.
More from TreeHugger on green energy
::Book Review: The Green Collar Economy by Van Jones
::Renewable Energy Economy 101: Lester Brown Updates Us On the Story So Far
::The Sigh of Relief You Just Heard Was From the Earth Itself: U.S. Renewable Energy Tax Incentive Extension Signed Into Law
::Put Green First and Promote Solar Power With the Vote Solar Initiative
::T. Boone Pickens Ride the Wind
::T. Boone PIckens Gets Into the Texas Wind: 4,000 Megawatts Worth
::2,000 Megawatt Wyoming Wind Farm to Produce Power for Southern California, Las Vegas, Arizona