Toronto has a beloved coffee chain, Tim Hortons. It also has a group of City Council public works committee members working hard to reduce fast-food packaging by trying to put a ban on the common paper-cup-and-plastic-lid combo commonly used at Tim Hortons.
Last week the public works committee debated a law that would make a .20 cent (Canadian) rebate for customers bringing their own cups mandatory, in addition to banning the regular cup and lid combo because they are generally tossed away together, making recycling difficult. The committee also was looking to ban plastic bags and plastic water bottles. Woo-hoo! Great leaps forward.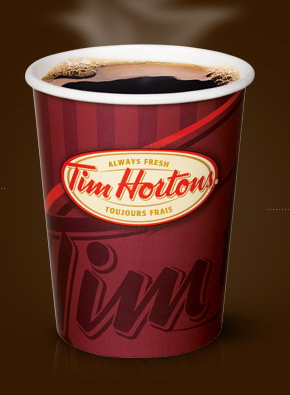 The local food industry wasn't too thrilled, however, and eventually the committee gave in and agreed to give merchants until April next year to come up with a compromise solution for serving up a cup of take-away Joe. Meanwhile, other merchants may have to find a substitute for plastic bags and give a .10 cent discount to customers bringing their own bags by as soon as next month. Tim Hortons already does give .10 to consumers bringing their own mug.
The Canadian Council of Grocery Distributors says the measure will cost $88 million annually. Usually industry says green or sustainability changes will cost dearly, and sometimes that may even be true, but there's also a great ability for people to innovate when faced with novel circumstances.
Is it coincidence that Tim Hortons today announced in-store recycling bins for paper cups as part of its eco programs? Not likely. The bins will mean Tim Hortons signature brown cups will be downcycled to roofing paper or cardboard boxes. Yet If the threat of paper-cup bans moves the coffee chain this far, what might a real ban positively achieve?
We've been living in mindless plenty for decades, but switching to living mindfully doesn't necessarily mean pain or hardship. Instead not having bags so readily available will make us mindful of all the times we don't really need another plastic bag. And, after you've carried your own bags (and in this case, resuable cup) for a while, especially if they are sturdy, lightweight and in a design you like, they become as much a part of your personal style as your shoes or your watch. In a good way.
More from TreeHugger on Tim Hortons and Toronto
::Tim Hortons Inc.: TreeHugger
::Tim Hortons Cross-Checks City Into Submission
::Business Enraged at Toronto Proposals fr Reducing Waste
::Time for Canadians to Boycott Tim Hortons
::Deposits on Everything in Toronto. Not

SUBSCRIBE TO & FOLLOW THE MORNING EMAIL
Start your workday the right way with the news that matters most. Learn more