Banks don't value successful businesses treating all borrowers the same, assigning high risk labels to everyone, and look for reasons not to lend and thereby penalize the successful in order to balance out their bad loans. Successful small businesses that depend on borrowed money to grow their inventories, their companies, and ultimately the economy, are unable access credit because banks are unable to see the difference between profitable companies and damaged industries.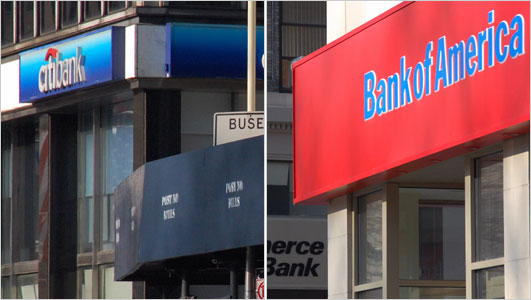 I recently paid a real estate loan down from $16m to $2m on an income property that has a positive cash flow. The loan had a one-year extension, at which time I asked the bank to increase the loan amount from 2.0m to 2.2m for some repairs. The bank denied the $200k increase claiming this loan was now classified "high risk." Hello! I paid the loan down by $14m in one of the toughest real estate environments in 15 years and I couldn't get an advance of 200,000 for capital improvements. The bank assigned no positive value for successfully paying down the loan.
Auto dealers depend on lending in acquiring their inventories, but are having trouble acquiring loans today, even if they are profitable because lenders assume all auto dealers are risky loans due to the contraction in the auto industry. Another example of the lender being unable to differentiate between a business and an industry. I know auto dealers that have been in business for 50 years that are still profitable in the current economy and are being treated like they have the plague.
The Small Business Administration doesn't even cover floor plan loans for car dealers but recognizing that dealers need help, the SBA began rolling out new programs tailored to them. but has so far approved just one loan. And this problem is not limited to auto dealers or real estate but extends to every small business owner in America.
Mr. Banker just because a carton of milk spoils in the refrigerator you would not trash all of the contents in the refrigerator. Just because one of your kids is late coming home you wouldn't punish all your children. Banks should be assigning an added value to the small business entrepreneur that proves profitable while his industry and the economy shrink. Maintaining a profit today requires much more skills as a business person than it did a year ago yet no bank in the land places any measurable value on it.
Short Test for Bankers:
Situation (1): A real estate developer we will call, 'Flipper', borrows 120% of the project's cost to develop a condo project and then later finds out he can't sell it out and defaults on the loan. Do you give him another loan?
Situation (2) A real estate investor we will call, 'Mr. Conservative', purchases an income property, puts 25% of his own cash down that still has a positive cash flow, never missed a payment and now needs to extend his loan. Do you give him a loan?
The reality today is that there is a greater chance that the bank will actually re-work the loan with 'Flipper' the defaulter to reduce the amount of the bad loan (reward) and push on 'Mr. Conservative' to reduce his loan amount claiming his loan is now a high risk (penalty).
For banks to lend money again they must distinguish differences between borrowers and the industries they are in and assign a positive value for those of us who can stay profitable despite a contracting economy. We aren't talking about credit card consumption here we are talking about proven small business entrepreneurs that already made it through the worst of the economy's contraction and will be the one's to grow the economy going forward.

Grant Cardone, Author and CEO

SUBSCRIBE TO & FOLLOW THE MORNING EMAIL
Start your workday the right way with the news that matters most. Learn more