Well, if the shoe fits--especially if it's a dance slipper--why not try it on for size, right? Truth be told, creatively speaking, revered choreographer Robert Moses never shies away from boldy taking on new concepts as is evident in his latest, thought-provoking, endeavor dubbed "The Cinderella Principle."
The world premiere of the outing comes to life in San Francisco this week via the Robert Moses Kin contemporary dance company, a visually delicious beast that never comes short of dazzling the senses. With "The Cinderella Principle," Moses saw an opportunity to make a statement about an issue that he felt was not being addressed as much as it could be--diversity in family.
"I have two small kids--a daughter that is going to be 5 and a son that is going to be 2--and there was one particular entertainment outing we attended, and what I was seeing at intermission was an audience that was diverse," Moses says. "There were parents who were significantly older, there were interracial couples, same-sex couples. So, it was obvious from the audience that there was some gap between what was being represented--what we were seeing on stage."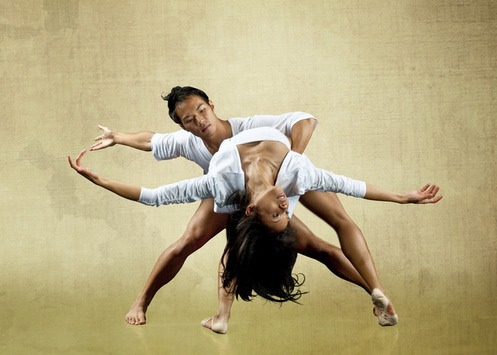 Shortly afterward, Moses decided to "take a stab" at "seeing what it means and speak to that issue," he notes, "the issues that might concern you if you've been adopted or if you're significantly older parent. I thought: 'Let's try speaking to those things a little bit.'"
Welcome to "The Cinderella Principle."
The show marks a first-time collaboration with award-winning playwright Anne Galjour, and is set to an original score by violinist/composer, Todd Reynolds, who performs live with Bay Area beat boxer Kid Beyond. Beyond investigating "nontraditional familial identities," it also offers new ways of looking at and understanding self-definition, interpersonal relationships and--this is a gem--family characteristics.
In other words: It's emotionally rich.
"I think people will walk away with a greater sense of humanity," Moses adds of the material. "And, really, the notion of our responsibility to each other, which is a big thing when you're talking about family--it's about that fidelity that comes from somebody who knew you 'when' ... that thing ideally you had with somebody important from the beginning.
"And," he muses, "if you didn't have it from the beginning--if somebody came along and said, 'I want to give this to you'--it's about that sense of love and responsibility and belonging." For a deeper look into the work of Robert Moses and what "The Cinderella Principle" has to offer, take note of the video below. (Photo above by Toni Gauthier.)
SUBSCRIBE TO & FOLLOW ENTERTAINMENT
HuffPost Entertainment is your one-stop shop for celebrity news, hilarious late-night bits, industry and awards coverage and more — sent right to your inbox six days a week. Learn more