There's one thing that could be said about Cirque du Soleil: the performing arts titans can take on any subject matter and balance it with grace and bravura. That's certainly the case with the group's latest touring show, Totem. The venture recently hit San Francisco for an extended run before heading to London after the holidays. Then it's back in the Bay Area in San Jose in March.
Totem's message is harmonic in that takes the "we're all in this together" concept, and weaves in themes of evolution and "Big Bang" lushness to provoke thought and engage its audience in one of the most breathtaking shows of the season.
There hasn't been a Cirque show quite like this.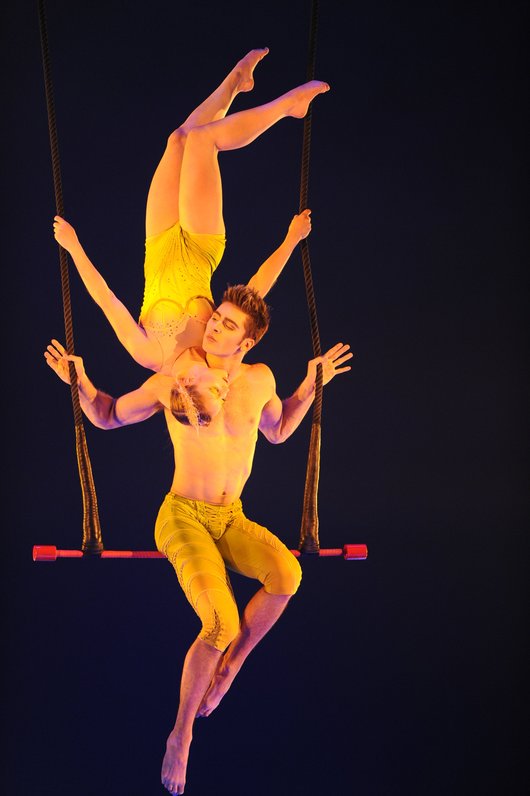 Photo: Daniel Auclair © 2010 Cirque du Soleil Inc.
Written and directed by Robert Lepage, the creative wizard behind the fiery Ka in Las Vegas, Totem unleashes more than 10 acts, each awe-inspiring -- from Amerindian hoop dancers and a fixed trapeze duo to a spectacle on the Russian bars and elegant ladies on tall unicycles tossing and balancing bowls above their heads. Some Cirque clowns are tossed into the mix in this adventurous endeavor under the tents near AT&T park.
Set designer Carl Fillion also gives the show an impressive visual environment representing an organic world. There's a marsh lined with reeds near an island (the stage), where images are projected. Tilted slightly forward, this "image marsh" is both an entrance and projection surface. At any given point, moving images transform it into a virtual swamp, river, lake, ocean, volcanic island or even a star-cluttered sky.
While the design incorporates ancient and modern-world elements, the carefully selected and trained athletes perform nuanced, spellbinding feats.
"Cirque is often about how we can perceive things differently," says Yves Sheriff, senior artistic talent scout (for clowns). "But Cirque is also about taking something that is simple or popular and being able to ponder it. I think the public likes that."
I ventured behind the scenes for a deeper look at Totem. Watch the exclusive backstage tour below.
SUBSCRIBE TO & FOLLOW THE MORNING EMAIL
The Morning Email helps you start your workday with everything you need to know: breaking news, entertainment and a dash of fun. Learn more