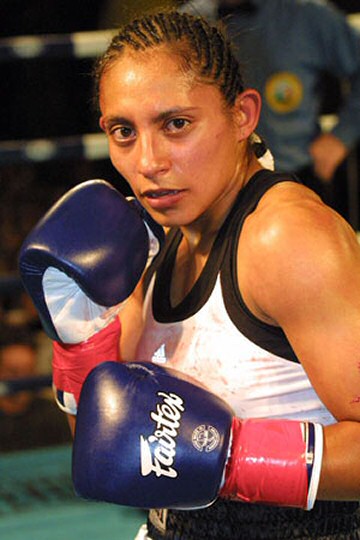 Because I always seem to be on the lookout for cool humans doing cool things, I could not pass up getting to know Carina Moreno. We actually met more than six years ago. She gave me a black eye.
It's a ridiculously long story -- and by the way, the protective head gear did not help me one bit.
What am I really saying? Well, Moreno, now 27, is a 5-foot tall, lean, mean ... professional female boxer. She hails from Watsonville, California and helps run her family's uber successful local business, Tacos Moreno, in Santa Cruz. (When she's not winning boxing matches that is.)
Since 2003, this young firecracker has been taking the female boxing world by storm, nabbing four international titles in two different weight classes -- two at 105 pounds and two at 108 pounds. Moreno is also a three-time member of the U.S. women's boxing team as well as a three-time national champion and golden glove winner.
It's safe to say she's one of the best female boxers in the world. (I dare anybody not to.) She now boasts a whopping 21-1 record and has seven knockouts to her name.

The first stupid thing I did: I got in the ring with Moreno in 2003. I figured, "Hey, 10 minutes -- what's the big deal? I've done kick-boxing." Not wise. I had a bruise below my eye for a week.

The second stupid thing I did: Since I've been chronicling the lady's success over the years and I have written about her from time to time at Good Times Santa Cruzwww.gtweekly.com/, I thought, why not try to get in the ring with her again?
The third stupid thing I did: I had somebody film it.
This Blogger's Books and Other Items from...
FOLLOW HUFFPOST