Occasionally, you hear the phrase: "Words cannot describe how I feel." True, I may have used it myself after a relationship (or two) traveled farther south than I would have liked, but I really can't recall uttering those words after a live theatrical performance--until I experienced "KA."
Even now, it's challenging to write about this Cirque du Soleil outing, which recently celebrated its fifth anniversary in Las Vegas at the MGM Grand.
"Breathtaking?" Yes, that it is. "Mindbending?" Absolutely. "Mesmerizing?" Certainly. Bottom line: it's one of the best Cirque du Soleil shows in Las Vegas.
But how do I feel? Well, if "Thrilled" and "Giddy" crawled under the covers with each other, I'm sure I'd be meeting the twins "Inspired" and "Titillated" in the delivery room. Pass the cigars.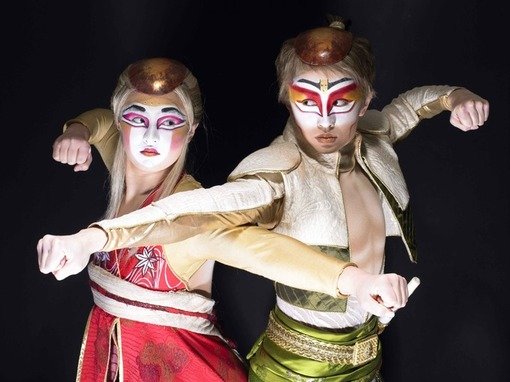 This fiery opera-like beast stays with you long after you leave the theater. A rare Cirque treat, it actually has a story and characters you can become emotionally invested in. It boldly chronicles the separation of two Imperial Twins who attempt to find their way back to each other. Along the way, they encounter love, and, naturally, its flipside, danger and conflict; they're hunted down by a number of enemies.
But that's just the basic plot. How Cirque director Robert Lepage and the brilliant technical minds behind the scenes--particularly Artistic Director Marie-Helene Gagnon and Make-up Supervisor (for Cirque's seven resident shows in Vegas) Kat Price--manage to orchestrate everything is illuminating. The set of "KA" is actually an ever-changing landscape. One stage, known as "the shelf" slides out toward the audience; another one resides several stories below. That one happens to be a monstrous, 360-degree rotating stage. Here, many of the 86 artists in the spectacle are found defying gravity in perpendicular acrobatics. Imagine sitting in your seat and watching these performers scale this "mountain" while arrows are being shot at them? This is unlike any Cirque creature you've seen. Sure, you can say that about "O," too, which mesmerizes with all that H20, but "KA" is as zealous as it is combative, using the theme of fire to suggest that it can, as the director puts it, "unite or separate, destroy or illuminate."
A curious thing to note: The show's title is inspired by the ancient Egyptian belief in the "ka," an invisible spiritual duplicate of the body that accompanies every human being throughout this life and into the next.
At the moment, I have no words to describe how I feel about that.
Besides, it's best to experience "KA" for yourself. Recently, I did just that. I went behind the scenes to learn more about the show's fascinating blend of acrobatic feats, Capoeira dance, puppetry, stellar projections, eye-popping martial arts and more. Take a look:
Photos: (Imperial Twins: Tomas Muscionico; costumes by Marie-Chantale Vaillancourt)
Coming soon: A look at "O" and "Love" and my picks for the Top Five Cirque du Soleil shows you have to experience.
SUBSCRIBE TO & FOLLOW ENTERTAINMENT
HuffPost Entertainment is your one-stop shop for celebrity news, hilarious late-night bits, industry and awards coverage and more — sent right to your inbox six days a week. Learn more