In fact, there were more insults than actual guests at the wild soiree, which airs 10 pm Sunday, Aug. 9 and repeats throughout the month. Legend Carl Reiner, and stars Mario Cantone, Jeffrey Ross, Tom Arnold, Greg Giraldo, Brad Garrett and Whitney Cummings handled grilling duties. (Watch for Gilbert Gottfried, who brings down the house.) Melissa Rivers, Jackie Collins, Michael C. Hall were also in attendance.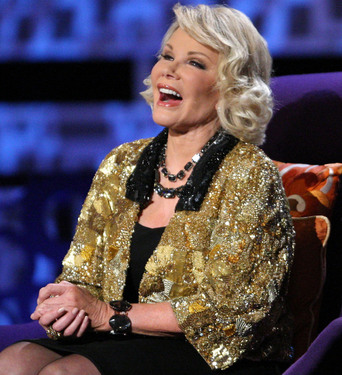 Needless to say, the latest addition of the popular roasts will go down in history as the cable net's most savage endeavor. Barbs--most so far below the belt, you can felt knees buckling--flew with careless abandon. (It's a far cry from those Dean Martin roasts ...)
"Joan knows what she signed on for," host Kathy Griffin joked on the red carpet before the show's taping. "Besides, she's getting paid a lot of money, so [insert expletive here] her and the horse she rode in on."
The Emmy-winning, Grammy-nominated razor-tongued redhead, whose clearly wandered incredibly far north of D-List status of late, is prepping for a monstrous concert in the Bay Area on Sept. 4.
"I love San Francisco," she deadpanned. "That's where all the gays are -- power gays, and every category of gay is there. Bear Fest, International Bear Roundup, Cubs, Twinks -- all of them. I love the gay audience and this is such a 'gay' night. Joan, me, Melissa [Rivers], Mario [Cantone]. It gets gayer the more I think about it."
Fans take note: Griffin's new book, aptly dubbed Official Book Club Selection arrives next month.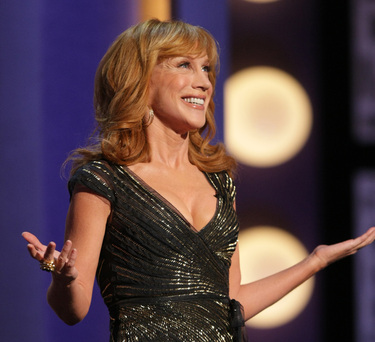 Still, all eyes were on the lady of the evening, Rivers, whose celebrity keeps rising this year after nabbing top honors on Celebrity Apprentice. Her new TV Land series, How'd You Get So Rich, debuted this week.
The comedienne happily admitted that when the night was over she would no longer be a "Comedy Central Roast virgin." "I am totally prepared," she told me on the red carpet. "I want to hear what they all have to say and it will be fun to have them roast me. Although... I don't think they'll come up with anything I didn't think of yet!"
Rivers also sang the praises of comics Sarah Silverman and Griffin -- they keep making a dent on the comedy scene -- before adding: "I have a big announcement at the end of the show."
(For a look at what unfolded on the red carpet, watch the video, edited by Jeff Dinnell, below. Photos by Frank Micelotta.)
This Blogger's Books and Other Items from...
SUBSCRIBE AND FOLLOW
Get top stories and blog posts emailed to me each day. Newsletters may offer personalized content or advertisements.
Learn more