Hollywood may be all about box office dollars, but thanks to a number of thriving local film festivals, the spirit of filmmaking is still vibrant. That's certainly the case at this year's Santa Cruz Film Festival, which enters its ninth season with a burst of creative programming.
The fest, which launched last week, and closes this weekend, is bringing more than 130 fiction and non-fiction features and shorts from 33 countries to the coastal hamlet of Santa Cruz. Better still, is the impressive array of panels, workshops, live performance and, well, a number of gala receptions. I've been covering the fest and thus far, three things stand out.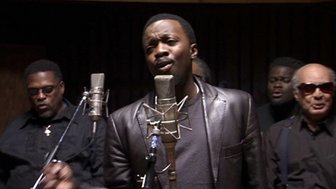 Civil Rights. The opening night film Soundtrack for a Revolution beautifully illuminated the fascinating role music played in the civil rights movement of the '60s. Director Bill Gutentag manages to aptly weave today's modern titans--Wyclef Jean, John Legend and the like--into the stories of yesterday's soul-stirring activists. This one is a gem. Try to find it at other fests around the country.
Green Politics. The fest's partnering with the EarthVision Film Festival allows it to present nine features and 18 short films dedicated to environmental activism. No doubt Santa Cruzans dig that--this is a portal for such eco fair, after all. One notable: The film Tapped, which looks at clean drinking water as a basic human right. It comes from the producers of Who Killed the Electric Car ?
Keeping Santa Cruz Weird. The town's local bookstore, Bookshop Santa Cruz, came up with the slogan several years back, all in an effort to promote the town's creative diversity. For the fest, a gaggle of movies capture the unique vibe Santa Cruz tends to give off at times. (It isn't the only vibe, by the way.) This is evident in the closing night (May 15) film Etienne! , a locally produced outing about two kindred spirits on a journey of friendship and togetherness. The twist? One of the friends is a hamster. I'll leave it at that.
There's more. In the meantime, I went behind the scenes to capture some of the energy of SCFF IX. Take a look:
This Blogger's Books and Other Items from...
FOLLOW HUFFPOST