Some would say he's "very Santa Cruz." But he's also very cool and boy, is he eager to get kids to know about hunger -- and how they can combat it.
Meet Danny Keith, a Northern California guy hungry to make a change.
Keith, who lives and breathes the surf and skate culture in Santa Cruz, California, has been at the helm of Santa Cruz Skate and Surf Shop since the early '90s. In fact, he's created a wildly inventive setting in his fascinating little lair. A pool table, some video games and a TV lounge compete with the other eye candy in the shop -- all that skate and surf paraphernalia. Think of it as post-modern after-school club for today's youth.
But beyond that arena, Keith's been happily riding another successful wave. It's a philanthropic one dubbed Grind Out Hunger, which the 40-year-old launched back in 2004 after teaming with Santa Cruz's Second Harvest Food Bank. The idea was to speak to kids at local schools and "encourage youth in helping peers" with the issue of hunger.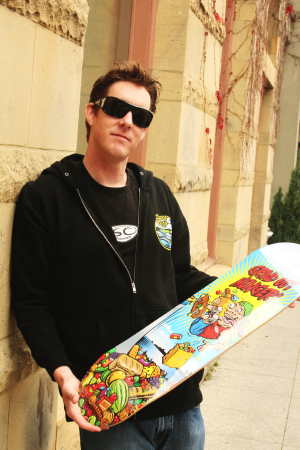 How Keith arrived at that point is interesting to chronicle. After receiving several food barrels from Second Harvest, he noticed that the barrels weren't being filled up.
"We came to realize that moms weren't traveling around with five pounds of food they can donate when their kids wanted to buy a skateboard," Keith tells me. "Typically there would be 20 to 30 kids hanging out, playing pool, playing video games [in the shop] -- they're not walking around with cans of food in their pocket. So, I thought, if I can't get them to bring in the food, then I'll bring it to them."
In a stellar move, Keith decided to hit local elementary, middle and high schools during their traditional holiday food drives. An easy thing to do would have been to simply drop off some food barrels, but Keith went one step further. He decided to actually talk to the students himself. And so, in a series of spirited discussions during assemblies, he began educating students about the importance of thwarting hunger in Santa Cruz County.
"I also wanted to create incentives for schools to raise the most pounds per student," Keith adds. "I wanted to reward that [winning] school with a gift certificate, which they could give to winning students however they saw fit."
In the beginning, the idea sparked the interests of smaller niches -- the AP Club, the school band and the like.
"Only about five percent of the school was involved and I saw that there needed to be a wide-spread peer pressure effect," Keith says. So he tossed in a prize of $600. Instantly, student interest surpassed just the AP club, to include the entire school.
Over the course of five years, Keith's motivational work with students and their posses has lured in hundreds of thousands of pounds of food. Last year's total: 100,000 pounds, more than double the amount at the beginning of the mission.
But you'd really have to witness the Keith's amazing vigor in person to know just how infectious his personality is. His look is modern skate-surf. He appears carefree in sneakers but is insanely focused, creative and passionate about giving back -- his shoulder-length brown hair, for instance, is about to be chopped off for Locks of Love, which provides real-hair wigs for those suffering from cancer. He now boasts more than 20 speaking engagements a year at local schools. Last year, he nabbed the Generation Next Award from Second Harvest.
Asked why he's so passionate about combating hunger, Keith sighs deeply and says that it has a great deal to with kids and the elderly.
"They are the two groups of people that really can't really make a change happen [in regards to not having food]," he says. "I think there is a misnomer of who gets fed by food banks. A lot of people think it's mainly going to homeless shelters and people not pulling their weight, and that's not really the case. Second Harvest services forty-thousand-plus people a month. Half of those are kids!
"And it's not like going to Safeway Foods where you can pick out the food you want," he adds. "You go there and you are handed a bag. It's a very humbling experience. For me, I never went hungry growing up, but we were strapped as a family. Both my parents were injured and there were times when we'd eat a lot of hot dogs and beans -- whatever, we were still eating, but I thoroughly believe that if we fed people and educated them, we'd have a better society and spend less money incarcerating people and trying to rehabilitate them."
Keith is a Salinas native who fell in love with surfing at an early age. He relocated to Santa Cruz in his late teens, now has three children, 18, 16 and an 18-month old. He believes in "paying it forward" because "you never know where you are going to be."
Up next for this hunger fighter: An inventive re-teaming with Second Harvest on "packaging" the model he uses when speaking to kids, which would allow other food banks to utilize his program through media kits and DVDs. He also sees the importance of being a social networking titan.
Other than his ties at Santa Cruz Skate and Surf, he oversees other enterprises, such as skateboards.com, surfboards.com and snowboards.com. He's also a morning on-air personality (6 to 11 a.m.) on KDON's rambunctious "Morning Madhouse" -- you can often spot the man at a bevy of local events the station covers, too.
All this exposure, Keith notes, only helps him get the word out about hunger issues in the 831.
"There's no reason anybody in this country should go hungry -- period!"
This Blogger's Books and Other Items from...
FOLLOW HUFFPOST