Walter Cronkite is dead.
But is (real) journalism? I'll ponder the latter--a most curious shape-shifting beast of late--later. For now, it's all about Uncle Walt.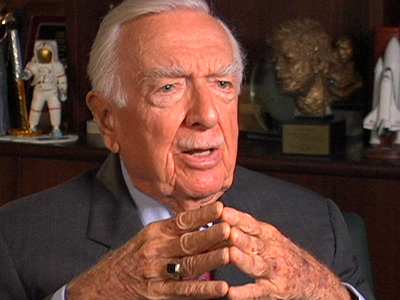 What a guy. What an icon. Considered to be the most trusted man in America, the former, longtime anchorman of the CBS Evening News died at the age of 92 in his New York home on Friday, July 17. Today a bevy of relatives and friends paid homage to the legend at a memorial service at St. Bartholomew's Church in Manhattan. The Cronkite clan attended services at the church for many decades.
I was watching Real Time With Bill Maher when I heard the news of Cronkite's death. I sat there a bit dumbfounded, my mind floating back to more than 20 years ago.
I met Walter Cronkite back in the late '80s. At the time, I was working as a features editor at the Arizona State University newspaper. Our newspaper team was certainly excited to have the man -- the Walter Cronkite -- visit us in what was considered the armpit of the desert: Tempe, Arizona. He came to give a small talk about the evolution of journalism and the importance of integrity. Later, he toured our newsroom -- a wildly inventive yet somewhat embarrassing mess situated in the basement of an old building on campus. I wore my shirt tucked in at the time. Other writers came in flipflops and tank tops, something I sneered at. Cronkite was a legend -- at the very least he deserved socks. At one point, I was so excited to have the man talking to our entire newsroom, I quickly dialed my Polish mother back in Chicago.
"You'll never guess who's standing 100 feet away from me," I whispered into the phone.
When I told her, she said, "Oh, that's nice. Do you need any money?"
I needed a lot of things back then and encouragement sat at the top of the list. Looking back, I think I could have taken in more of what Cronkite was saying at the time of his visit. Not long before his arrival, ASU had been given a major honor. Its journalism college had been changed to "The Walter Cronkite School of Journalism."
Truthfully, I was surprised ASU received the honor. Don't get me wrong, ASU is a festive university -- barbecues, suntans, trips to the river ... in between "serious" studies--but being the Midwesterner that I am, I would have thought Ball State University or Northwestern University would have nabbed such a prestigious honor. But thank goodness ASU did. The journalism school at ASU was considered prestigious and pushed its students to become the best reporters they could be. We were alive and hungry to know things back then. (Some of us still are.) We wanted to report "real" stories. We tried to emulate Cronkite's integrity, his passion, his devotion to the medium. We strived to be both interesting -- and interested.
I can't help but wonder what this solid, creative titan of a man would have thought of 21st century broadcast media (and some print media) before he passed on. What in the world would he have thought about the often overly frothy, celebrity-obsessed and over-opinionated streams of "news" currently flooding the airwaves?
Cronkite's famous signature sign-off comes to mind: "That's the way it is ..."
True. But does it have to be?