Six years ago, Bay Area photographer Jana Marcus turned heads with her photography exhibit "Transfigurations: The Making of a Man," a stunning if not illuminating body of work that explored (and exposed) the journey of transgender men through vivid photographs and commentary from its subjects. The work was critically praised and went on to become an award-winning work that eventually included transgender women.
Now, the work has morphed into book form (Transfigurations, released in late August) and Marcus, herself, is heading to Seattle to be one of the keynote speakers at the big, bold Gender Odyssey conference on Aug. 5. Chaz Bono, who has made tremendous strides in raising the level of awareness on trans issues, hosts the event, which celebrates its 10th anniversary this year. The spotlight is also shining down on another featured speaker, Cheryl Kilodavis, who created the head-turning book My Princess Boy.
Bottom line: Transgenders haven't been just generating buzz, interest in their journeys have suddenly hit the mainstream.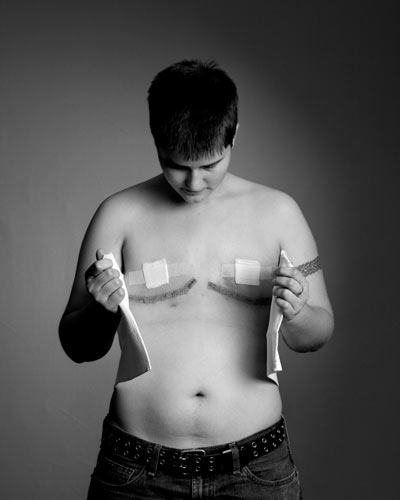 photo of Aidan, courtesy Jana Marcus from Transfigurations
Clearly, it's been a powerful year for the transgender community, one that found Bono's doc Becoming Chaz holding court in the film fest circuit to become one of the most revered entries of the year. And now, Marcus' work hopes to evoke a universality between all communities, trans and beyond. The book itself if broken up into three parts. Its middle consists of photographs of the actual transition process, which can take up to three years. The last section of the book highlights post-surgery nudes.
Overall, it's been a fascinating ride for the Bay Area photog, who first began exploring the unique evolution of transgenders via her dissertation back in 2003. Since that time, Marcus' photography show, which included heartfelt writings from its transgender subjects, went on to win Best Photos of the Year in both 2004 and 2005 by Photo District News of New York; was included in The International Photography Awards 2005; the Phelan Art Award 2005; the Excellence in Photography Award from San Jose State's School of Art & Design; and The Center for Photographic Arts Awards 2004, among other notables.
"My goal in the work was to really normalize transgender community and give them a face and a voice that they never really had before as a group of people," Marcus says. "So, I think that the power of the photographs, along with the words, really brought people to a form of awareness that they didn't have around transgender people, and what their struggles are to become whole. The other part of the work that has been so successful, is that it has been very universal; that even people who aren't interested in transgender people, the text of the work really revolves around what does it mean to be a 'man' or what does it mean to be a 'woman' in our culture."
Take note of the slideshow below, featuring more pictures from Transfigurations:
An Inside Look At Transgenders/Transfigurations
This Blogger's Books and Other Items from...