With all the election polls out there right now giving us facts about this demographic (blonde women over the age of 27 with slight mustaches) and that demographic (retirees who own goldfish and pray immediately after archery practice), the question arises: What do those who spend their free time surfing the dials on ham radios think about McCain and Obama?
Yes, the coveted ham radio operator vote is out there.
Live from Chicago's Horner Park in the Lincoln Square neighborhood, Nick Krebs was kind enough to let me sit at his picnic table operation with him and ask those he contacted what they thought about the election.
First, here's Nick and his solar powered portable station: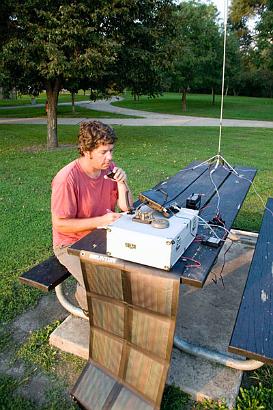 And here are some of the answers we received:
Charlie, from New Orleans: "I don't mind saying out loud that I'm very much for McCain. I'll be glad when it's over, but I hope they don't start again like they did two years in advance. When they start campaigning two years in advance of the election that's a little much. I'm just a conservative and I'm more afraid of having a Congress all one party."
Karol, from British Columbia: "Be sure to vote in three more days because you only have one more chance to suggest suddenly to the world that the last eight years have been an abhoration. If more than a third of you vote for a third term of George Bush and the neocons, the world is going to put the boots to ya, the likes of which you have never seen. That's just a little word of advice from a friendly Canadian. You should see what some of my neighbors have to say about the Excited States of America."
Emil, from Croatia: "We can discuss about it over the Internet, but not on the radio frequencies. OK?"
Earl, from Melbourne, FL: "The Republicans and the Democrats are going for power back and forth, and ain't none of them ever done nothing. And my opinion is that politics is talk, and bull crap walks."
Ed, from Los Angeles: "Oh boy. I'm sure everybody's got lots and lots to say about this election year and, boy, I always vote for losers every election. And I'll see if that pattern holds here. I voted against Bush both times when he was going against Gore and the latest one with Kerry. This time we voted for Obama, so I guess we'll find out in a couple days if my voting record holds true here. I just hope there's no scandals involved here like the last time. But that's the way we went this time."
Sal, from Spring Hills, FL: "To tell you the truth, I'm not real happy with the past administration; I think they got us into a lot of trouble. I think they were looking out for themselves and big business and kind of forgot about the average person, the Average Joe. I, myself, am not going to go with the present administration. I'm looking for some good change myself, not that I'm in love with either candidates. I'm looking for some kind of change that's going to help the middle class folks."
Sharon, from Aruba: "I think it's going to be close. I was kind of surprised even here in Aruba to see some political signs. We walked into a souvenir shop and there was a picture of Barack Obama and that took me by surprise. Just a few days left and then I guess we'll know."
SUBSCRIBE TO & FOLLOW THE MORNING EMAIL
The Morning Email helps you start your workday with everything you need to know: breaking news, entertainment and a dash of fun. Learn more