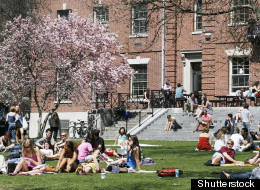 In my 11 years with the Foundation for Individual Rights in Education (FIRE), I've learned that fighting censorship on our nation's college campuses isn't just about filing First Amendment lawsuits or reminding colleges -- sometimes quite sharply -- of their promises to protect student speech. It is also important to honor the colleges that do respect student speech and that pass the tests of their commitment to free speech when they are presented. As I said right here on The Huffington Post last year, it's important to give credit where credit is due.
To that end, I'm proud to announce FIRE's second annual list of America's Best Colleges for Free Speech!
A few quick notes before you check out the list. First, this isn't a scientific study. Of course there's no perfect algorithm to determine with exact certainty which college is the best for student speech. Instead, our list is populated by colleges that (1) have earned a "green light" from FIRE, meaning that their policies as written do not pose a serious threat to free speech on campus and (2) to our knowledge, have not committed a serious incident of censorship in the past several years. (FIRE attorneys rate nearly 400 colleges nationwide annually, ranking them as "red," "yellow," or "green" light schools on the basis of their written policies' impact on student speech, not specific allegations of censorship.)
Many readers also noted that the institutions on last year's list weren't evenly distributed across the country, and some folks suggested that the lack of perfect geographic balance undermined the credibility of the list. It doesn't. While we'd love to have a model institution for student speech from every state in the union, some states simply aren't living up to their end of the bargain! Take California, for example, which has exactly zero green light schools out of the 45 we review, and where the president of the University of California System is currently being asked to ban protected speech.
Again, we'd love every state to boast at least one college that seriously respects student speech. But the truth is that some states -- like Virginia, for example -- start with one college earning a green light, and then other campuses see how easy it is to protect students' First Amendment rights and decide to join in as well. The most recent example of this is Mississippi: Once the University of Mississippi received a green light rating, rival Mississippi State University followed closely on its heels. Given that general counsels of universities talk to each other, and that many policies apply throughout a state's entire public university system, it should probably be no surprise that some states have good policies with regard to free speech, while others don't. The good news is sometimes just one school's decision to repeal outdated and unlawful speech codes can trigger change across an entire state.
I'd love to hear from you in the comments. My bet is that just like our annual rundown of the worst colleges for free speech, this list will be a conversation starter. If there's a school we've missed, let us know -- but check out their record at thefire.org first. And if you think one of these schools doesn't deserve the honor, let us know that, too. The seven schools are named in no particular order.
Without further ado...
The Seven Best Colleges for Free Speech: 2012
Students starting their academic careers at James Madison University this semester will be pleased to know that they don't check their First Amendment rights at the campus gates. Last September, JMU students Kelly Jemison, Luke Wachob, and John Scott capped off a successful policy reform campaign, working closely with administrators to ensure that all of JMU's policies pass constitutional muster. Prior to the effort, JMU students were forbidden from posting fliers that weren't in "good taste" and from peacefully assembling on campus without first registering two days in advance with the school.

For the second year in a row, The College of William & Mary earns this distinction. First awarded a green light from FIRE in 2009, William & Mary is another great example of students working with administrators to make sure that campus speech remains free. Student Braum Katz led the charge at William & Mary, helping to reform policies that banned anonymous posts and use of "profane language" online.

In January, Ole Miss finished its speech policy revisions, bringing the university into compliance with the First Amendment and earning a green light from FIRE. Ole Miss administrators worked closely with FIRE to ensure that policies regarding online expression, harassment, the university's "Speakers Corners," and residence life no longer prohibited protected speech.

Not to be outdone by its in-state rival, Mississippi State University earned its own green light this year as well. Mississippi State's famous cowbells may not be allowed in all SEC stadiums this fall, but Bulldogs will be able to speak their minds on campus with full First Amendment protections under the school's newly revised policies. Of course, Ole Miss and Mississippi State aren't the only SEC schools on our list...

The University of Tennessee - Knoxville is a model campus when it comes to student speech. Not only has the school maintained its green light rating for years now, it has acted quickly to address concerns about its policies and their impact on free expression. This responsiveness is a great demonstration of the university's concern for the First Amendment rights of its students, so UT stays on our list for the second straight year.

Not only did the University of Virginia earn FIRE's green light back in October of 2010, it did so after working closely with student Virginia Robinson to address concerns in a collaborative, prompt manner. Led by Dean of Students Allen Groves, UVa tackled each of its former restrictions on speech to make sure that the First Amendment is alive and well at Thomas Jefferson's university. The widespread protests that followed the forced resignation (and eventual reinstatement) of UVa President Teresa Sullivan earlier this year tested the university's commitment to protecting dissenting speech, but to our knowledge, the debate, though contentious at times, was not censored. UVa's policies are now a model for schools nationwide—which is why UVa made it to our list two years running.

The only private university on our list this year, the University of Pennsylvania fully honors its robust promises of freedom of expression (PDF) and does not maintain any policies that seriously conflict with free expression. Penn has earned its place on our list for a second straight year by remaining stalwart in its commitment to free expression, even in the face of calls for censorship of student speech on sensitive political issues.
Follow Greg Lukianoff on Twitter: www.twitter.com/glukianoff