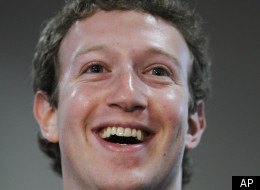 How much are your Facebook friends worth? It's difficult to put a price tag on friendships -- but we might soon find out what Wall Street thinks.
Signs point to Facebook going public in May of this year, and analysts are already projecting that the social network will value itself at a whopping $100 billion. With 500 million daily users, the math works out to $200 for each person! Maybe all that time you spent using Facebook in the library instead of studying wasn't a waste of time after all?
Check out the facts and figures behind Facebook's much-anticipated IPO:
The Facts and Figures Behind Facebook's Potential IPO
IPO from left to right: Bankrate, LinkedIn, Groupon, Google, Facebook. As you can see, Facebook's IPO is projected to be six times more than Google's IPO.

The only companies to have had an IPO of $10 billion or more were AT&T, GM, and Visa.

At a valuation of $100 billion, Facebook surpasses Disney, Amazon, and McDonalds by a long shot.

Social networking for dollars: Mark Zuckerberg is set to make $25 billion, or $50 per Facebook's daily users.

Facebook's main shareholders are set to rake in their fair share of investments. *Based on 2010 estimates.

10% of the world is on Facebook.

Now that 2011 has closed out, Facebook's projected revenue for 2011 was $4.2 billion. 89% of that was ad-based revenue.

Facebook is the fourth most trafficked website in the world, but when it comes to making advertising revenue, they stand tall at number one.

A breakdown of the top 4 online display advertisers dominating the 55% of all the rest. READ: Facebook's Most Shared Stories of 2011
Do you think Facebook will go public?
Graphic created by Accounting Degree Online | Click to see the full-sized graphic
Follow Greg Voakes on Twitter: www.twitter.com/gvoakes