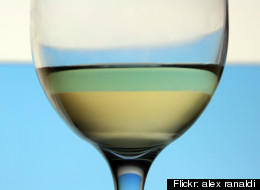 Wine is a complicated matter. Or that's at least what all wine experts are hoping you'll believe! The truth is that wine is a remarkably flexible product, ending up as simple or as complicated as you want it to be.
Let's take a few of the wine industry's favorite myths and see if they stand up to some scrutiny or simply fold like a house of cards the first time someone takes a poke.
5 Wine Myths Busted, or Not
Verdict: Plausible! This is an old rule of thumb and one that has taken a ton of abuse over the years. The basic underlying tenet at work here, that red wines with acid and tannin, two of the basic components of wine, work well with meats that are rich and fatty and that white wines work best with lighter fair, is sound. One thing that has changed completely since people started to discuss food and wine pairings is the food. Today, we have so many cultural influences in the fusion that is our cuisine that it's often easier to pair with the preparation than with the main protein. That doesn't mean that red with meat and white with fish is off base, it's just a relic of an earlier time. So, red wine with meat and white wine with fish remains plausible, just not as fail-safe as it might have been a few decades ago. The bottom line remains that the best food and wine pairing is the one that you enjoy most. Experiment and discover what makes you happy! Photo by wickenden via Flickr/CC

Verdict: Busted! This is another relic from the past, a past without central heat. Room temperature was once more like castle temperature - damp and in the low 60s if you were lucky. Today, room temperature generally means somewhere from 72 degrees Fahrenheit and up. That is not wine country. (Use our infographic to get a better idea of ideal wine serving temperatures.) At warm temperatures, wines begin to go out of balance. They show off their alcohol and tannin and loose the focus that their acids give them. If you want to get the most out of your wine, serving it cooler will always be better. This, of course, is where things get a bit sticky. Wine geeks have a precise temperature for just about every wine, and a glass for each wine to boot. An easy rule of thumb for wine service is the 15-minute rule. Take your white wines out of the fridge 15 minutes before service and put your red wines in the fridge 15 minutes before service. It's about as imprecise as you can get, but that's what general rules are for! Photo by alex ranaldi via Flickr/CC

Verdict: Barely Plausible! You're supposed to break out your Ports and Sauternes with sweet desserts, right? That's what the pundits say, but I've never thought this was a particularly good idea. Yes, some pairings work well but I, for one, would much rather have my Sauternes with foie gras and my Port with Stilton. I enjoy the interplay of sweet with contrasting flavors much more than with complementary flavors, particularly with sweet wines where adding more sugar just seems to make everything overbearing. There are exceptions, of course. A bitter chocolate cake can be lovely with a glass of Port. As I've already said, you should enjoy what pleases you but should also continue to try new things. You never know, you might find that, like me, you enjoy many of the best dessert wines with a simple cookie as an accompaniment! Photo by AnneCN via Flickr/CC

Verdict: Busted! Generalizations about the style of any specific grape, many of which have been fairly reliable until recently, are now pretty much useless. Terroir and vinification play such a huge role in the way a wine tastes and feels that assuming a Gewürztraminer is sweet or a Merlot is soft is just not a safe bet. Yes, many wines do conform to their stereotypes, but fewer and fewer do each year. Be careful with assumptions. Instead, taste, read and ask about wines as much as possible. You'll be pleasantly surprised by many wines that you would have dismissed in the past because of their stereotypical descriptions, opening up a whole new world of scents and flavors for you to enjoy. Photo by QuinnDombrowski via Flickr/CC

Verdict: Busted! I've played this card before and I'll play it again. Wine critics, myself included, can have a lot of experience and good palates. Still, when we taste wine we tell you two things: how good we think the wine is based on how we think the wine should be, and how much we like the wine. Those two things are inexorably linked and they don't necessarily mean you're going to get any useful information out of it. I'm not saying that all wine criticism is useless, what I'm saying is that wine criticism is a very particular thing. In order for my wine review to be useful for you, we would need to share some general idea of what we expect from any particular bottle of wine and then also share general palate preferences. It's not impossible, just rarer than we might all like to admit. Of course, you are likely to find one or more wine reviewers who speak to your palate, but that does not make them all useful or knowledgeable. Learn to trust your palate. Ultimately, it's the only one that counts. Photo by SuperFantastic via Flickr/CC

Curious about what wines you should to have on hand at all times? Check out our list of the six you should have, and make sure you stock your cabinets! Want to win an amazing weekend in Sonoma wine country? Help us choose the People's Voice Wine Award winners. Every vote earns you a chance to win! You may also like: - Exploring Craft Beer Cocktails - Taste the Carignan Wines from Chile - 5 Awesome Zinfandels Under $15 Photo by Unhindered by Talent via Flickr/CC
Want to win an amazing weekend in Sonoma wine country? Help us choose the People's Voice Wine Award winners. Every vote earns you a chance to win!
You may also like:
The 7 Steps to Wine Geekdom
6 Crafts You Can Do with Your Wine Corks
5 Super Expensive Wines Worth Trying
Follow Snooth on Twitter: www.twitter.com/snooth