As someone who enjoys shooting abstract photos which include downtown Denver buildings as subjects, I hesitate to do so these days. I had an experience a few months ago that's made me think twice about continuing the practice. Something that's caused me, since then, to batten down my shutterbug tendencies.

From across the street, I was photographing a structure that I'd previously worked in for five years: one of Denver's World Trade Center buildings. Yeah, perhaps it's not the best idea, in this day and age, to take snapshots of any building with that unfortunate name. But the noonday sun was reflecting artistically off part of its mirrored façade, just so.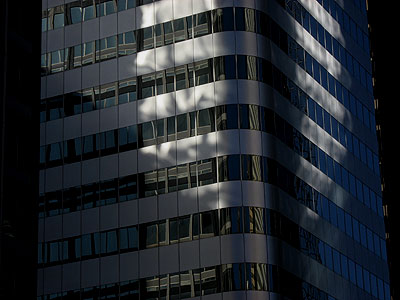 A security guard approached from the edifice I was standing nearby and confronted me. "Sir, you can't take a picture of that building!" she said sternly. "We've been told to report anyone who does so to Homeland Security." She mentioned the upcoming Democratic National Convention (DNC) during her lecture.

The guard didn't demand my ID. But I can't know for sure that I wasn't, in fact, reported, as a result -- my image from a surveillance camera run and rerun in some bureaucratic office with a government seal on the door.

I've since learned that the DNC has the federal designation of being a National Special Security Event (NSSE): it's called that, according to Wikipedia, because it's "an attractive target for terrorists or assassins due to the event's visibility or political connection." That makes the DNC on par with the Super Bowl, another NSSE. It's not an out of bounds comparison, either, since Barack Obama has switched the upcoming site for his acceptance speech from Denver's Pepsi Center to the much-larger Invesco Field at Mile High, where the Denver Broncos crack skulls on the gridiron. Go team, indeed.

I've read that $50 million will be spent on security. The Secret Service is running the show. And I wouldn't exactly relish being in their shoes, either, given the racist bent of some of my countrymen and the fact that the first African American has been nominated as the Democratic contender for president. Nobody wants the worst to go down on their watch.

To complicate matters locally, the major protest organizers in town chose a fairly provocative handle: Re-Create 68. The group's named after the ill-fated '68 Democratic National Convention in Chicago at which Mayor Daley's cops staged a "police riot." It doesn't take a rocket scientist to imagine the sometimes volatile Denver Police busting heads if anyone steps out of line -- or even on a crack -- during the DNC. Already, a city-owned warehouse is being readied as a makeshift jail, in the event of mass arrests.

Recently, the Denver City Council felt compelled to pass an ordinance outlawing carrying buckets of feces, which conceivably could be tossed on delegates or police during the DNC. Somebody's expecting a crappy time.

As I sat eating a slice of pizza the other day, I looked through the shop's pane of glass and meditated on the poster pasted on a utility box: an advertisement for an "anti-capitalista" rally this coming Monday, depicting a black-hooded character. Huh, could that be the black bloc? Aren't they those anarchists who, during the WTO protests, made Seattle unsafe for store windows like the Gap's? That's practically all Denver's downtown 16th Street Mall is, to boot: a 16-block long row of store windows. How convenient.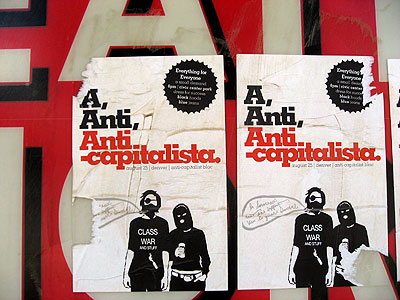 For civic boosters, the DNC in Denver is a dream-come-true. The Mayor was on a television show recently comparing the potential impact for Colorado to how Utah benefited after staging the Winter Olympics. Even the United States Postal Service has declared the event "a tremendous economic and marketing opportunity for Metro Denver and Colorado" in its notice explaining why my downtown post office, a major station, will only be open from 7-11 a.m. while the circus is in town.

It's said that parts of Denver will be off-limits to anyone who isn't a resident of that area. Rather than take the bus to her downtown job during the DNC, my partner has decided to beat the hassles and vacation out-of-state.

Me? As a writer and photojournalist, I'm sorely tempted to cover some of the protests as an observer. (I'm also tempted to just sit at home during the entire DNC, after reactivating my membership to Netflix.) But if I do attend, I'll certainly feel paranoid anytime I point my camera. And even when I don't.

---
Gregory Daurer joined OffTheBus's convention coverage team. Sign up here.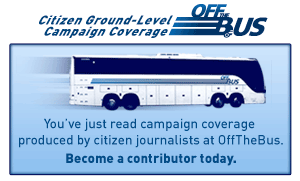 SUBSCRIBE AND FOLLOW
Get top stories and blog posts emailed to me each day. Newsletters may offer personalized content or advertisements.
Learn more