When I moved to New York City in the late 80s to attend a musical theater school, I could never get over the fact that all across the city, magic was occurring in numerous Broadway theater houses each night. Over 25 years later, I'm still in awe each time I witness the hard working people bringing joy to audiences. Most recently, my favorite has been the musical "Big Fish" that opened October 6th and already set to close on December 29th. Based on the novel by Daniel Wallace that became a film created by Tim Burton, the musical has an experienced team behind it from both Broadway and Hollywood. Music and lyrics by Andrew Lippa, book by John August, directed by Susan Stroman, and designers and producers with more Tonys and Oscars than one could even imagine.
Yet when the show opened in early October, critics pushed it aside as a tune-less, too small/too big, missing heart, not allowing the lead to 'lead', too busy, sentimental production. In other words, there were very few critics that enjoyed (or agreed about) the musical that I've now attended three times in the past month.
Mine is not to fight against those critics paid to review a show. Sure I spent time in the BMI Musical Theater Workshop and can daresay that Lippa has written an amazing score with beautiful songs that one absolutely can walk out the doors humming. (Is it his fault the world now thinks every song must be an 11 o'clock number, topping the previous song?) I could mention the technical aspects used in the show take stage projections and lighting to an exciting new level that meld live action and film in a way we're not used to seeing on Broadway. I could even talk about the performances in this show that range from the sheer genius that is Norbert Leo Butz (leaping from old to young seamlessly when the film utilized two actors in the role) to the beauty and stoic nature of Kate Baldwin and the balancing act of Bobby Steggert in the role of the disillusioned son. All three with illustrious voices that soar throughout this tuneful score. And while I haven't mentioned all the others, there isn't a weak link on this stage.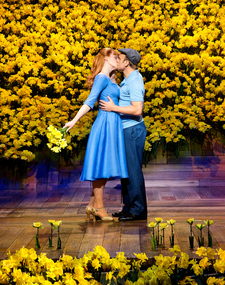 But beneath the layers of technical brilliance is a show with such heart, it touches this writer on so many levels. If you saw the film or even if you didn't, you learn fairly quickly this is a show about a father and a son. A father that is ill, has spent a lifetime making up huge stories about his life, but watched his son leave the small pond for the big city of New York to become something. Yet all the time, the son has wondered who his father - this traveling salesman - really is. We get to see and live those stories of the dad. And we get to witness an inspiring love story heightened by the tall tales of a southern gentleman, but also with small moments uttered in a line, a look, a song (I Don't Need a Roof).
Like the son in the story, I too left a small town to move to New York to try my hand in the big city. I strove to make my father proud -- a man who was also a salesman -- and a mother named Sandra (just like the mom in this story). I lost my father 11 years ago this month -- the week before Christmas -- and still think of him every day. This musical makes me remember him even more. Because this show is about family. It's about carrying on tradition and learning how you fit into the world (Be the Hero). About how we want to be remembered -- as Edward Bloom so beautifully shares (How It Ends). It's facing our own immortality and living a fulfilled life. And if I leave the show with any regrets, it's as a 44 year old man; I never had a child of my own to pass my legacy to and share stories. I'm not sure how people walk out of the Neil Simon Theatre nightly without questioning their own lives after witnessing the glorious Bloom family.
Do yourself a favor this holiday season if you are in New York City. Go see this musical before it closes. Don't question what the title means or listen to what reviewers may have said. Stop and smell the daffodils. Go and enjoy a live experience on Broadway that entertains, makes you smile and brings a lump to your throat and a tear to your eye. I've seen hundreds of shows in my life and not one that I can say I've returned to three times in one month. But like a fish on a line, this show caught me and at least in my memory - it will never let me go.
Thank you to the creative team and the producers for reeling this fish in even if it were but for a few months. It will go down in my book as a tale to share with many.
Big Fish is playing until December 29, 2013 at the Neil Simon Theatre. 250 W. 52nd Street, NYC. For ticket info visit: www.bigfishthemusical.com
Photo Credit: Paul Kolnik
SUBSCRIBE TO & FOLLOW CULTURE SHIFT
Level up. Read THIS and be the most interesting person at your dinner party. Learn more